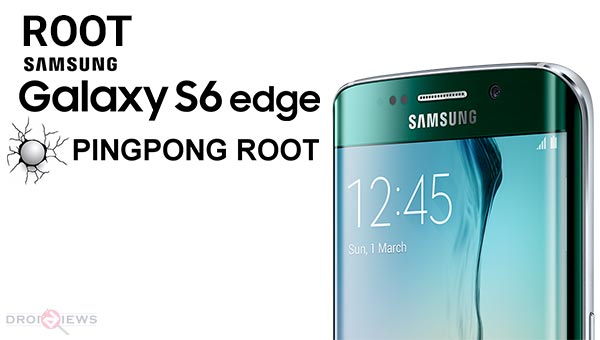 Samsung has gained a lot of popularity, not just for the flawless devices that it produces, but also for the level of security it implements to them. One of such limiting factor is the KNOX counter, that might not be of worry for the regular users, but if you're here, then you should be concerned about it. If you're about to customize your Android and new to this specific term, then do read below.
Basically, KNOX counter is like an assistant to Samsung, to determine if the device software has been tampered in any way. In simple words, it just displays the number of times you have flashed any ROMs or tweaks. So, you just can't simply perform any custom procedure on the phone, else the counter will trip and your warranty will be gone. To prevent such situation, we have to be a little careful while making any changes to the device.
The latest Galaxy flagship from Samsung has rocked the smartphone market with the powerful 1.5 GHz quad-core Cortex-A53 processor, running a Mali-T760MP8 GPU, with 5.1-inches Corning Gorilla Glass display, 3GB RAM and a high defined 16 MP camera for excellent shots. Not just the hardware, the security is also upgraded and hence, the device follows the same KNOX protocols. So if you're willing to root Samsung Galaxy S6 without voiding the KNOX warranty counter, you're just at the right place and at the right time.
We're going to root using the famous PingPongRoot tool, which will not only root Samsung Galaxy S6, but also not trip the KNOX counter. The tool has been developed and worked out by idler1984 along with the assistance and help from some other members. So far, users have reported success by using this tool on several ROM builds, which are being mentioned below.
Galaxy S6: Supported Firmware Builds
Note: You can check the build number of your phone's firmware by going to Settings> About> Build number.
The first 5-6 characters in the build number stand for the model number of your Galaxy S6/S6 Edge, while that last three characters denote the build number of the firmware.
G9200ZCU1AOD5
G9200ZHU1AOD3
G9200ZHU1AOD9
G920R4TYU1AOD3 (US Cellular)
G920IDVU1AOD1 (International)
G920FXXU1AOCV (International)
G920PVPU1A

OCF

(Sprint)
G920TUVU1AOCG (T-Mobile)
G920FXXU1AOBN (International)
G920FXXU1A

ODG

 (International)
G9209KEU1AOCI
G9209KEU1AODA
G9208ZMU1AOD5
G9208ZMU1AOCI
G920VVRU1AOC3 (Verizon)
G920FXXU1AOD9
G920AUCU1A

OCE

(AT&T)
G920FXXU1AODE
G9200ZCU1AOD9
G920W8VLU1AOCG (Canadian)
G920FXXU1AOD4
G920R4TYU1AOCB (US Cellular)
G920FXXU1AOCY
G920IDVU1AOC4
G920FXXU1AODI
G9209KEU1AOD5
G920IDVU1AOBQ
G9208ZTU1AOD9
G920FXXU1AOE3
G920IDVU1AOE3
G920FXXU1AOD8
G920FXXU1AOE4
G920AUCU1AOE2 (AT&T)
G920T1UVU1AOCH (T-Mobile)
G9208ZTU1AOCI
G920IDVU1AOC6
G920IDVU1A

OD3

G920FXXU1AOCZ
G920AZTUU1AOD1
G9200ZHU1AOE4
G9200ZCU1AOE4
G920KKKU1AODC
G920IDVU1AOE4
G920LKLU1AODC
G920SKSU1AODC
G920IDVU1BOE2
G9208ZTU1AOE4
G920PVPU1AOE2
G920W8VLU1AOE1
G920VVRU1AOE2
Galaxy S6 Edge: Supported Firmware Builds
G9250ZCU1AODC
G925VVRU1AOC3 (Verizon)
G925FXXU1AOD9 (International)
G925PVPU1AOCF (Sprint)
G925FXXU1AOCV
G925AUCU1A

OCE

(AT&T)
G925TUVU1AOCG (T-Mobile)
G925W8VLU1AOCG (Canadian)
G925IDVU1AOD1 (International)
G925IDVU1AOD2
G925SKSU1AOD5
G925FXXU1AOD4
G925R4TYU1AOD3 (US Cellular)
G925FXXU1AODG
G925FXXU1AOCZ
G925IDVU1AOD3
G925LKLU1AOD8
G925SKSU1AOD8
G925FXXU1AOE3
G925PVPU1AOE2 (Sprint)
G925FXXU1AOD8
G9250ZTU1AODC
G925FXXU1AOE4
G925AUCU1AOE2 (AT&T)
G925TUVU1COE6 (T-Mobile)
G925FXXU1AOCY
G9250ZTU1AOE4
G925R4TYU1AOE2 (US Cellular)
G925TUVU1COE6
G925FXXU1AOCY
G9250ZTU1AOE4
G925R4TYU1AOE2
SCV31KDU1AOCP
G9250ZCU1AOCH
G9250ZCU1AOE4
G925IDVU1AOE4
G925IDVU1BOE1
G925LKLU1AODC
G925IDVU1AOE3
G925IDVU1AOE2
G925KKKU1AODC
G925SKSU1AODC
G925W8VLU1AOE1
G925VVRU1AOE2
That's a pretty large number of builds to be supported by PingPongRoot tool, the number is expected to increase since the dev claims to bring support for more S6 variants.
Warning!
Rooting can sometimes prove harmful, if done wrong and may soft-brick your Samsung Galaxy S6. Not to worry, you can still bring it back by flashing the stock firmware. DroidViews or any of its members shall not be held liable for any damage to your device. Proceed at your own risk and understanding.
Preparations
Backup everything, this includes your storage, contacts, emails, logs, music, photos etc. So, if something goes wrong, you will still have your data.
Charge your device to sufficient battery level, we advise you to charge it to at least 50%. Wouldn't want the process to stick and spoil everything now, would we?
Download the PingPong Root tool: pingpongroot_beta6.apk
Also see:
Root Samsung Galaxy S6 and Install TWRP Recovery (All Models)
Root Samsung Galaxy S6 and S6 Edge
Go to Settings> Lockscreen and security and enable Unknown sources option.
Transfer pingpongroot_beta6.apk to your S6/S6 Edge.
Now open My Files app, navigate to the APK file and install it.
Once installed, open the app drawer and run the PingPong Root app.
I'll prompt you to install SuperSU, install the app.
Now tap the Download Data button. Make sure you have a working data connection. 
When the device data is updated, enable Airplane mode on your phone.
Now tap on the Get Root! button.
If you're prompted for permissions, allow it.
Reboot your device and let the files settle.
Once rebooted, run the SuperSU app from the app drawer and manage your desired permissions for every singular app.
Now that this doesn't use custom recovery or Odin to flash, so it won't trip the KNOX counter and your warranty will remain still. Was it easier right? And undoubtedly saves a lot of trouble. Provide your appreciation directly to the developer by clicking the source link below. You would also like to read the FAQ provided by the dev himself before asking any question. If your build number is not yet supported, make sure to keep an eye on this post and we will update the build numbers.
Download and use the Root Checker app by clicking on the app box below, to confirm if your device has been rooted successfully or not.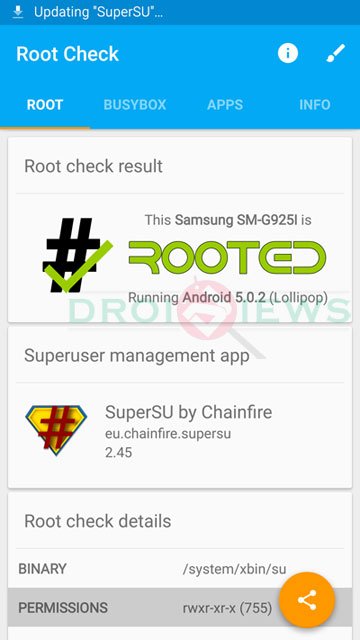 [googleplay url="https://play.google.com/store/apps/details?id=com.joeykrim.rootcheck"]
Source | XDA