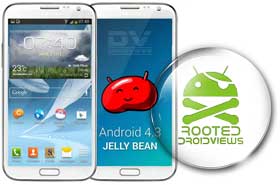 The leaked version of the long awaited Android 4.3  update for Galaxy Note 2 GT-N7100 is out for a while now. Those who have already installed the test firmware have been looking for a way to root their device on the N7100XXUEM16 firmware. If you happen to be one such person, we bring you the easiest way to root your device and install a custom recovery on it.
In most cases people tend to to try a leaked firmware for some time as a deviation and then go back to the previous official version. Since the Android 4.3 test firmware is pretty stable, many of them might want to stick with it till the arrival of the official release. If you do not want to be with a device with stock firmware without root, the present guide will help you gain root access on your Galaxy Note 2 GT-N7100 with Android 4.3 Jelly Bean Firmware.
Disclaimer:
The rooting procedure described here is considered risky and might soft-brick your Galaxy Note 2. Despite of being a tested method, we do not guarantee that it is perfectly harmless. In most cases, the success of such drills depend on how careful you are in following the steps. Proceed at your own responsibility and do not blame us for any mishap.
Requirements:
Make sure your phone is on N7100XXUEMJ5 firmware.
Getting Prepared:
Download Odin and unzip it on your desktop: Odin3-v3.07.zip
Download KNOX-Disabled bootloader file: MJ5BLPatch.tar.md5
Download WiFi patch file and extract it: wifi_fix_for_MJ2.rar
Download CWM Recovery and extract the zip: philz_touch_5.15.0-n7100.tar.md5
Download MultiTool utility and copy to your Note 2: DrKetan_MultiTool_AdvanceV5.zip
Download and install either Kies or Samsung USB drivers on your computer.
Enable USB Debugging on your Note 2 with Android 4.3: go to Settings> More> Developer Options, tap the slider on the top of the page and check the box in front of  USB Debugging. In case you do not find the developer options, enable it using this guide.
Charge your device to ensure at least 60% battery.
Installing KNOX-Free Bootloader on Note 2:
When you are sure that you have made all required preparations and gathered the tools, follow the following steps to install the customized version of CWM recovery.
Boot your Note 2 into Download Mode. To do this, press and hold the Volume Down, Home and Power buttons simultaneously for 2-3 seconds. When you see the warning screen, press the Volume Up key.
Launch Odin and connect your device to PC via USB cable.
Wait till the ID:COM port turns Blue and you see "Added!!" message on Odin.
Then click the Start button and wait till it is flashed to your device.
Finally, you will get PASS!! message at Odin and your Note 2 will reboot automatically.
When your device boots up, KNOX will be disabled on it. However, disabling KNOX will create issue with WiFi connectivity on your Note 2. To fix it, you will have to install WiFi patch file using the same steps (as you did above) in Odin. But this time you have to select patch.tar.md5 file (in PDA section) from the extracted wifi_fix_for_MJ2 folder.
Install PhilZ Touch Recovery on Note 2:
To root the Samsung Galaxy Note 2 GT-N7100 on Android 4.3, we'll use the advanced multi tool utility by DR. Ketan. Since this Aroma based installer program requires a custom recovery, we recommend you to  install PhilZ CWM Recovery the same way as you installed the KNOX-Free Bootloader and WiFi fix patch above.
Rooting Galaxy Note 2 on Android 4.3:
Boot it into Recovery Mode. To do this, press Volume Up, Home and Power keys at the same time for 4-6 seconds till you enter the CWM recovery main menu.
Go to "install zip from sdcard" option, navigate to the DrKetan_MultiTool_AdvanceV5.zip file and select it.
Select "yes" to confirm installation.
You'll then be taken to Aroma installer. Select root option in Aroma:
Besides rooting your Galaxy Note 2, MultiTool can also install a custom recovery, kernel, clean bloat apps and perform various useful tasks.
Finally, select reboot system option in Aroma.
Your Galaxy Note 2 will boot now. When your device becomes ready to use, open app drawer an look for a new app named "SupeSU" there. If you can see this app, your device is rooted. To verify proper root access, install Root Checker app from the Play Store and run it.
Unable to Get Root Access While Being Rooted?
Read this Tutorial to Fix the KNOX Issue