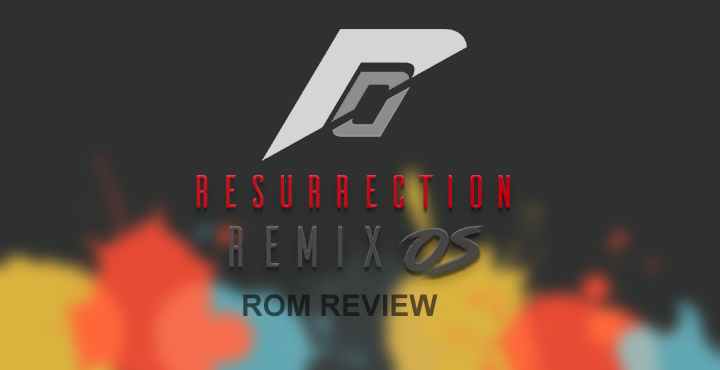 Custom ROMs while only being a part of the vast number of things you can change about your Android smartphone, are one of the most important aspects of it. A majority of us modders, if not all, use a custom ROM as our daily driver. The reasons are quite obvious. Even the simplest of custom ROMs, such as Lineage OS, have those little-inbuilt features that the stock Android does not have. In many cases, such as an aging Samsung, Sony, LG, or HTC phone, a custom ROM breathes new life to the device, since most of them are based on stock Android unlike the official firmwares of these devices, loaded with unwanted services and skins. Today, we're taking a look at one such Android 7.1.2 Nougat based custom ROM, Resurrection Remix 5.8.3.
Resurrection Remix is one of the most well-known names in the world of custom ROMs The ROM developed under the banner is undoubtedly one of the most feature-packed ROMs out there. But, for a custom ROM, the most important aspects are smooth and stable performance, a good battery life and a large online community where a user can go to for help. Resurrection Remix covers those bases as well.
Also read: 10 Tips to Make Your Phone's Battery Last Longer
Features
Apart from the standard Android Nougat features Lineage OS features, Resurrection Remix 5.8.3 has a lot of other customization options.
Enable/Disable Navbar
Navbar Button Customization smart bar
Navbar Pulse
Navbar Fling
Double Tap To sleep navbar
Statusbar
Brightness Slider
Enable/Disable Show Notification Count
SuperUser Indicator Switch
Double Tap To sleep Statusbar
Carrier Label
Carrier Label Switch
Carrier label Color
Carrier Label size
Clock Customizations
Time & date
Day & date Google
Center/Right/Left Clock Choice
Date Format
Clock Font Styles
Battery
Bar customization
Icon Customization(circle/landscape/Portrait and more)
% Text
Network Traffic Indicator
Network Traffic Arrows Switch
Incoming/OutGoing Traffic
Network traffic Color
Statusbar RR Logo
RR logo Color
Position
Custom Logos
Logo Color
Position
Style
StatusBar Weather
Weather Color
Weather Position(left/right)
Weather Font Style
Weather size
StatusBar Ticker
Ticker Text color
Ticker Icon Color
Animations
Toast Animations
ListView Animations
System Animations
Power Menu Animations
Misc Animations
Gestures
Gestures Anywhere Feature
3 Finger Swipe Screenshot Gesture
App Sidebar
Choose apps in AppSidebar
Trigger Width
Trigger Height
Trigger Position
App Circle Bar
Choose apps in App circle
Trigger Width
Trigger Height
Trigger Position
Pie
Pie Trigger(left ,Right ,Bottom)
Pie Targets
Pie Colors
More Pie Features
Recents Panel
Clear All button Switch
Clear All Tasks Switch
Clear All Button Location(Top right,Top Left,Top Center,Bottom Left,Bottom Right,Bottom Center)
Full-screen Recents
Recents Styles
OmniSwitch
Cclock Widget
Clock And Alarm Customizations
Weather Panel Customizations
Calendar Events
LockScreen
Lockscreen Bottom Shortcuts
Lockscreen General Shortcuts
100+ Icons for Shortcuts
Double Tap to Sleep Lockscreen
Lockscreen Media Art/Enable Disable
Quick PIN/Patter Unlock
LockScreen Wallpaper
Lockscreen Weather Widget
Lockscreen Icons Color
Quick Settings
Draggable Tiles
Customizable Tiles
Dynamic Tiles Adjustment
Number of columns/rows
Tile Animations
Notification Drawer
LongPress Toggles to Enter Settings
Disable Immersive Mode Messages
Force Expand Notification
Quick PullDown
Smart Pulldown
Notification Panel Transparency
Volume Dialog Transparency
Notification Panel Stroke
Volume Dialog Stroke
Must read: Download Sound Themes for all Custom ROMs
Buttons
Backlight Timer
Backlight Strength
Advanced Reboot Menu
Power Menu Customizations
Power Off
Reboot(Recovery, Bootloader, Hot Reboot)
ScreenShot
Power Menu End Calls Switch
Restart SystemUI
Airplane Mode
ScreenRecord
On the Go Mode
Sound Panel
Home Button (For devices with HW keys Only)
Home Button answer call
Long Press Actions
Double Tap Actions
Menu Button (For devices with HW keys Only)
Short Press Actions
Long Press Actions
Search Button (If Device Supports)
Short Press Action
Long Press Action
Volume Buttons
Wake Up Device
Playback Control
Ringtone Volume Control
Keyboard Cursor Control
Swap Buttons on Landscape mode
Volume Key Answer
Miscellaneous
SELinux Switch (Switch Between Permissive and Enforcing SELinux if Device has Selinux Enabled)
cLock Shortcut
Disable battery Saver Warning Color
OTA Updates
Camera Shutter Sound Enable/Disable
SystemUI Tuner
Enabled By default
Removed Demo mode and Tweaked SystemUI Tuner As compared To AOSP
StatusBar Icons Customizations
Quick Settings Customizations
Other Features
Performance Profiles
LCD Density
Expanded Desktop Mode
Heads Up Switch and customizations
Live Display
Configurable 0,90,180,270 Degree Rotation
Lock Screen Autorotate Switch
Native Tap to Wake From Marshmallow
Double Tap Power Button To enable Camera gesture
Prevent Accidental Wakeup
Wake Phone on Charging Plug
Battery Light Customizations
Notification Light Customizations
Font size
CM privacy guard
Performance Tweaks(Kernel Aduitor Inbuilt)
CM root inbuilt
Don't miss: Customize Quick Setting Tiles on Android Nougat with ShortCutter
Resurrection Remix ROM Download: Supported devices
Resurrection Remix supports more than hundred Android devices officially, and an even greater number of them unofficially through other developers at XDA. Most of the popular devices are officially supported by the Resurrection Remix team. These include:
OnePlus 3/3T
Samsung Galaxy S7/S7 Edge
Samsung Galaxy S6/S6Edge
Google Pixel/Pixel XL
Nexus 6P/5X/6/5
Xiaomi Redmi devices
Sony Xperia Z series
HTC flagships
Many other devices from all brands
And a lot more. The full list of devices along with flashable ROM downloads are available at SourceFourge.
Related post: AOSP Extended ROM Review for OnePlus/Samsung/LG/Xiaomi/Motorola Devices
UI
Once you install Resurrection Remix successfully, getting it set up with your account and all should be familiar if you have ever used a stock Android based ROM before. That is because this ROM uses the stock Android setup wizard, much like other AOSP or LOS based ROMs. The home screen is quite stock Android like as well as the rest of the UI. There's nothing really eye-catching or unique about Resurrection Remix until you enter the Configurations menu in Settings. If you know your way around, I can be sure you would have no trouble changing the UI to look the way you want. For proof, there are some screenshots, below towards the end of this article, of my version of Resurrection Remix.
Deep level of customization
There are numerous settings here for you to tinker with, and if this is your first time using a feature-packed custom ROM like Resurrection Remix, you might be overwhelmed at just how much you can change. If you love customization, this configurations menu is what heaven would be like. From what happens when you double tap your home button to letting any text be displayed in your Android's status bar, there's next to nothing you can't change. Even the little things you never thought you'd want to play around with, like the animation when you toggle a quick setting, can be changed and you will love it.
Every animation can be changed in fact, although, I prefer them as they are. I've tried changing them at times, but it just disrupts the whole experience of using my phone. Maybe someday when I have a lot of time to kill, I might figure those out. But the point is, this is the level of customization Resurrection Remix offers. I wouldn't blame you if you don't want to try them all. I used to be one of those people that preferred the simplicity of CyanogenMod (or Lineage OS as it is now called). But with no Xposed Framework support on Android Nougat, Resurrection Remix seems to be the best choice.
Pre-built Apps
While Resurrection Remix is not loaded with bloatware, it does come with some standard apps that you would find on most of the other custom ROMs as well. This includes a web browser, a music player, an email client, a file browser or two, etc. These can be easily uninstalled using the inbuilt system app remover. It can be found under the Miscellaneous tab in Settings > Configurations. Since the CyanogenMod Theme Engine is now dead, there is no in-built theme engine. However, like most ROMs these days, Resurrection Remix supports OMS substratum themes. Just install the Substratum app from the Play Store and you're ready to install themes.
Performance & Battery Life
The best part is, that all of these features don't have any impact on performance. Either that or it is almost negligible. I've tested the ROM on a number of devices, both with flagship level specs, and the dying old budget level smartphones. If your phone performs well on other ROMs, Resurrection Remix will give you the same performance, if not better. Of course, that will also depend on the specific version of the ROM for your device. We're only talking in general here when it comes to performance and battery life.
Talking about battery life, it is not very different from stock OEM ROMs or other custom ROMs either. Again, this will depend on the specific ROM version for your device.
Verdict
There is no doubt that Resurrection Remix is one of the best custom ROMs available. A large online community, constant updates, and probably more than a ton of customization options make it a great choice. It is understandable if one might prefer the simplicity of Lineage OS instead. But this sounds more like the argument of iOS being simpler to use than Android. Something many of us would disagree with. In my very personal opinion, to say Resurrection Remix is not a ROM for everybody would be a wrong assumption. Because all of these extra cool features are neatly tucked away under a single configurations menu. Meaning they are out of the way if one does not want them. Outside of that, it is basically just Lineage OS or stock Android. Of course, with a lot of neatly tucked away potential.
Recommended reading: All You Need to Know About Smartphone Battery: The Facts, The Myths