We all love apps on our phones and tablets. They let us add new functionality to our device and make our mobile life easier. However, there are some apps that make us irritated because the needlessly keep our device's app drawer stuffed. These useless apps come with our device out of the box because they are part of the package from the OEM and feed on the battery juice and RAM. Follow this tutorial to remove Galaxy Note 3 bloatware without root.
Such apps are popularly called bloats and most of the users feel a strong desire to terminate them from our devices. It is very to uninstall a third-party app but when it comes to removing a system app, the thing becomes a little tougher, at least for those who do not have a rooted device. The Galaxy Note 3 comes preloaded with dozens of bloats.
Most of these apps are either nominally useful or useless at all. They occupy the internal storage and because many of them work as background processes, they also have a negative impact on battery life and RAM. Thus they make our device slower in performance and less battery efficient. In the past, we have published various tutorials on cleaning bloats or system apps for a range of Android devices, and today we are back again with another guide for Samsung's latest phablet, Galaxy the Note 3.
Safely Removable System Apps on Note 3
Before we begin the steps to remove bloat apps on the Galaxy Note 3, here is a detailed list of apps that can be safely removed. I have tested removing the apps listed below but I would like to warn you not to follow us blindly while removing these apps.
The list is just for reference and your selection of apps to be removed must be based on your requirements and preferences. Perosredo from XDA has prepared a spreadsheet of the system apps and their function that will help you further. I have highlighted that app names (with * sign) that have a worse effect on RAM and battery for your convenience.
Action memo
AllShare ControlShare Service*
AllShare FileShare Service*
ANT HAL Service*
ANT Radio Service*
ANT+Plugins*
Backup
Best Face
Bloomberg*
BlurbCheckout*
Bubbles*
ChatOn
ChocoEUKor
CloudAgent*
CoolEUKor
DirectConnectManager
DirectShareGallery*
DirectShareManager*
DRM-Protect Content Storage -N9005XXUBMI7
DroidSerifltalic
DSMForwarding -N9005XXUBMI7
DSMLawmo -N9005XXUBMI7
Easy chart*
Evernote*
Exchange Services*
Flipboard
FWUpgrade
Google Play Books*
Google Play Games*
Play Magazines*
Google Play Movies*
Google Play Music*
Google Search
Group Play*
Help*
HP Print Service Plugin*
Idea Sketch*
Live Wallpaper Picker -N9005XXUBMI7
Maps
Mobile tracker*
My Magazine*
PageBuddyNotiSvc*
Picasa Uploader
Rakeln*
Remote controls v2
Remote Controls
RoseEUKor
S Finder*
S Health
S NameCard*
S Note
S Voice
Samsung account*
Samsung Apps*
Samsung Apps Widget*
Backup Provider*
Samsung Calendar SyncAdapter*
Samsung Cloud Data Relay*
Cloud Quota*
Samsung Contact SyncAdapter*
Contents Agent*
Samsung Hub*
Samsung Link*
Print Service*
Samsung Push Service*
Samsung SBrowser SyncAdapater*
SNote3 SyncAdapter*
Samsung Syncadapters*
Samsung text-to-speech engine
Samsung Video
WatchOn Video*
SamsungHub Updater*
SamsungSans
Scrapbook
SecWallpaperChooser
Share music
Share Video
ShareShotService*
SketchBook for Galaxy*
SNS
Software update
Story Album*
Story Album Widget*
Street View*
Travel Wallpaper*
TripAdvisor*
User manual*
Weather Widget
WFDS Print Service Plugin*
wssyncmlnps*
Yahoo! Finance*
Warning!
Please be careful while deciding which apps are really useless for you before removing. Also, we strongly recommend that you create a backup of all APK files before removing. Sometimes people delete an app in a fit of hurry and repent when some or other function on the phone stops working. You should also note down the Permissions value for system apps because without fixing file permissions, the apps would not work even if you copy the APK to the system folder. Read our Detailed Guide on Fixing Permission on Android devices.
Remove Galaxy Note 3 Bloatware Using Cleaner Script:
There are various ways in which you can delete system apps found on your Samsung Galaxy Note 3:
Flashing a script via a custom recovery like CWM or TWRP
Using a root file browser app
Using an app that is capable of deleting system apps
XDA member CoOoL_BoY has made a script that can easily clean about 100 bloat apps from your Note 3. The script can be used on any Note 3 with root and a custom recovery whether your device is on Odexed or Deodexed stock or stock-based custom ROM. The Note 3 Cleaner Script, as it is called, can also be edited and thus you can add or remove apps according to your preference. Here is how you can edit the script:
Download the Note 3 Cleaner package: Galaxy Note 3 Cleaner v0.5.zip
Download Notepad++ if you do not have it on your computer.
You must have a Zip extractor like WinZip or PowerArchiver on your computer.
Now double click the zip file and navigate to META-INF\com\google\android\
Right-click on updater-script and select Edit.
You can now add or remove app names. Make sure to type the name of the Apk file you want to remove.
Finally, save your changes and copy Samsung GALAXY Note 3 Cleaner v0.4 CoOoL_BoY.zip to your device.
After modifying/editing the app names, you can now flash it via recovery. Here are the steps:
Copy the Samsung GALAXY Note 3 Cleaner v0.4 CoOoL_BoY.zip to your Note 3.
Boot your device into recovery mode by holding the Volume Up+Home+Power buttons for about 4-6 seconds.
If you use TWRP, go to "Install" option and select the Zip file you copied in Step 1, OR if you have CWM, go to "install zip from sdcard" and select the file.
Confirm the installation and then reboot your device.
If the recovery mode prompts you "Root access possibly lost. Fix?", make sure to select "No".
When your Samsung Galaxy Note 3 boots up, you'll have a cleaner app drawer with all selected bloat apps removed from it. In case you notice any error or discover that you have accidentally deleted an app that you should have removed, download the following zip that contains all app deleted by the Note 3 Cleaner script and install it back the same way as you did above:
Download: Deleted Files.zip
Remove Galaxy Note 3 Bloatware Manually
In case you do not want to delete all bloatware/system apps (listed above) from your Galaxy Note 3, or the Note 3 Cleaner script did not work for properly, you can use the method described below. To be able to use this method, you need to have a rooted device. By following the steps below, you will be able to uninstall only those apps that you want to remove individually.
Install a root file explorer app from the Google Play Store. Personally, I prefer Root Browser: [googleplay url="https://play.google.com/store/apps/details?id=com.jrummy.root.browserfree"]
Open Root Browser and navigate to system/app directory.
Tap and hold the system app you want to delete and select the Delete option. Below is an example of removing My Magazine app from Note 3:
When it prompts whether you want to delete the app or not, select Yes.
You can repeat the same steps as many times as you wish to delete more apps.
To delete more than one apps/files, select the Multi-Sel option from the bottom bar before marking multiple apps and then tap on the delete icon.
Uninstall System Apps Using App Remover:
If you have root access on your Samsung Galaxy Note 3, you can easily and safely uninstall bloatware/system apps from your device using a root uninstaller app from the Google Play. A good thing about using this method is, it also creates a backup of the uninstalled apps so that you might restore them later if required.
[googleplay url="https://play.google.com/store/apps/details?id=com.jumobile.manager.systemapp"] [googleplay url="https://play.google.com/store/apps/details?id=mobi.infolife.uninstaller"]
Remove Galaxy Note 3 Bloatware without Root
If you do not have root access on your Galaxy Note 3 and you wish to get rid of bloat or system apps, you can easily do it. Here's how:
Open phone Settings> General> Application Manager.
Swipe screen from right to left and go to All.
Now select the app you want not to show in the app drawer and disable.
Tap the Turn Off button.
Done!
All disabled apps go to Turned Off option and you can enable them anytime from there.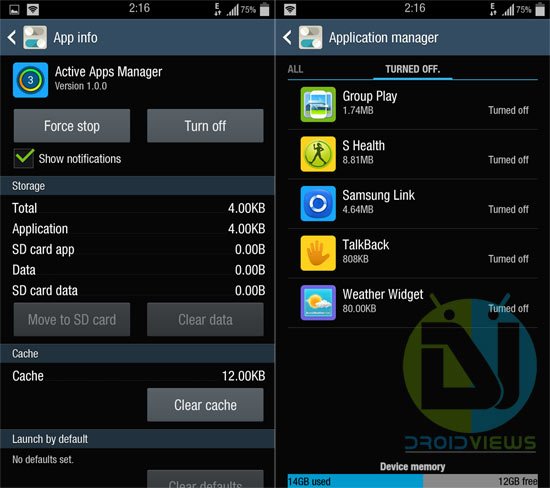 There is yet another way of disabling system apps on your Galaxy Note 3. Just open the App Drawer, press and hold an app and drag it to Disable App option on the top bar.
If you have question related to the topic in discussion or wish to share your experience, feel free to drop a comment. Cheers!
Read Next: Install Third-Party Apps as System Apps on Android