Our smartphones come with a bunch of pre-installed apps but most of these apps are either of less use or simply useless. And that is why we call them bloatware and try to wipe out such apps from our device. The Google Play Store has millions of apps and we love Android for that. An app or apps to add almost any feature to our device makes us feel good. Actually, you can easily uninstall apps with no uninstall option on Android devices. Check out the instructions given below.
All of us like to try new apps whenever we get to know about a good one. We use an app for a certain purpose but the hunt for a still better option keeps going on. While it is not easy to uninstall system or stock apps from the device without having root access on it, installing third-party apps and uninstalling them is really very easy. You can remove any app directly using the Uninstall option in your phone's app drawer or from the Application Manager under device settings.
What would you do if you installed an app from the Play Store and having tried it for a while, do not like it and wish to uninstall, but are surprised to find that you are unable to do it? I am not sure how many of you will need a solution for this issue but I still decided to cover the topic when on of our users asked me a way to uninstall the Floating Touch app from his phone. Of course, there are various such apps and you might have some of them on your phone too!
There are several apps on the Play Store that require different types of permissions to function properly on your device. Some need root access, some Accessibility access, while other demand Device Administrators privileges. Thus, an app that has been added to your phone via flashing a zip in recovery and apps that have been granted Device Administrator permission, can't be uninstalled using the familiar way.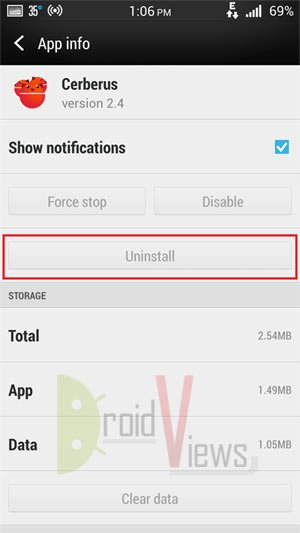 Uninstall Third-Party Apps on Android
So, here is the method of how you can uninstall third-party apps with no highlighted "Uninstall" option. Open Settings on your phone and go to Security settings. Tap it and scroll to Device Administrators. Here you will see the list of apps that has been given administrative rights.
Just uncheck the app that you wish to delete. Now go back to your phone's app drawer or Application Manager, and you'll be able to uninstall that app just as you do any app. Hope this tip helps you. Cheers!
For more useful tips and tricks on Android, do not forget to our Tips and Tricks Section.
Read Also: How to Change MAC Address on Android Devices