In a battle of notch vs hole-punch displays, which actually wins the favor? Which one do you prefer? As for my opinion, I hate notch and hole-punch displays both and below, I will be giving you the reasons why I think so. Let's take a look at the recent maneuvers implemented into the smartphone displays and discuss if things are going in the right direction.
Notch came into popularity after Apple introduced it on the iPhone. Since then, you can see almost all the manufacturers adopting it right away. We have seen some beautiful as well as the ugly implementation of the notch.
But, there is a particular reason for having a notch on smartphones. Firstly, it increases screen-to-body ratio. Secondly, it houses the front speaker, camera and other modules. In the beginning, it gained a mixed response from the people. But, became the style statement for smartphones later.
Similarly, hole-Punch displays became popular after Samsung adopted it. Hole-punch further improves the screen-to-body ratio. But, are they any good and meet our expectations and great user experience? This article will show you the main reasons why I hate notch and hole-punch displays.
Are Notch and Hole-Punch Displays Really Good?
Here are my 10 reasons for hating notch and hole-punch displays on smartphones.
1. Notch and Hole-Punch Displays Kill Symmetry
A smartphone is all about symmetry. Having a notch or hole-punch on the display just ruins it. Firstly, let us talk about the notch. If your smartphone has a notch, there is a strong possibility of having a huge chin at the bottom of the phone. The notch looks like an accumulation of million dead pixels. Besides, it kills the symmetry by having uneven dimensions on the phone.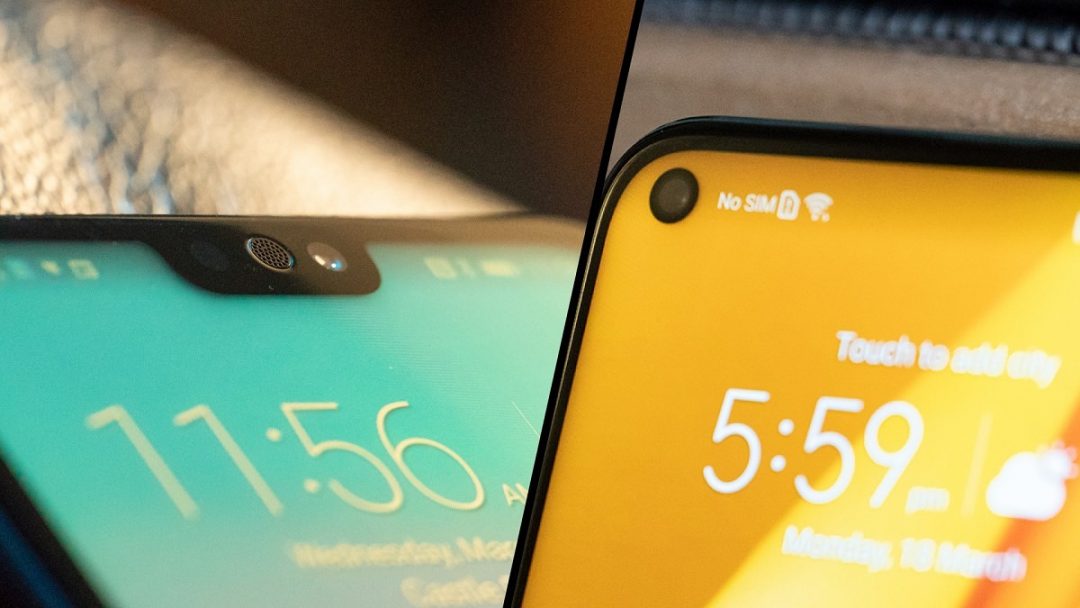 Similarly, this goes for hole-punch displays as well. I think it is the worst method to improve the screen-to-body ratio. An ugly hole sits on the corner of your smartphone. Surely, it improves the screen ratio but, makes your phone ugly in symmetry.
See Also: Do Dark Themes and Black Wallpapers Save Battery?
Moreover, if you look at Galaxy Note 8 or 9, these phones are the best symmetrical phones in my opinion. Like most people, I also prefer my phone to be perfect in symmetry.
2. Apple/Samsung Wannabe
The title is apt for early adoption of a notch on smartphones. As soon as Apple and Essential phone came up with the notch, every manufacturer started adopting it. You can see almost every smartphone of 2018 with a notch. But, most of them failed in this process of becoming a wannabe. We can see many ugly and failed implementation of the notch like the Pixel 3Xl.
Pixel 3XL as a smartphone is great but, as a design, it is a big NO! Apple houses depth-sensing face unlocking feature in the notch. But, other wannabes without any need have plainly adopted the notch. Some came up with their own version of the notch, for example, the teardrop design.
Similar is the case with the hole-punch. It is the new version of ugly displays. Huawei and others are in line to feature them in their lineup.
Don't Miss: Display Notch – A Good or Bad Thing? Our Honest Opinion
3. Thick Bottom Chin
As mentioned in the first point, notch or hole-punch smartphones have a thick chin. The point here is, although the chin is not thick in size, the notch and hole-punch display shows it in this way. You would find the chin on the iPhone almost negligible because of the OLED display.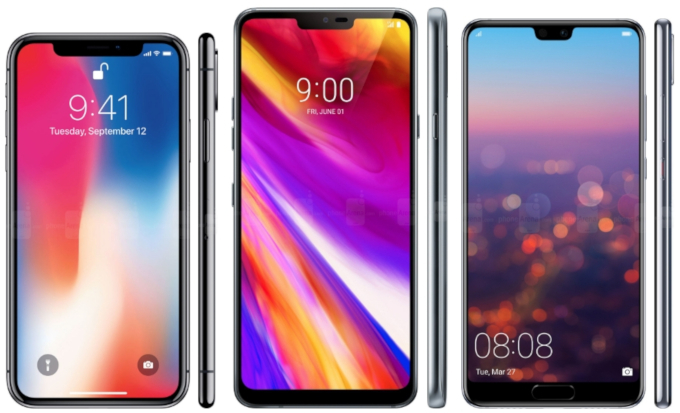 But, Android smartphone manufacturers, are using cheap displays just to copy them. The worst implementation is the Huawei P20 Pro. It features a notch with ugly bottom chin where it houses a fingerprint reader. I mean that is one smartphone I would never want to use in my life (indeed I haven't). And is one of the main reasons why I hate notch and hole-punch displays.
The case with hole-punch is simple. You get an ugly cutout on top of your phone. In no ways, you will be able to use that part of the screen. So, why to adopt a hole-punch? Why not go with the simple yet elegant designs like Note 8 and 9?.
4. How Much Screen Space You Actually Get?
The reason for having a notch and hole-punch on the display is to provide more screen. But, we have seen many manufacturers failing to put that in place. A hole-punch or notch takes up some millimeters of your display. The point to note is that in reality, we are getting lesser interaction space.
The place where these cutouts are placed is anyways not usable. So, the point of having cutout is totally eliminated. You use the space around cutouts only for interacting with notifications. Moreover, we are getting less space in the notification tab because of the hole-punch or notch.
5. Bad Video Viewing Experience
You use your phone more for entertainment purpose than making calls. Before the notch, we watched the videos on our mobiles without any distractions. We were able to maximize the viewing ratio to full screen like the picture below.
However, with the notch and hole-punch, we either have two compromising options. Firstly, we could watch the video without maximizing it. Secondly, we could maximize the video and watch the notch eat away a part of the video like in the below picture.
Must Read: PPI vs DPI: What Are They and What's the Difference?
In my opinion, for the sake of just a few millimeters, ruining the video watching experience is a big NO!
6. Distracting Gaming Experience
Everyone love games. Smartphones are one of the most used platforms for playing games. Besides, we always buy a phone that has a good processor in order to run games smoothly. PUBG is a worldwide phenomenon. At least for once, we all have played this game. It indulges us in a battleground environment.
You have to toggle between buttons to survive through the game. Not only PUBG, but almost every game gives us an interactive environment. But, due to notches and hole-punches, we are not able to get that immersive experience.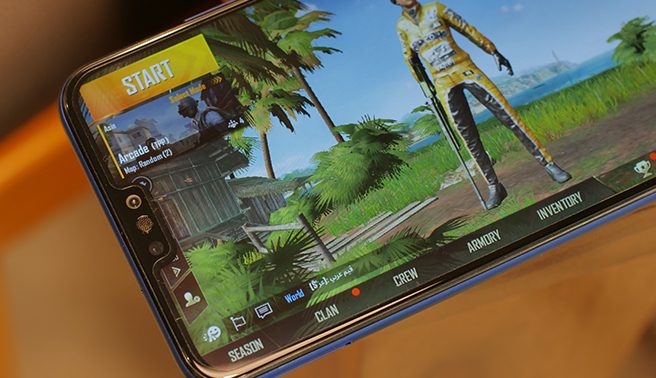 Moreover, an effective part of the screen is blacked out due to notches. In case of punch holes, it is just a distracting hole in the top corner.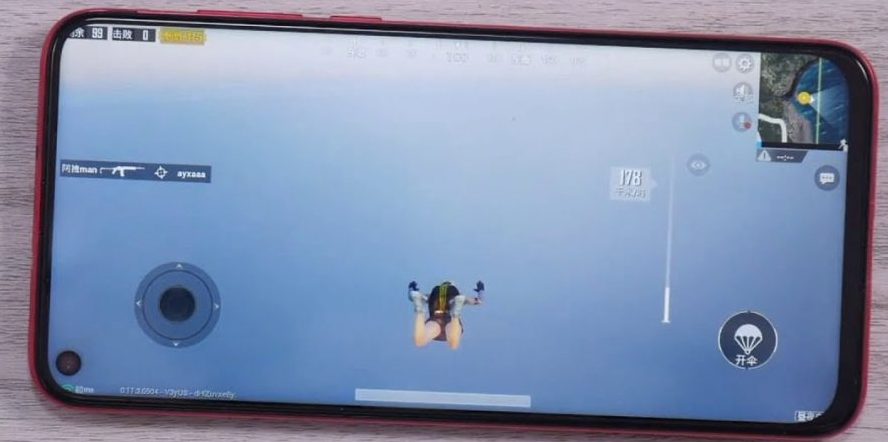 7. Camera Viewfinder Problem
Smartphone cameras are getting better and better. We love capturing memories and mobile cameras are our go-to device for taking photos. The presence of a notch or hole-punch on the display shows its effects after capturing images.
Editor's Pick: Does Lowering Screen Resolution Increase Battery Life?
When viewing captured images on the viewfinder, the upper part of the photo is not visible. As you can see in the image below, we could not see the full view of the captured image. This is one major drawback of notch displays on any smartphones.
In case of punch hole displays, it is more about the distraction in the viewfinder.
Notch and Hole-Punch Displays – The Verdict
In my opinion, if these notches or hole-punches are the steps towards a bezel-less phone, then we have to survive with it. There are smartphones without any notch or punch-hole displays. They include a motor mechanism to house the cameras. But, we all know how fragile those additional parts are.
There should be some need or imp modules for having a notched display. Moreover, if there are no important parts or sensors in the notch, then it is like blindly copying Apple or Samsung.
Though, I personally don't like cutouts on display but, Galaxy S10+'s implementation of the punch hole is appreciated. These are my reasons why I hate notch and hole-punch displays. Let us wait and see what's in store in the future for us in the world of smartphones.
Read Next: Understanding Smartphone Display and Touchscreen Technology