Sometimes a game with simple controls can be much more fun than the graphics demanding games. Party!Party!Party! is an example of such games.
The game is pretty simple and straightforward, there are few colorful party people on the screen that are sleeping, for waking them up you need to join there hands, and party begins when all hands are joined. When you start connecting them you'll notice that they begin grooving to the music. Once all hands are joined the party begins and you nice on to the next level.
Every hand needs to be joined for the party to begin. Hands can be disconnected by tapping on them in case you connect wrong hands. Hands can be connected only horizontally or vertically. As you clear some levels you'll notice that some dudes have more than two hands and you can't join some characters hands to other, in that case you need to join hands with someone else to clear the level. All hands need to be connected no matter how.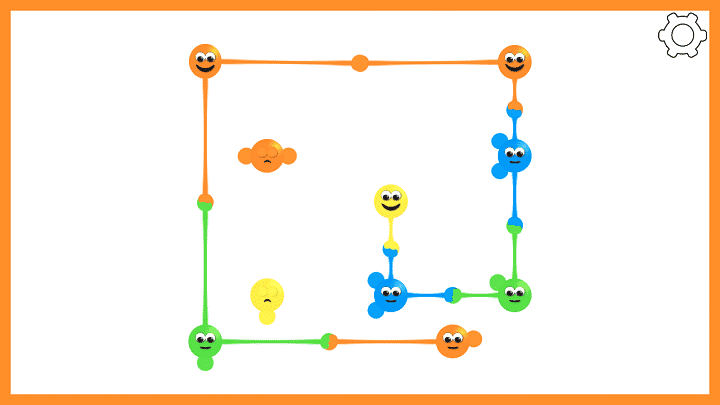 As you clear levels and move from one location to another, you'll unlock items to customize the party people. You can customize them but adding hairstyle, headphones, hats, eyes, and a lot more. There are tons of customization option to keep the game fresh.
The game has a good soundtrack which matches the party theme. It's hip-hop, funky kind of music that can easily bring life to a boring party. From the beginning, the song keeps rocking and keeps you energized and motivated. I kind of liked the soundtrack mainly because of its funky beats.
All in all, Party!Party!Party! is an amazing puzzle game that is easy and fun to play. Although with an increase in the number of levels difficulty level increases and there will come a time when it will become a lot difficult but the music will help you through the difficult times (*wink*). Anyway, it manages to be easy, addictive, and difficult at the same time. I could easily recommend this game to anyone who is looking for a great puzzle game or is just looking for a casual game to kill some time.
Update: The game is no more available at the Google Play Store.