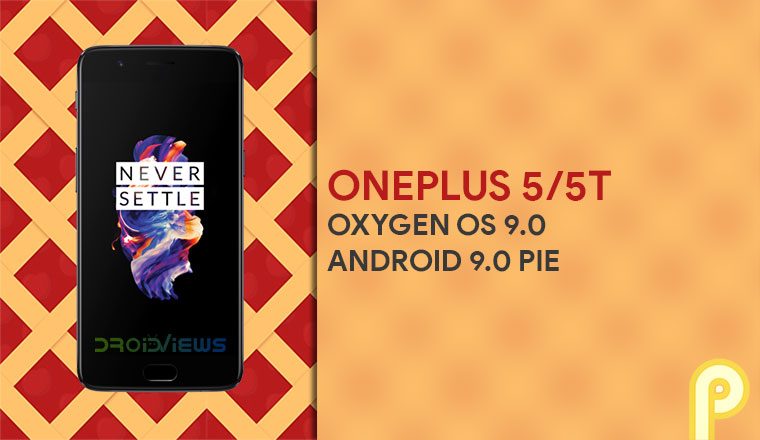 The official Android Pie update for OnePlus 5 and OnePlus 5T is finally available. If you have been waiting for the Oxygen OS 9.0 to knock your door, it's time to install the Android Pie update on OnePlus 5 or OnePlus 5T. Download the update file from below and install it using the steps described.
OnePlus has been doing a pretty good job in terms of providing software update support to its flagship devices. The company only releases two devices each year which also help them deliver updates on time. The OnePlus 6 already had its Android Pie -based Oxygen OS 9.0 update months ago whereas the OnePlus 6T was launched with Android Pie out of the box. It was then the turn for the last year's flagships from the company. OnePlus did rollout Oxygen OS 9.0 for the OnePlus 5 and OnePlus 5T before the end of 2018 and is already getting ready to release the update for OnePlus 3/3T.
Both the OnePlus 5 and 5T have been receiving Open Beta builds of Oxygen OS 9.0 for some time now. This means that the stable release of Oxygen OS 9.0 has been tested enough. While you shouldn't ideally find any bugs, you may stumble upon some minor issue if you're unlucky. The update brings a lot of new things from brand new navigation gestures for the OnePlus 5T to a refreshed user interface. It's also secure with December security patches.
Oxygen OS 9.0 Changelog
System
Updated system to Android Pie
Brand new UI for Android Pie
Brand new navigation gestures (Available for OnePlus 5T only)
Updated Android security patch to 2018.12
Other new features and system improvements
New Gaming mode 3.0
Added text notification mode
Added notification for 3rd party calls
Do Not Disturb mode
New Do Not Disturb (DND) mode with adjustable settings
Camera
Integrated Google Lens mode
Download OxygenOS 9.0 Android Pie for OnePlus 5 and 5T
OxygenOS 9.0.0 for the OnePlus 5
OxygenOS 9.0.0 for the OnePlus 5T
Install OxygenOS 9.0 Pie Update on OnePlus 5 / 5T (via Internal storage)
Download the OnePlus 5 Open Beta ROM and transfer it to your phone's internal storage. It is a .zip archive, do not unpack it.
Now power off your OnePlus 5, then power it on again by holding the Power and Volume down buttons simultaneously. This will boot your device into recovery mode.
Select your preferred language in the recovery then select Install from internal storage/Install from local. 
Navigate and find the downloaded ROM file and select it then select Install.
Your phone will now install the selected firmware and reboot automatically once that is done.
Install OxygenOS 9.0 Pie Update on OnePlus 5 / 5T (ADB sideload)
Instead of transferring the file to your phone you can instead use ADB sideload to directly install the ROM to your device from your computer. Although even though it sounds easier, it is actually not. For one, it requires that you already have ADB and fastboot installed on your computer as well as the required OnePlus USB drivers. You'll also be required to enable USB debugging on your Android device. But if you're someone who already uses ADB you'll already have all of that installed and enabled.
This method will also require you to factory reset your device. Once you have downloaded the ROM zip, rename it to oos9.zip and place it in the folder where adb is installed.
Connect your phone to the PC and launch the ADB command interface.
Enter this command to reboot your phone in recovery mode.

adb reboot recovery

Or you can do it the traditional way using the button combo mentioned in the previous method and then connect your device to the PC.

Once in the recovery, select Wipe data and cache > Factory reset and type yes.
Select Install from USB and then tap on OK. You'll see "You are in sideload mode" displayed on the screen.
Use the following command to sideload the ore beta zip to your device.

adb sideload oos9.zip

The ROM will be flashed and your device will reboot automatically. If not, select reboot from the main menu of recovery.
Install OxygenOS 9.0 Pie Update on OnePlus 5 and 5T (TWRP recovery)
Reboot your OnePlus 6 to TWRP recovery. To do this, from the Power menu, select Reboot and then press and hold the Volume Down button until you see the TWRP splash screen. Your phone will vibrate once during the process.
Although this is an official update and shouldn't mess anything up, it's never a bad idea to have a backup. It's not necessary but you'll be very thankful that you did create a backup in case things go south. To do a backup, select Backup from the main menu and then select all the partitions that you want to back up. Swipe at the bottom and the backup process will begin. It can take some time.
Once in the recovery, select Install and then select the downloaded OxygenOS 9.0 zip file.
Swipe at the bottom to flash OxygenOS 9.0.
Once the flashing process is complete, select Reboot system.
Regardless of which method you choose, you will be greeted with Android Pie-based Oxygen OS 9.0 when your device boots up.