OnePlus introduced the Zen Mode along with the launch of OnePlus 7 Pro. It helps users take a break from various technological aspects and focus more on their daily life. Continuing the good work, they keep on adding new features to it. After expanding support to OnePlus 7, 6 and 6T, the app has made a very intriguing yet important addition within itself. Called the OnePlus 21-Day Zen Mode Transformation Challenge, the Chinese OEM wants you to have at least 2 hours of break from your device, for the time period of 21 days. Moreover, if you have recently bought a OnePlus 7 Pro, then don't forget to check out 5 new OnePlus 7 Pro features you should know about.
If you are wondering why 21 days, then it is because OnePlus believes that according to pyschologist it takes 21 days to develop and get used to a habit. Hence they are of the notion that by the end of the 21st day you would have developed the practice of staying away from your device, for at least 2 hours. Well, it really sounds interesting. Do let us know whether it worked out for you or not. But first, have a look below to know more about this OnePlus Zen Mode Challenge. Moreover, you could even install OOS 10 Game Space on Oxygen OS 9.5.x. Don't forget to try it out as well.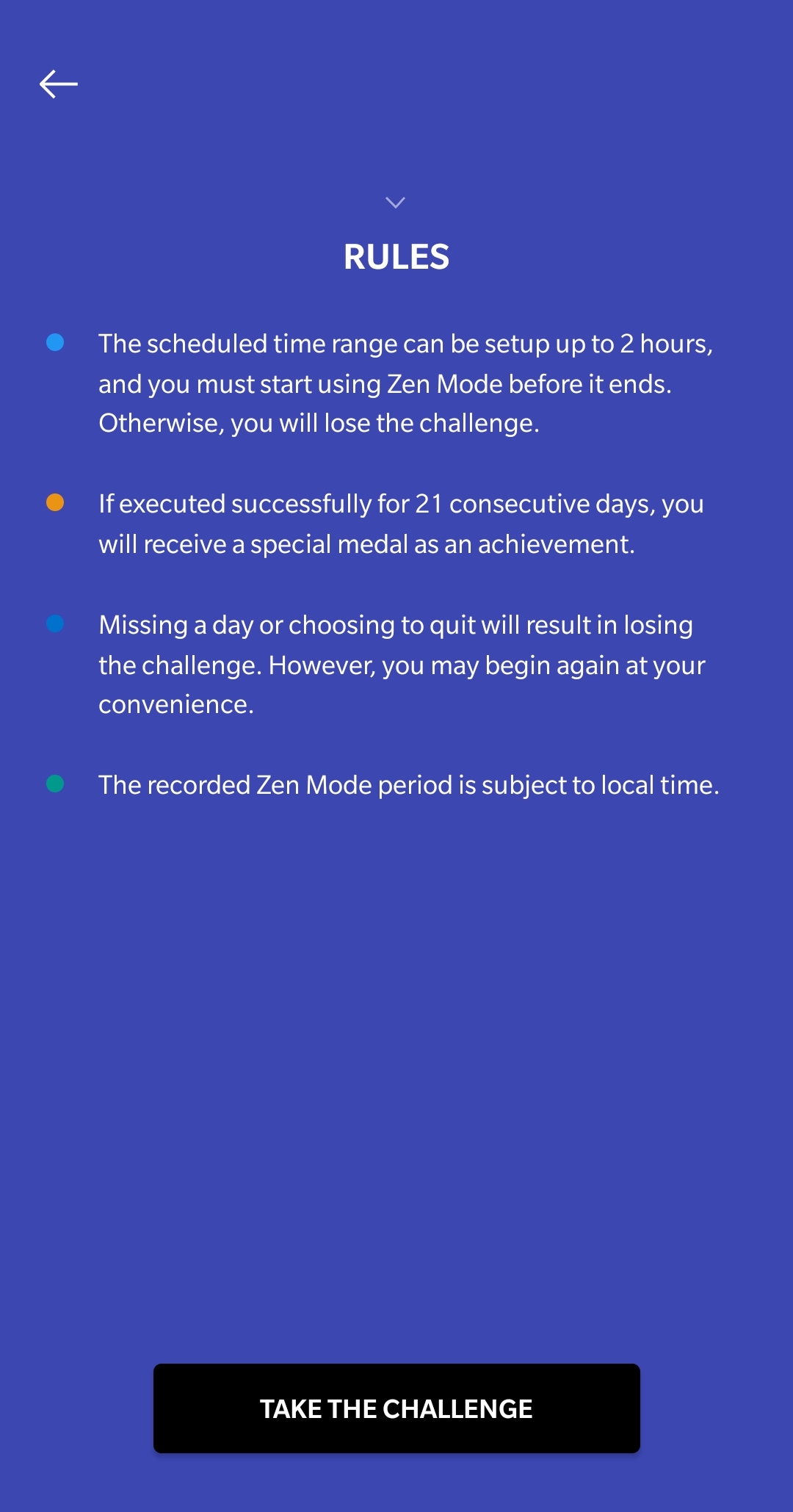 OnePlus Zen Mode Challenge
Before beginning with the Oneplus Zen Mode Challenge, make sure that you are using the latest version of the OnePlus Zen Mode app (v-1.4.0.190). The app is being slowly rolled out on Play Store to a handful of users. But you may sideload it from APKMirror if you wish to try it out right away.
First of all, chalk out the two hour time period during which you wouldn't be using your device. Next, during the initial setup, you will have to enter this two hours slot. Once done, tap on Save. Now you have to make sure that you don't forget to enable the Zen Mode every day at this specified time. Failure to do so on any given specific day or if you use your device during those two hours will straight away disqualify you from the challenge.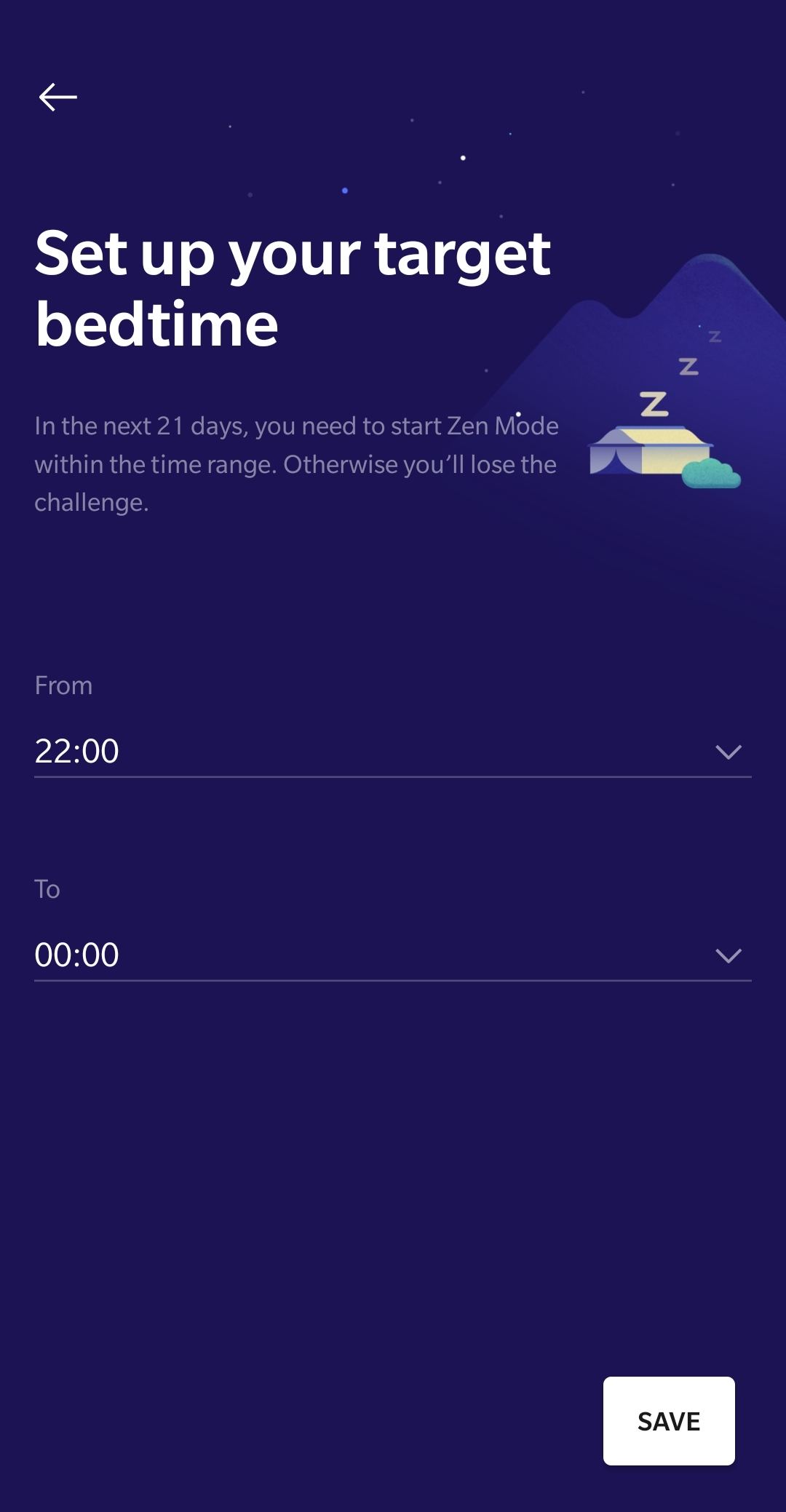 Once you successfully complete the OnePlus Zen Mode 21 days challenge, the OEM will award you with a virtual medal. However if you feel 21 days is not your cup of tea, then you may try out for shorter durations as well. Apart from the 21 days challenge, you have the option of choosing either a 7 day or 14 days challenge. But these shorter days challenge wouldn't be as beneficial as the 21 days is.
Moreover, the enthusiasts should try out all these three challenges and earn themselves all the three available shining virtual medals. Also, although this app is pretty useful in itself, there may be certain other unwanted apps on your device. In those cases, you can remove bloatware on OnePlus devices running Oxygen OS 9.0+.
So were you able to complete the OnePlus Zen Mode challenge and earn any of the available medals? Moreover, did you tried competing for all three medals? Do let us know down in the comments section below.
Read next: Make Your Android Device Look Amazing with Swift Installer