You can easily move Android apps and associated data to SD card. There is no dearth of amazing apps on Play Store, but there is certainly a cap on the amount of data your smartphone can store. Your phone's internal memory is bound to get clogged up with apps and their data if you continue filling it up by installing new apps. Unfortunately, there is no way to increase a phone's internal memory; but you can certainly buy an SD card and shift all your apps to it to save up space on your internal memory.
Before you buy a high capacity SD card for your phone in the hopes of transferring your apps and other data to it, make sure that your phone supports the SD card of that capacity. For instance, most modern smartphones support SD card up to 128 GB, but there are a number of phones, especially the ones manufactured a couple years ago, that only support memory cards up to 32 GB or even less. If you have a relatively older phone, then there's no point in purchasing a high capacity memory card. However, 32 GB is usually enough for transferring apps for most users.
Suggested reading: 2 Ways to Turn Off Screenshot Sound on Android
Move Android Apps and Associated Data to SD Card
At the outset, let me tell you that not all apps can be moved to an SD card. Moreover, there are phones that won't let you move your apps in the first place! So, if you have installed a ton of apps in a phone with an internal memory of 4-8 GB, then you're still going to face problems despite getting a memory card. Also, if you remove the SD card from your device, you can't use the apps you transferred to the card.
In order to transfer an app to SD card, all you need to do is head to Settings and open the Apps menu.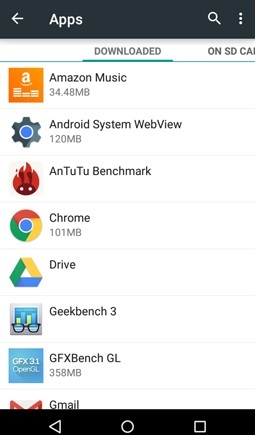 In that, select an app and tap Storage. If the selected app allows the transfer to an SD card, you shall see the option of "Move to SD Card".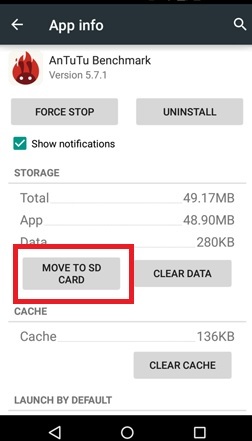 When you tap that, the transfer of the app and its associated data to the SD card will begin. The transfer will complete depending on the size of the app in question; if it's a large app, then it will take some time to transfer, but if it's a small-sized app, the transfer will be complete in a couple of seconds. Make sure that you don't remove the SD card at any time while the transfer is still in progress.
Don't miss: How to Expand Internal Storage by Linking your SD Card