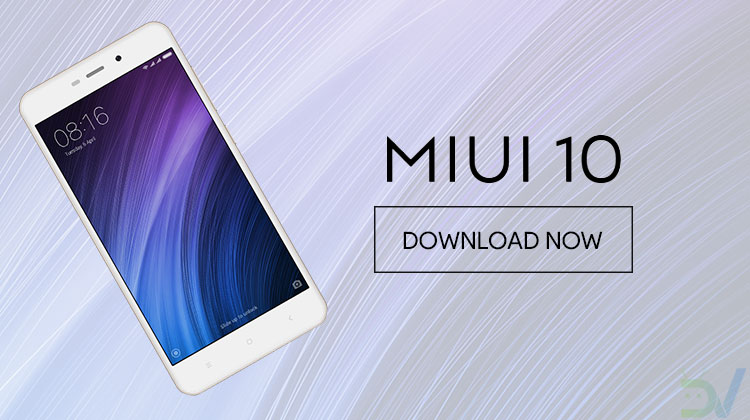 You can now install the Global Stable version of MIUI 10 on Redmi 4A using stock or TWRP recovery. Download MIUI 10 ROM from below and install on your Redmi 4A.
Xiaomi's Redmi series has always boasted of some of the best smartphones under a tight budget. The Redmi lineup started as an ultra-budget series but has grown into the budget category as well with the Redmi Note series. Xiaomi Redmi 4A is one of those ultra budget offerings from the Chinese OEM. Despite being ultra pocket-friendly though, Xiaomi is showing that they're committed to releasing updates to the device. The Redmi 4A is now receiving the latest MIUI 10 Global Stable ROM update via official channels.
The device features a Qualcomm Snapdragon 425 processor with 2 GB of RAM and up to 32 GB of storage. Those are quite decent specs considering the near $100 price point of the device. Though the MIUI version is the latest at the moment, the Android version isn't. This is generally the case with Xiaomi's MIUI updates on most of their smartphones. Therefore, while the Redmi 4A will enjoy new features from MIUI 10, features built into the latest Android won't be there.
This is not a big deal since Xiaomi's MIUI does pack in quite a lot more than stock Android. Many times Xiaomi ports in features from the latest Android into MIUI as well. MIUI 10 for Xiaomi Redmi 4A is based on Android 7.1 Nougat, which is now a couple of years old.  It's quite possible that you may not get to enjoy the same MIUI features that someone with a Poco F1 may get since MIUI 10 for it would be based on a newer version of Android.
MIUI 10 Changelog
Designed for a full-screen experience
All-new full-screen gestures will change the way you interact with your device. They can do everything you used buttons for, except they're faster, smarter, and more convenient.
All-new UI is tailored for full-screen devices and lets the content take the front stage.
Natural sound system
You won't get tired of natural and ever-changing sounds of MIUI 10
We simplified system sounds and applied smart filters, so you'll hear something only when you need to
Ambient sounds of the forest, beach, drizzle, stove fire and summer night will help you to relax and focus on what's important
Other improvements and optimizations
AI brings Portrait mode to single camera devices! Blur the background on your portrait shots and look as gorgeous as you feel
Requirements
Make sure the device is charged enough so that it won't shut down while the update is being installed. Around 50% of the battery should be enough.
It's an official update so it shouldn't cause any harm to your data but it is always safer to have a backup before installing any updates.
Download MIUI 10
MIUI 10 Global Stable for Xiaomi Redmi 4A
Related article: Install MIUI 10 on Xiaomi Redmi 6
Install MIUI 10 on Xiaomi Redmi 4A – (via Stock recovery)
Download the MIUI 10 ROM file from the link above.
Transfer it to the downloaded_roms folder on your Xiaomi device.
Go to Settings > About phone > System update. Here, tap on the 3-dot menu button in the top right and select Choose update package.

Three Dots menu inside MIUI Updater app

Choose Update package inside MIUI Updater app

Select the downloaded MIUI 10 ROM.
The system will start decrypting the file and install it automatically for you. Wait for it to finish the process, which may take 10-30 mins.
Install MIUI 10 on Redmi 4A – (via TWRP)
This method requires an unlocked bootloader which you should already have if you've managed to root your device. If you already have TWRP recovery installed, you can boot into it and skip directly to step 5.
Power off your Xiaomi device completely. Now press and hold the Power button and the Volume down button simultaneously for a few seconds. This will boot your device to fastboot mode. 
Connect your phone to the PC with a USB cable, and then launch ADB. On Windows, you can do this by heading over to the adb folder and entering cmd in the address bar. On Linux or Mac, you can just launch a Terminal window. 
Boot the downloaded TWRP image on your phone now using this command:

fastboot boot /path/to/twrp.img

Replace /path/to/twrp.img with the location path and the name of the image file. This step can be avoided if you move the TWRP image inside the adb folder and rename it to twrp.img. This will shorten the command down to:

fastboot boot twrp.img

Once booted in TWRP, transfer the MIUI 10 ROM to your device over the MTP connection allowed by TWRP. You can also transfer the file to an external SD card and insert the card in your Xiaomi device.
Select Install and then select the MIUI 10 ROM file and swipe at the bottom to flash it.
Tap on the Reboot system button that appears at the bottom after the GApps are flashed.
When your Redmi 4A boots up, you should be greeted with a brand new MIUI 10 interface. Enjoy the new ROM.