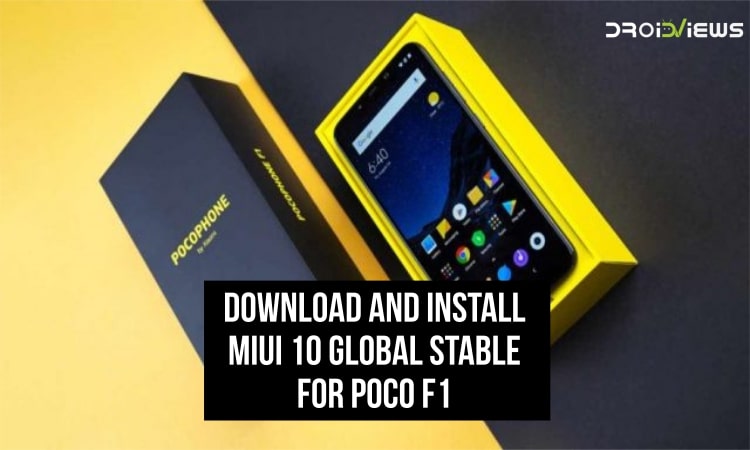 Xiaomi launched a new venture into the smartphone market earlier this year. This new company was named as Poco and is subsidiary to the parent company. Poco launched their first smartphone named as the Poco F1. In International markets, the smartphone is named as the Pocophone F1. It is great to see that just a few months after it's launch, the first major update for the Poco F1 has arrived. In this article, we'll guide you how you can download and install MIUI 10 on Poco F1.
Coming back to the MIUI 10 update for Poco F1, this is the global stable version. Therefore, it is completely fine to install this update on your device. Also, you should know that Poco F1 runs a modified version of MIUI. So, there have been little tweaks made to MIUI 10 by Poco as well. Thus, it won't be identical to MIUI 10 on other Xiaomi devices. But, it is to be noted that all the MIUI 10 features are still present.
The build number is MIUI 10 Global Stable 10.0.4.0 for the Poco F1. Also, you will not have to wait for the update to arrive on your device as well. Because we now have the OTA file which Xiaomi has sent out to the Poco F1 users around the world. This means that you can skip the queue and download the update right now.
We have attached complete step-by-step tutorials for each and every step in the installation process below. Thus, make sure to follow the steps properly and you will have a safe installation of MIUI 10 on your device. After that, you can enjoy all the goodness that MIUI 10 has to offer on your Poco F1. Moreover, we should also inform that MIUI 10 is still based on Android 8.1 Oreo. But we know that Android Pie-based MIUI 10 for Poco F1 is already available in beta version so it should not take too long for the update to be released.
Prerequisites
Ensure that your Poco F1 is not rooted and stock recovery is installed on your device. If you don't understand this terms than you don't need to worry.
Also, your device should be charged up to 50% in battery capacity. This way, you can make sure that there is enough juice left even after the installation
Although this installation is not supposed to format or remove any data from your device, we always recommend taking a backup of your important data.
Downloads
Related post: Install Unofficial LineageOS 16 on Poco F1
Steps to Install MIUI 10 on Poco F1
First of all, make sure to read and understand the steps from the Prerequisites section.
After that, you need to download the "MIUI 10 for Poco F1″ file attached in the Downloads section above.
Next, you need to proceed with the installation of this update on your device. For this, we will be using the inbuilt MIUI Updater application only.
Now, go to the home screen on your device and open the app drawer. Here, search for the Updater app.
Once you find the application, tap on it to open it.
Next, you need to click on the three-dots-menu located at the top-right corner as seen below
7. After clicking, you have to click on Choose update package option from the list of options presented to you.
8. Here, you will have to select the MIUI 10 for Poco F1 file downloaded from above and click on it. Now, the installation of MIUI 10 ROM on your Poco F1 should proceed.
9. Once the installation is complete, reboot your Poco F1. You will be greeted with the MIUI 10 home screen after the reboot is completed. You can also verify that MIUI 10 has been installed by going to your device's settings app and checking for current MIUI version.
On reading this entire installation process step-by-step, you are guaranteed to have a successful installation of MIUI 10 on your Poco F1.
However, if you are still stuck at any step in the process than do not hesitate in querying down below in the comments section. We will make sure that your questions are answered as soon as possible.
Read on: Install Google Camera on Xiaomi Poco F1 & Xiaomi Mi 8 [Without Root]