This is a continuously updated post about the MIUI 11 and Android 10 update for Xiaomi devices. We will add more information and correct older, inaccurate information as and how Xiaomi reveals it. When it comes to Android updates, Xiaomi works very differently than other Android OEMs. As such, it is not reasonable to judge them on the same grounds. If you own a Xiaomi or Redmi phone, here's the MIUI 11 update tracker based on the latest Android 10 for your device.
Where other Android manufacturers fail to provide any update since they can't provide a major Android upgrade, Xiaomi still manages to bring their updated Android skin to many of their devices, even if based on the same, older Android version. This has added benefits for users since it's already hard to tell that MIUI is Android. Most users don't even know what version of Android they're running.
Even the version of the updated MIUI based on an older Android version has many of the new features from the MIUI update based on the latest Android. Likewise, MIUI 11 while originally based on Android 10 for most of Xiaomi's latest devices is also available based on Android 9 Pie for many other devices that won't be getting updated to Android 10. While the MIUI 11 update for Xiaomi devices is still round the corner, you can enjoy the MIUI 11 wallpapers right away.
MIUI 11 – Android 10 Update for Xiaomi Devices
Light & Dark themes
MIUI 11 brings plenty of changes over MIUI 10. Most of the differences between Android 9 and Android 10 are under the hood or in functionality. The differences between MIUI 11 and MIUI 10 though are mostly all aesthetic and in the overall experience. MIUI 11 is cleaner, whiter, and familiar to MIUI users. All the whiteness is not liked by everyone but it is kind of necessary for a consistent experience when you switch to dark mode. Yes, MIUI 11 has a dark mode too.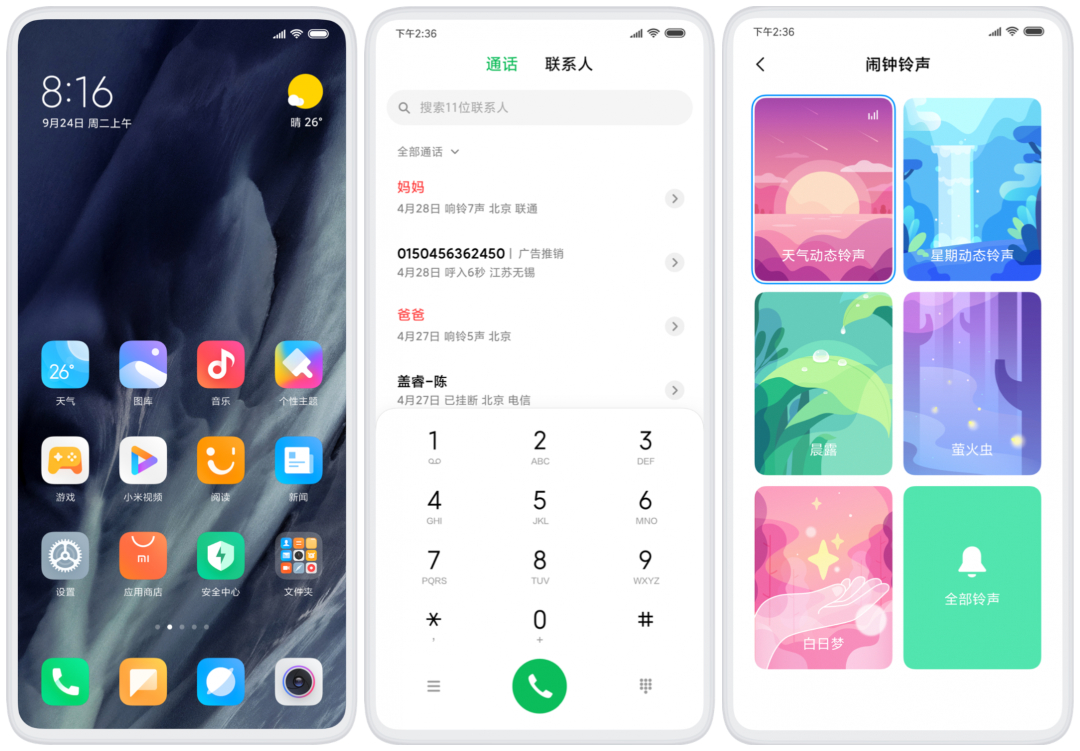 New font
Xiaomi's Android 10 update is not quite as important for many users as the update to MIUI 11. Because regardless of whether your Xiaomi device gets the Android 10 update you will see a lot of these MIUI 11 changes on your device too. For instance, MIUI 11 uses a new MiLan Pro font which will be available across all MIUI 11 devices. There's also a slider that lets you set the font thickness. Earlier, users were only allowed fixed-step changes. Bold font is also used across the interface as an interactive feature. For instance, pressing a number key on the dialer makes the font on that key bolder.
AOD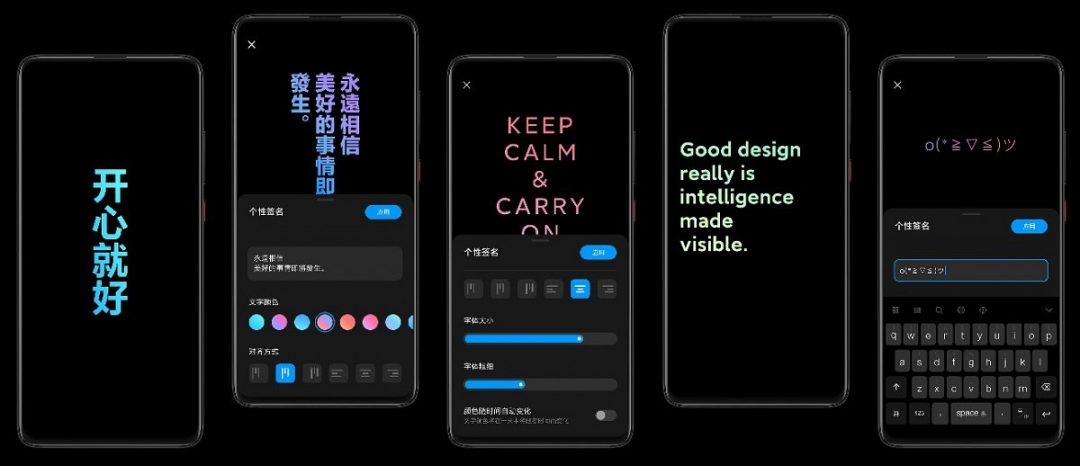 MIUI 11 is also bringing the much-requested Always on Display feature. On supported devices, users can now choose from a huge range of always-on displays. These range from various animated watch faces which can feature designs and patterns to animated analog clocks. You can even just have some static text display instead of a clock. You also get a horizon light-like feature much like the OnePlus 7 Pro.
Xiaomi MIUI 11 Beta & Android 10 Update
Xiaomi has already started rolling MIUI 11 Beta updates. It's safe to assume that any devices supported by the beta program will be updated to MIUI 11. Though you'll notice not all of these devices will be getting the Android 10 based MIUI 11. The beta versions do not have the Google Play Store so keep that in mind. However, the Play Store is pretty easy to sideload on MIUI devices.
Android 10
Currently, the only devices getting a beta version of MIUI 11 based on Android 10 are the Xiaomi Mi 9, Xiaomi Redmi K20 Pro, and Xiaomi Redmi K20. This list will most probably expand in the coming days.
MIUI 11 Beta
The full list of devices that will be getting the MIUI 11 Beta includes the following.
Xiaomi: Xiaomi 8 Youth Edition, Xiaomi MAX 3, Xiaomi Note3, Xiaomi Note 2, Xiaomi PLAY
Mi: Mi 9, Mi 9 enjoy the transparent version, Mi 9 pro 5G version, Mi CC 9, Mi CC 9 Mito Custom Edition, Mi 9 SE, Mi MIX 3, Mi MIX 2S, Mi 8, Mi 8 transparent exploration version, Mi 8 screen fingerprint version, Mi 8 SE, Mi MIX 2, Mi 6 Mi 6X, Mi MIX Mi 5s Mi 5s plus Mi 5X Mi 5C, Mi Max 2
Redmi: Redmi K20 Pro, Redmi K20 Pro Premium Edition, Redmi K20, Redmi Note 8, Redmi Note 8 Pro, Redmi Note 7, Redmi Note 7 Pro, Redmi 7, Redmi 7A, Redmi 6 Pro, Redmi 6A, Redmi 6, Redmi S2,Redmi Note 5, Redmi 5 Plus Redmi 5, Redmi 5A, Redmi 4X, Redmi Note 5A Standard Edition Redmi Note 5A high version.