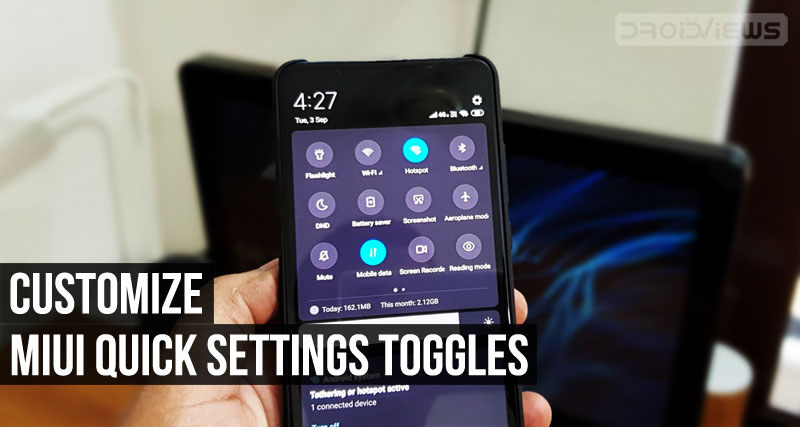 I was first introduced to MIUI back in 2012. The customization features of the ROM appealed to me so much that I started developing themes for it. Recently, I got my first Xiaomi phone, the Redmi K20 Pro. Being unused to MIUI for a very long time, I realized that it has changed a lot since the MIUI GB days. I wanted to edit or rearrange the MIUI Quick Settings toggles but didn't find a way to do that. If you have been looking for a way to reposition the quick settings button on MIUI 10, you'll find this little tutorial helpful.
The Quick Settings screen on Android is really very handy.  It contains a bunch of shortcuts to enable and disable some of the most useful options like flashlight, Bluetooth, Wi-Fi, sound profile, and so on. I need to turn on WiFi Hotspot on my phone very often to connect my laptop to the internet. I wanted the Hotspot toggle to be on the first page of the Quick Settings screen for quick access. However, after I bought my Redmi K20 Pro running MIUI 10, I was found the Hotspot toggle button on the second page. It wasn't very convenient for me and I needed to reposition it to a more convenient location.
To be frank, I wasn't worried about it as I knew that Android devices let you reposition the Quick Settings toggles or tiles. I was always able to do that on my Samsung or OnePlus phones. I started looking for an 'Edit' option so that I could rearrange the MIUI Quick Settings toggles to my requirements. It was really disappointing to discover at first that MIUI won't let you do that! However, I soon saw one of the buttons on the second screen of the Quick Settings panel that said "Edit'. When I tapped it, I was happy to find out that I could finally reposition the MIUI Quick Settings toggles.
So, the option to customize the position of the Quick Setting tiles is there on MIUI 10. It was just a sort of ignorance on my part. If you are one who did not notice that 'Edit' option, below are some quick tips describing how to rearrange the Quick Settings panel. Anyway, if you want to enjoy an extended and more customizable MIUI Quick Settings and notification panel on your Android, you should give a try to MIUI-ify – Notification Shade app.
Edit MIUI Quick Settings Toggles
To be able to rearrange MIUI 10 Quick Settings tiles as per your personal preference, do as described below.
Open the Quick Settings page by pulling down the status bar on your Xiaomi Mi or Redmi phone.
Slide the Quick Settings page to the left side.
At the end of the toggle buttons list, you'll see a button named 'Edit'.
Tap it to see all available Quick Settings toggles.
All you need to do now is to press and hold the toggle items one-by-one and drag them to the position where you want them to be.
You can see in the above screen that the Hotspot tile is now repositioned to 3rd position on my Redmi K20 Pro. Try this tip on your Xiaomi or Redmi device or any other Android phone running MIUI 10 and let us know if it helped you.
Read Next: Get Edge-Lighting Border Around Screen on aYour Android