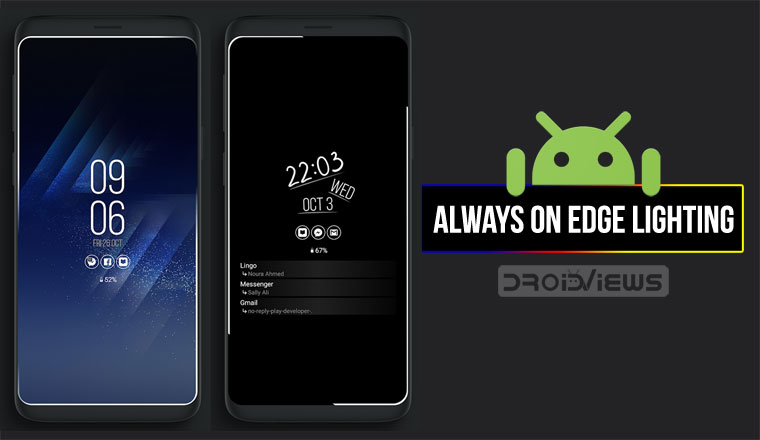 Android OS has thousands of unique features divided among different Android skins by manufacturer. There might be a feature which you love a lot from One UI which you miss in your MIUI or a feature from Oxygen OS which is missing in Color OS. But the beauty of Android is that there are tons of developers working day in and out to develop such unique features as an app which can be used across all skins. The two apps we'll be discussing today will add an edge lighting border around the screen or display of your Android device.
Always on edge lighting border is one of that feature which I loved a lot when I first saw it on Samsung S Series. Although it was unique to Samsung devices when it came out but not anymore. There are a plethora of apps on PlayStore which allows you to have this feature but today I'll be reviewing the best two apps which are Always on Edge and Edge Lighting. I'll first talk about 2 apps, namely Always On Edge – Edge Lighting, and Edge Lighting: Notification, Rounded Corner.
Get Edge Lighting Border Around Screen
Always on edge application is similar to the Border Light Live wallpaper we reviewed recently but with added features. Just like border light live wallpaper, this application adds a unique border to your smartphone when you turn this app on. Along with the live wallpaper, you also get an option to light up the edge of the screen when you receive a new notification. This is personally my favorite feature of this application as it feels really unique to have your device light up on the edge when you receive new notifications. You can customize the color of the light along with the pattern from the app settings.
1. Always On Edge – Edge Lighting
Now let's see how to start with the app's configuration and settings.
Download the app from the link given below.
[googleplay url="https://play.google.com/store/apps/details?id=com.used.aoe"]
Once you open the application you'll be greeted with the screen which shows time at the center along with settings option at the top of the screen.
Click on the settings icon to customize the app as per your preference.
Inside the settings, you'll have to give a few permissions before you can start using the application like notification access, apps overlay access, phone state, etc.
Once you give the access you can tweak settings to your need and scroll at the bottom of the page to save settings.
Lastly, to save settings you have to scroll at the bottom of the page. On the free version of the app, you have to watch a video ad in order to save your settings. You can donate a minimum of $0.99 to save settings without watching ads.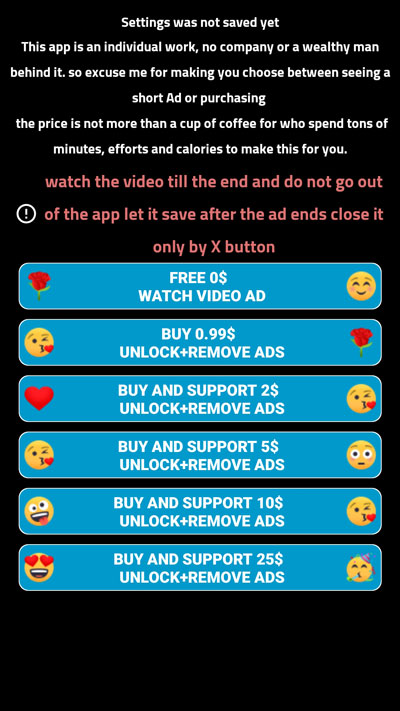 Must Read: 5 Best Password Manager Apps for Android
Some Tips and Tricks
Always on edge app has a bunch of customization options. I'm sure you would get confused going through each and every setting so here's a short Tl;dr version of awesome features which you should use on Always on Edge.
Firstly, I would suggest you allow this app to run without restrictions. This ensures that it will not be forced closed by your android system for battery optimization or RAM management.
Enable "Lighting when listening to music" feature from app settings which allow the app to run lights at the border when you play music on your device.
You can also enable "When I put the device on charge" feature. This will light up a red border when you put your phone on charging. It will also show a green light once your smartphone reaches 100% battery.
It also has a feature to light up your phone when making or receiving phone calls.
You can choose to close this application via multiple options. I personally prefer the "swipe up to close" option.
If you're using a device with the notch, you can enable the notch options from "Lighting Place" settings.
You can manually adjust the notch to the height and width you want by clicking on adjust manually.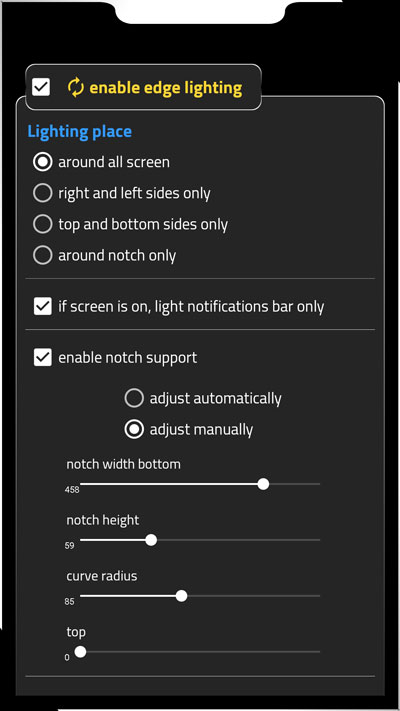 Overall I would say that this application is really unique and one of its kind with a lot of customization options. Although I feel that the UI could have been better. They could have simplified it a bit more for the majority of the audience who aren't Android Geeks. Also, you need to save the setting after every tweak you do; unlike other apps which update in real-time. You also have to see an ad of 15-30 seconds every time you wish to save new settings.
Don't Miss: Set Your Favorite Videos as Wallpapers on Android Devices
2. Edge Lighting: Notification, Rounded Corner
Edge lighting is another application which you can use to get this feature on your device. The user interface of edge lighting is way better compared to the Always On edge application mentioned above. It is a super small application with a size of 2.6MB and has an average rating of 4.5. I personally prefer this application over Always on edge lighting but both of them have their own unique features.
Here's how to use the app:
Download the application from the link given below
[googleplay url="https://play.google.com/store/apps/details?id=com.flysoft.panel.edgelighting"]
Give the necessary permissions and enable the app by toggling it on from the first screen of the app.
You can manage the effect, opacity, and round corner radius in the advanced settings.
To light up the edge for notifications, go to the notification tab and enable it. On the same screen, you can scroll down and enable the notifications per app. 
This application also has a Round corner tab which allows you to get rounded corners which you find these days in most of the flagships.
Features
You can change the borderline effect from circular motion to flashing from the home screen.

It also has a feature wherein you can change the notifications you receive on your device, as shown in the image below
You can choose the applications for which you want to get the notifications and borderline lights.
If you want, you can enable these features selectively for apps you want. You can change the color and background of notifications among different applications.

Rounded corners is another awesome feature which you can use with this application.
You can also set a color filter to your screen and adjust it's opacity to your liking.
Once you set up these applications according to your needs, it brings a unique personality to your smartphone. It indeed will make you show off among your friends.  Also, the option to set the light/border around a notch in always on edge application is just an added bonus. I also love the feature wherein you can get rounded corners on any device via Edge Lighting. You might also be interested in Borderline Live Wallpaper app which we covered recently.