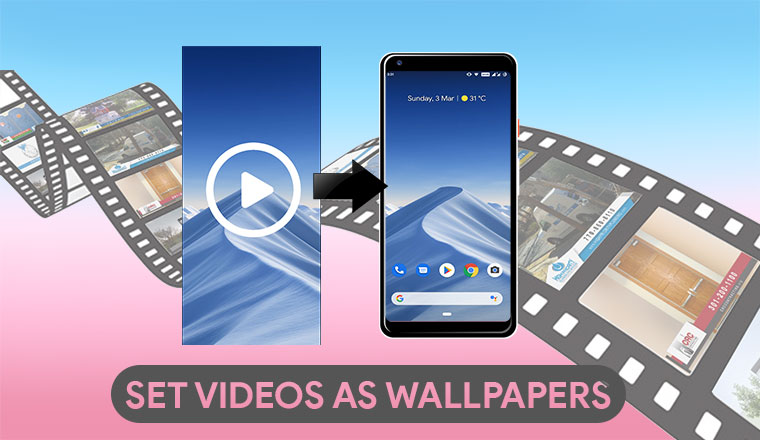 These days live wallpapers are quite common and there are plenty of live wallpapers on the Google Play Store too. Their popularity has even brought them to desktop operating systems, albeit only via third-party developers. Live Wallpapers are a thing on Android since the Eclair days though. Today, you don't even need a live wallpaper as an app since you can set GIFs as wallpapers. If you want, you can even set videos as wallpapers on your Android device.
If you've ever looked for video wallpapers on the Google Play Store, you must have found plenty of apps for it. Some apps allow you to set any video locally stored on your device as wallpapers. On the other hand, some apps have a few video wallpapers available within. With GIFs, you usually have to look out for the quality since GIFs aren't usually of very high resolution. Videos, on the other hand, can be quite high-res. You still need to worry about something though and that's the video format. You can only set MP4 or 3GP videos as wallpapers.
Find a Video to Set as a Wallpaper
To use a video as your wallpaper you obviously need one first. Most videos are shot in landscape mode though while your phone wallpapers have to be in portrait mode. So make sure the video you use is also in portrait mode. A landscape video will have to be heavily zoomed in and cropped out in order to fill out the top and bottom of your phone's display. We have a video wallpaper from the Xiaomi Mi 9 that we'll use as an example. You can find the download link below.
If you already have a video but don't have it in mp4 or 3Gp, you can convert them using a video converter. In case you don't have one and don't want to install one now, you can use Max Converter. It is an online tool for converting media. We have even reviewed it and you can check out the review by following the link below.
Once you have the perfect video, transfer it to your phone. If you're looking for an amazing live wallpaper that adds animated and colorful edge on the screen of your Android, you must try BorderLight live wallpaper.
Install Video Live Wallpaper
Video Live Wallpaper is a blank live wallpaper that allows you to set your own video as a live wallpaper animation! Do you have that perfect homemade video of your loved one that you'd love to see on your Android device's home screen? How about a music video? Or why not an entire movie? Many codecs and formats are supported. Choices are almost limitless.
[googleplay url="https://play.google.com/store/apps/details?id=com.karthik.vlw"]
Video Live Wallpaper is an app with a self-explanatory name. It lets you set videos as wallpapers on your Android device. The app is completely free to use without any ads and is probably the best of the bunch if you only want to set your local videos as wallpapers.
Set Videos as Wallpapers on Android Devices
With the app installed, you can easily set videos as wallpapers. Just launch it and go through the introduction pages and you'll land directly to the app's main page. There are not a lot of things to worry about here as the app's interface is quite straightforward.
Select Gallery and then it will open the default Android file explorer. You can use it to select a video or find more options in the side menu drawer. When you've found and selected your video, make sure you select Loop Video if you want the video to keep playing continuously. You can also decide whether you want to play the audio included in the video or not.
For a wallpaper, it is best that you turn the audio off. It'll also not be good for the battery if continuous audio keeps playing through the speakers. When you're ready, just select Set Live Wallpaper and then SET WALLPAPER. Depending on your Android version or OEM skin, you may also get the option to choose whether you want to apply the wallpaper on the Home screen or Home screen and lock screen. You have successfully set your favorite video as a wallpaper. Enjoy!