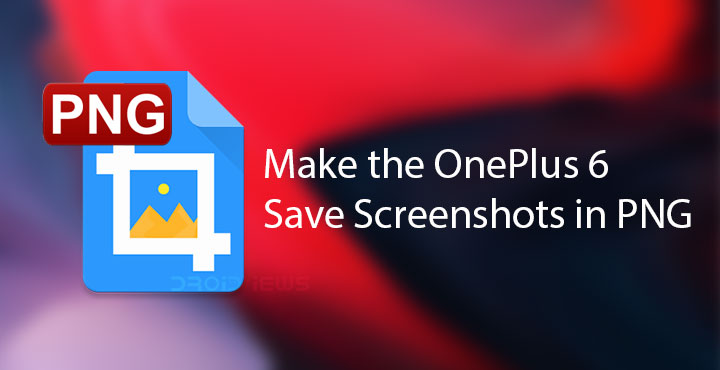 OnePlus 6 runs on Oxygen OS which is OnePlus' take on Android. It's pretty much like stock Android apart from a couple of different tweaks and features here and there that the company finds might be useful for their users. One of the many tweaks in Oxygen OS is how it saves screenshots. The Android default for saving screenshots is the PNG format. However, certain manufacturers like Huawei and OnePlus change this so that screenshots on their devices are saved as JPEGs instead. If that's something you'd like to change, now you can. As long as you have a rooted OnePlus 6, you can make it save screenshots in PNG.
We usually upload screenshots here in the JPEG format anyway to save space so JPEG screenshots are a little time-saving for us. For you though, JPEG screenshots don't provide any other benefit than saving up some space on your device. Since we're talking about the OnePlus 6 here, it's hard to think you'd ever want to save on a few MB of space given that even the base variant comes with 64GB of storage. In any case, smaller file size one plus point of saving screenshots in the JPEG format instead of PNG. The smaller file size does come at the cost of a minor decrease in the quality of the image.
Why PNG and not JPEG?
You've probably already figured this out if you're here. If you haven't, here's why. When you take a normal screenshot, JPEGs don't pose any problems. The images are nice and crisp, the text is clear, you can almost never tell it apart from a PNG screenshot other than the difference in file size. The OnePlus 6 though has a longshot feature which lets you capture a scrolling screenshot. If you're particularly specific about the quality of your screenshots, there's a noticeable difference between an image saved in PNG and JPEG. Once again, this difference is not enough to make you want to do something about it. Most people will not even notice it.
Just like that though there are people who do notice it and would prefer their screenshots be saved in PNG. It's like the debate about 2K panels and 1080p panels. Some people don't notice a difference but some will. If you're one of those, XDA member angelsel has come up with a Magisk module that makes the OnePlus 6 save screenshots in the PNG format resulting in higher quality images. Needless to say, this means your device needs to be rooted with Magisk, which requires an unlocked bootloader.
Download
The PNG Patch Magisk module was developed for the OnePlus 5T but it also works on OnePlus 6 and even the OnePlus 5.
How to make OnePlus 6 save screenshots in PNG
Download and install PNG Patch manually
Download the PNG Patch Magisk module zip file onto your OnePlus 6 using the link provided above. You'll receive a file named op5tlspng.zip.
Launch the Magisk Manager app on your phone and tap pull the side menu drawer with a swipe from the left edge of your screen. You can also access this menu by tapping on the hamburger menu icon in the top-left.
Go to the Modules section and tap on the floating + button at the bottom. It's a yellow circle at the bottom as you can see in the screenshot below.

Browse to the downloaded zip file, tap on it to install the module.
Reboot your device once the module is installed.
If you're using a OnePlus 5/5T, remember to reboot into recovery first and wipe the Dalvik/ART cache.
Download and install PNG patch from Magisk repositories
Launch Magisk Manager, and head to the Downloads section instead from the side menu drawer.
Here, search for op5t and then tap on the download button next to the search result.
Select INSTALL on the popup box that appears and then reboot your device when installation is complete.
If you have any queries or want to report a bug you can do so on the module's development thread at XDA. We've linked it below as the source.
Source: xda