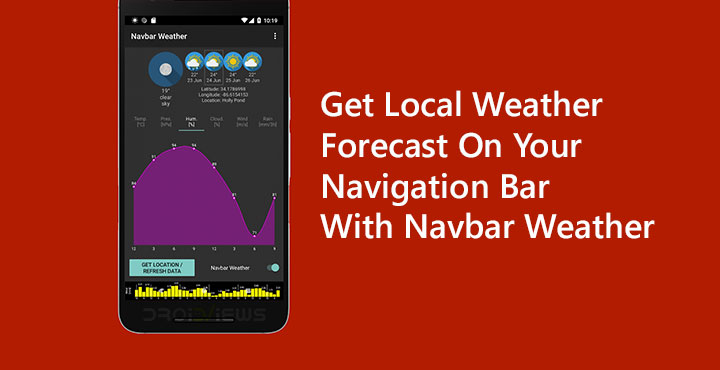 There is no lack of quality, fancy, and just downright awesome weather apps on Android. Almost every Android smartphone ships with an OEM made weather ap built-in. There are plenty more available on the Google Play Store. Some even provide you with fancy widgets to place on your home screen. What if you want to be able to take a quick look at the local weather forecast though without leaving an app you're using? Most weather apps will give you the option to display the temperature or weather condition in the status bar. Navbar Weather, on the other hand, takes things south to the navigation bar.
Even Samsung has jumped on-board with on-screen navigation keys so almost every Android phone these days does have a navigation bar. As you can tell, that is quite necessary for Navbar Weather to work. The app shows the temperatures for the next five days, in three-hour intervals, on your navigation bar. If you fancy it, you can also set an image instead which shows what the weather will be like for the next 12 hours. Navbar Weather has been confirmed to work with working on the Huawei Mate 9, Huawei Honor V10, Moto X4, OnePlus 6, and Samsung devices with a navigation bar. You can expect it to work quite the same on any Android device with a navigation bar.
Install Navbar Weather
[googleplay url = "https://play.google.com/store/apps/details?id=pl.smartfan.navbarweather"]
Don't miss: NavBar Animations Adds Beautiful Animations to Your Navigation Bar (Without Root)
The app does not require root access to work but it should be mentioned that the app is still in a beta phase so bugs are quite expected. It needs permission to get the location of your smartphone (to get localized weather forecast data) and permission to display over other apps (it's obligatory to place weather forecast at your navigation bar).
Features
With Navbar Weather you can get 5 days / 3-hour weather forecast:
The forecast is available at any location or city and includes weather data every 3 hours
Temperature, Pressure, Humidity, Cloudiness, Wind speed, Rain volume, and UV Index – all that presented on a detailed chart
Two types of charts are available now: line chart and bar chart
Possibility to set transparent background
Current weather icon at notification bar
Turn on Navbar Weather
When you've installed the app, launch it from your app drawer and you'll be asked to grant it location access. This is required to get the local weather forecast for your area as explained above. Every weather app requires this permission. Once you grant the permission an overlay appears to guide you around the app. There's a toggle in the bottom-right corner of the app that turns on or off Navbar Weather. Such toggles are generally up top but the app does point it out to you so you can't really struggle to find it. You'll start seeing the weather data on your navigation bar as soon as you turn on this toggle.
You'll also notice a weather condition icon on the left of your status bar. This is due to a persistent notification that the app displays probably so it does not get killed in the background. If you tap on the three-dot menu button in the top-right you can access the Settings. Here you can switch on or off the 3-hour steps on the 5-day weather forecast being displayed in your navigation bar. Some other options will let you change the number of days shown on the chart and even the chart type. Of the two supported chart types – line chart and bar chart – only line chart seemed to work on our OnePlus 6 unit. Selecting the bar chart would crash the app and turn it off. Turning on the toggle thereafter would only crash the app repeatedly until line chart was selected again from the settings.
Must read: Get iPhone X-esque Home Button with X Home Bar App for Android
Image forecast
You can turn on the image forecast in the settings which will show a rather huge image along with the temperature and weather condition. This is basically what you have in the status bar already but in a slightly more odd looking way.
Verdict
Keeping in mind that the app is still in beta, we can perhaps forgive the crashing mentioned earlier. However, even though it could be useful to some the 5-day weather forecast chart just makes the navigation bar look quite cluttered at times. The image forecast sounded like a better alternative but the big icon looks very odd in the navigation bar. We were expecting something more in line with the navbar buttons, more like the icon in the status bar. That's just us though, let us know what do you think, in the comments below.
You may also like: Monitor Network Speed on Android with Network Speed