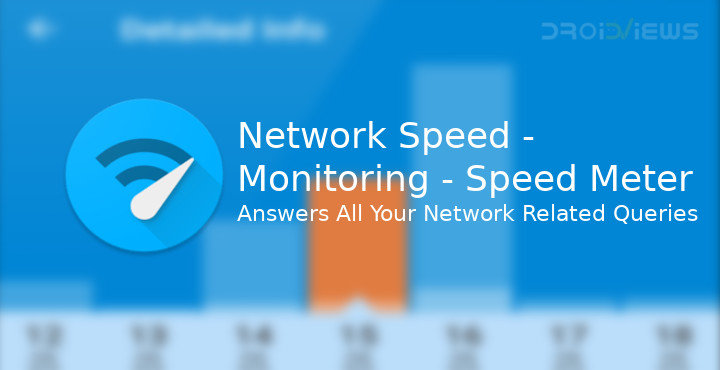 Internet speeds these days are quite fast compared to what they used to be. In some parts of the world, it's fast and also reliable enough that people don't think a second time before buying a Chromebook. In other parts of the world, the Internet is still fast enough, but perhaps not as reliable. Even on some WiFi connections, you may often notice speed drops. This makes knowing it essential whether your WiFi or mobile network is working, and if yes, how fast. I've been on and on about how important it is to me to easily know what the current network speed is while talking about my wishlist of Android P features. Although many OEMs allow displaying network speeds in the status bar, stock Android, and thus many other OEMs don't. If you want to monitor network speed on Android devices, Network Speed – Monitoring – Speed Meter might be of help.
This is certainly not the first or the only app that lets you quickly glance at the current network speed in your device's status bar. Network Speed lets you do a little more though, but that's also not something that similar apps don't allow. Still, among similar apps, it is probably the best looking. I especially like the real-time network speed graph on the homepage for some odd reason.
Install Network Speed – Monitoring – Speed Meter
[googleplay url="https://play.google.com/store/apps/details?id=com.evozi.network"/]
Permissions
The app plays nice with the required permissions and does not require you to allow any extra permissions at all. That is unless monitoring the network speed isn't all you want from the app. For instance, if you would like to see the amount of data each individual app has been consuming, you will need to grant it app usage access permission. This lets the app monitor background and foreground app activities. Another permission it may require is the Phone permission. It also required the permission to Draw over other apps to display network traffic by apps as a semi-transparent overlay.
You may also like: Save Data on Android with Google Datally
Features
Of course, it lets you monitor real-time network speeds right from your status bar, or the notification shade. The persistent notification also shows you the daily Mobile and WiFi network usage as well as the name of the current network. Pretty basic features that almost any similar app will offer as well. I doubt you will find a cool graph based on real-time network speed on any of those apps' homepage. If you're thinking it's just cool and not useful, well, you're right. My Android device has a network speed monitor built-in, and as the more attentive amongst you may notice, it doesn't always agree with Network Speed – Monitoring – Speed Meter. This is a common occurrence though since neither of these is very accurate.
On the homepage, you can tap on one of the four cards to monitor your data usage by Today's Usage, Monthly Usage, Mobile Usage and WiFi Usage. The Detailed info option on the side menu drawer simply takes you to the Today's Usage page. Under App statistics, you can monitor the network usage by every individual app installed on your phone. This is something that used to be useful back in the day. Almost every Android phone has this feature built-in today. Still, on some devices, you can only monitor mobile data usage, not the WiFi usage. This app lets you monitor any kind of network you use.
Selecting Network Traffic brings up an overlay that displays a list of apps currently using the network and the speed at which they're doing it. It's helpful when you're seeing the network speed at 2 or 5 MB/s but still can't load a webpage. Settings can be accessed via the side menu drawer or the gear icon on the homepage. It contains various options such as whether you want to see the network speed in your status bar, let the app Auto Start with your device and a bunch of other helpful settings.
Also read: How to Speed Up 3G Connection on Android Devices
Verdict
One could say there aren't truly many standout features here compared to similar apps. But then, what exactly can you bring to the table that hasn't already been done in a Network speed monitor app. To the developer's credit, this app looks and feels better compared to many of the other available choices. The ads are minimal and non-obtrusive which definitely earns this some plus points. Where it excels the most is in the number of Settings it lets you change. Easily one of the most customizable apps in its category if not the most.