On the 3rd of June, Apple held its Worldwide Developers Conference (WWDC). Amongst the other things announced was iOS 13. Unlike iOS 12 last year, iOS 13 is a huge overhaul of the OS, especially for iPad users. Apart from new iOS 13 features, there are also some brand new wallpapers that you get with iOS 13. But you can get all the iOS 13 stock wallpapers right now, without having to wait for iOS 13.
iOS 13 stock wallpapers
iOS 13 has only just been announced, and it will be a month before the public beta releases for compatible iOS devices. It'll be even more months for the official release of iOS 13. We've still managed to get our hands on some iOS 13 wallpapers. We've packed all the 9 wallpapers into a single zip file.
The stock wallpaper images below are compressed JPEGs, but you can download the full-sized images from the download links provided under the images.
iOS 13 Modified stock wallpapers
Here are 9 bonus wallpapers that are the modded versions of the stock iOS 13 wallpapers
Update: 6 more iOS 13 wallpapers
Download Links
iOS-13-Stock-Wallpapers.zip | 50 MB
iOS-13-Colorful-Wallpapers.zip
Download All Apple Stock Wallpapers
Don't Miss: iPhone 11 Pro Wallpapers (QHD & 4K)
iOS 13 Features
Apple started a new trend with iOS 12, that of optimization. This continues with iOS 13 being faster and more efficient than ever. App updates are faster, app download sizes are up to 50% smaller, apps launch twice as fast and Face ID is also now 30% faster.
Dark Mode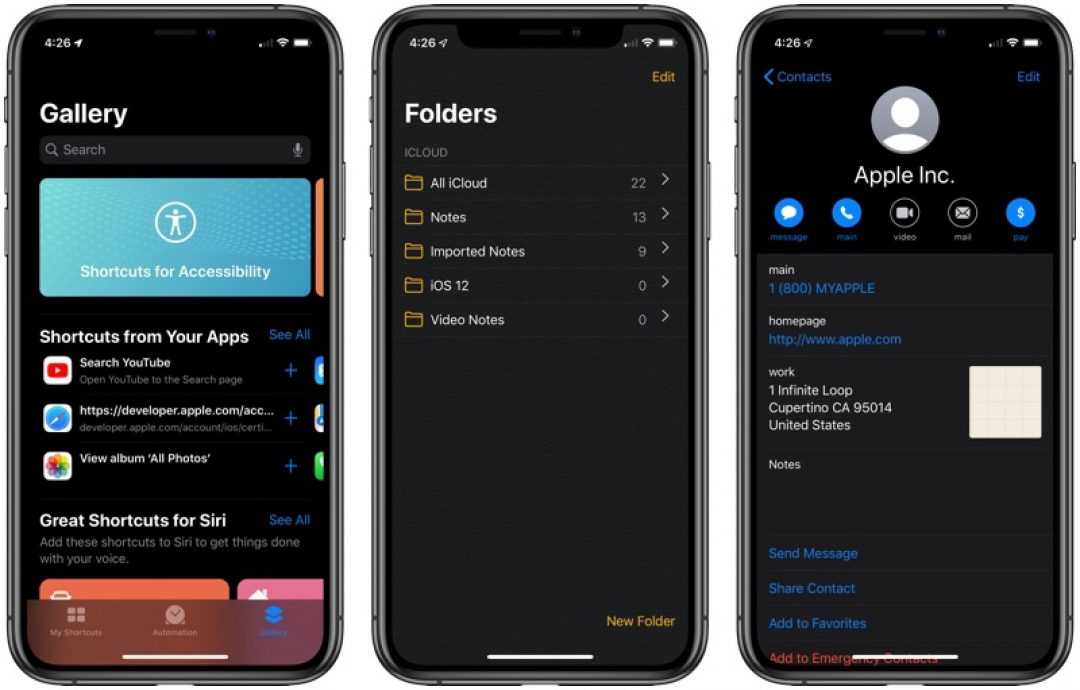 We've all known this was one of the iOS 13 features coming but if you were living under a rock, Dark mode is all the rage these days. Apple started it with macOS Mojave and it has now reached iOS 13. The systemwide Dark Mode changes the entire look of the OS from light to dark. Users can choose between light and dark themes manually or set the dark theme to come up automatically at sunset. All pre-installed iOS apps support dark mode while third-party apps can use the Dark Mode APIs to add Dark Mode integration.
Photos and Videos
Apple Photos app is now more like Google Photos and will intelligently organize your photos. This should make finding your photos and reliving your moments a lot easier. The app will also curate your entire Photos library and shows you a selection of highlights from your life by day, month, or year.
Photo editing tools built into the Photos app have also seen some changes. Editing tools now sit at the bottom where they're easier to reach. There are handy slider wheels as well when you hit the Edit button. These changes should make editing your photos easier than ever.
Many of these photo editing tools are also available for videos, allowing you to rotate, crop, and apply filters to videos. There's also a new Portrait lighting feature in the camera apps that lets you add more light to your portraits to smooth your skin. Live photos and videos play as you scroll
Swipe keyboard
Swipe to type has been a popular way to type on Android devices for years. It also came to iOS when Apple allowed third-party keyboards in iOS. Now though, Apple is finally bringing the swipe to type functionality in the default iOS 13 keyboard. Although, it wouldn't be Apple if they didn't give a different name. Apple calls this QuickPath typing.
Find My
As rumored, Apple merged the Find my iPhone and Find My Friends into a single app called Find My. That's not all though. This app now lets you find your Apple devices even when they are offline using a Bluetooth beacon. It's an encrypted, anonymous tool and Apple says it won't let phone thieves install or reboot your iPhone unless you activate it.
Sign in with Apple
There's a new privacy feature called Sign in with Apple.  It's like sign in with Facebook or Sign in with Google that you may have seen elsewhere. The difference here is that when you sign in with Apple, your email address is not shared with the third-party app or service. According to the company, this will protect users from third-party apps track that want to them.
Authentication happens with your FaceID and you don't have to reveal any personal information about you. Users can choose to hide or reveal their email address. Apple also allows creating a random email for the app or service which will be forwarded to your actual email address. The random email acts as a mask, protecting your actual email address from being revealed.
Siri
Siri has been in need of some much-needed improvements. Alexa has overtaken Siri in every department. Siri is getting a new voice that Apple hopes will sound more natural and smoother. Here are all the other new Siri features.
Create personalized shortcuts using a new Shortcuts app.
Suggested automation let you customize your shortcuts and create a template.
Siri reads messages as soon as they arrive and you can instantly respond.
Share a movie or song with a friend with one tap.
Handoff a phone call or music from your iPhone to your HomePod.
CarPlay: Siri smart suggestions work here, like suggesting you open your garage door when you get close to home.
Siri Suggestions comes to the Safari browser.
Other iOS 13 Features
Send call spam straight to voice mail and silence unknown callers.
Mute thread in Mail.
Add attachments to events in Calendar.
Time-synced lyrics when you play music.
Support for 3D AR apps like Minecraft Earth, coming to iOS 13 this summer.
Low data mode
38 new language keyboards
Language selection per app
Memoji avatars come to Messages, stickers
Read Next: macOS Catalina Stock Wallpapers