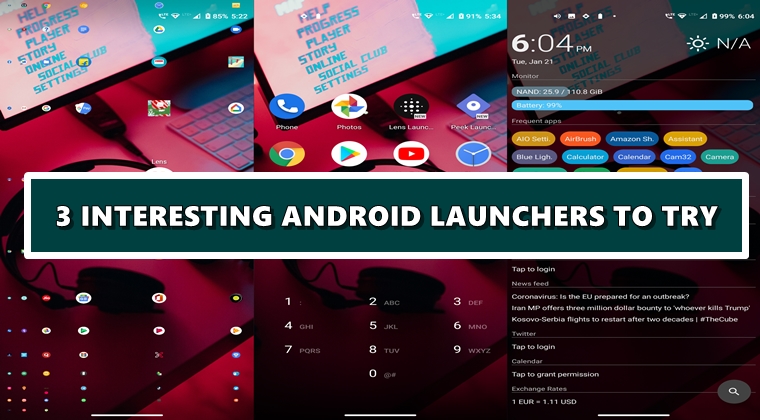 When it comes to launchers for Android devices, one is spoilt for choices. You have the Nova, Pixel, Apex, Lawnchair, Microsoft Launcher, etc. Well, the list might go on and on. You might all be aware of these launchers and have even tried out most of them. However, there exist some launchers that more often than not fail to make up to these lists. The reason? Well, it's due to their peculiar, interesting and a rather strange way of functioning. To be frank, they don't have the plethora of features that the above-mentioned launcher beholds. Moreover, you might not be able to use them for more than a day or two. But still, they definitely deserve your attention, at least once. With that said, here are some of the most interesting Android launchers. Also, check out 10 best Android launchers recommendations that you must check out.
1. Lens Launcher
This weird yet interesting looking Android launcher actually holds an important function- it shows all the installed apps in one single screen. To do so, obviously, it had to decrease the form factor of each icon. And this is where the real power of lens launcher comes in handy. If you perform a fluid gesture over these icons, it will give you a fish-eye view. Providing a visual distortion, it enlarges the portion where you perform the gesture, or in other words, it gives a convex non-rectilinear appearance.
You could further customize the lens in terms of icon size, distortion factor, scale factor and animation time. The icon size changes the size of icons based on DPI. Whereas the scale factor increases the size of all app's icons in a proportionate manner. As far as the distortion factor goes, it refers to the amount of space to be generated from the center of the screen. Generating more space in the center will push the icons further towards the corner. You could further customize this lightweight Android launcher by going to the Settings tab.
2. Peek Android Launcher
Another interesting Android launcher, Peek Launcher allows you to launch apps via an altogether different method. It provides you with a numerical keypad and you have to type in the app's few characters to launch it. For example, to open WhatsApp just hit 9 and 4 (having corresponding W and H characters). This is how you could access any app.
Few apps are placed by default on your home screen. These include Chrome, Photos, YouTube, Play Store, and others. To add another app to the home screen, long-press that app's icon and tap on the Pin icon. Apart from that, it provides the option of uninstalling an app or visiting its Settings page. A minimalistic yet interesting Android launcher, nevertheless.
3. AIO Android Launcher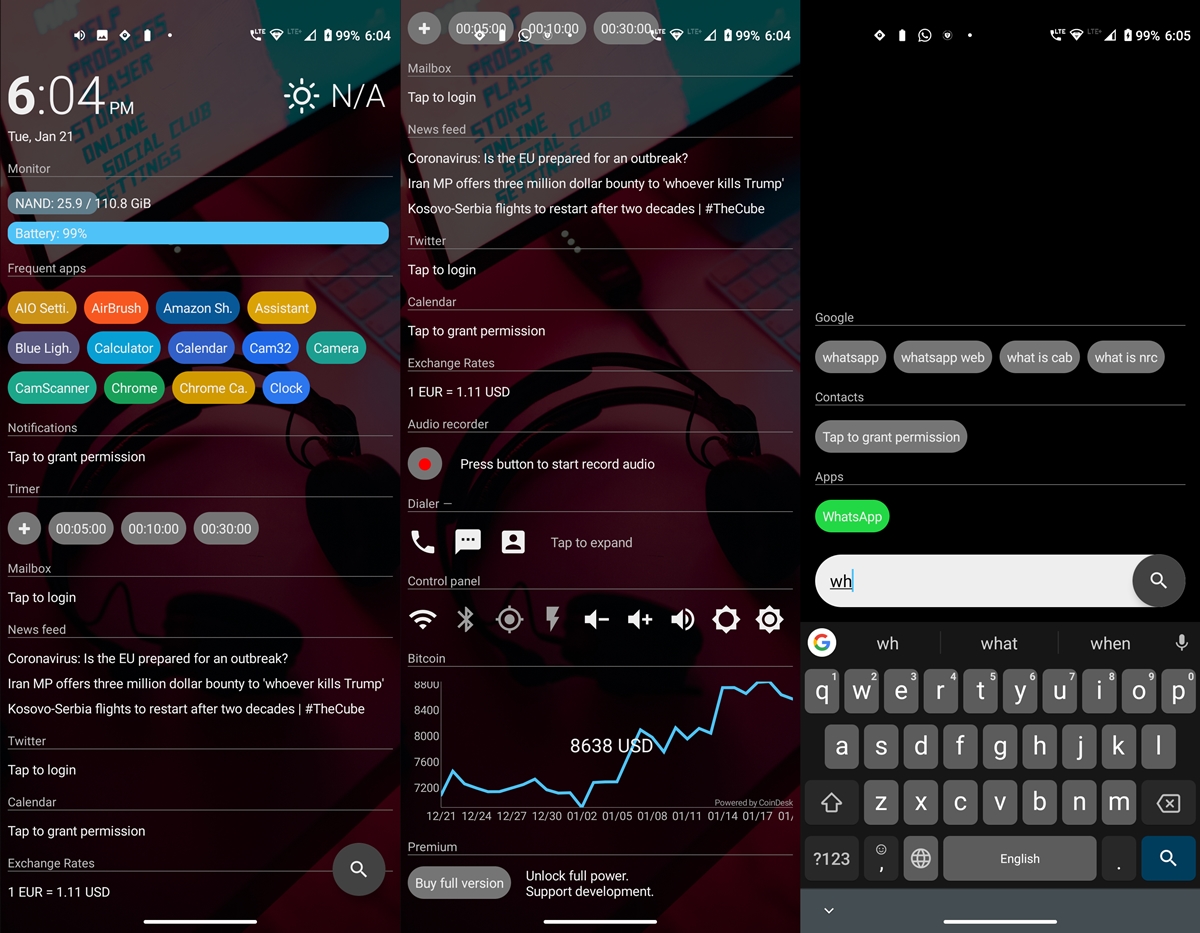 Ending the list of the most interesting Android launchers is the AIO Launcher. Its objective is simple. To make you carry out all the tasks right from the home screen. It has small bubbles for all the functionalities. This includes accessing apps, opening a mailbox, managing notifications setting up timer, dial pad, accessing control panel features like WiFi, Bluetooth, Brightness, Volume, Device settings, and much more.
All these are directly placed on the single home screen. All you have to do is simply tap on the desired app or functionality to use it. Another useful feature that it beholds is a universal search bar. For example, searching WhatsApp will show the app itself, the Contacts page, App Setting or a Google Search. Definitely one of the more interesting Android launchers to check out.
So with that, we conclude this list. Which one is your favorite? Moreover, do you know of any peculiar yet interesting Android launcher that is not mentioned in this list? Do let us know in the comments section below.
Read Next: Lawnchair Launcher V2: The Best Pixel Launcher for Android