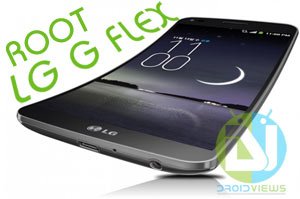 Any user who is passionate about Android and loves to enjoy customization and feature enhancements, root access is probably the most desirable thing that he/she might wish to have after getting a new device. With each new firmware and device our OEMs keep patching the holes to negate the chances of gaining root privileges. Thanks to our awesome developers community that work hard to discover new exploits and come forward with working root methods.
If you are not a new LG smartphone user and have had even the slightest interest in custom development, you must be familiar with the name of autoprime. He has compiled a script that provides an one-click root solution to smartphones like Optimus G , G Pro and LG G2. He has recently updated his ioroot toolkit that is capable of rooting the above-mentioned devices on the latest firmware, but also brings support for the LG G Flex.
If you already own the LG G Flex and and are now planning to root it safely and easily, Autoprime's ioroot tool is just what you need. Currently, the tool supports the following variants of G Flex, but we believe that the developer would add more variants pretty soon.
Korean LG G Flex F340 Series
AT&T LG G Flex D950
Sprint LG G Flex LS995
LG G Flex D955
LG G Flex D958
LG G Flex D959
Root LG G Flex Using ioroot:
As we said above, ioroot is a one-click root tool for the LG G Flex and it takes jut a few seconds in performing the rooting procedure. All you need to do is to download the tool, make a few preparations and do the action.
Download the latest version of ioroot and extract the zip: Click to Download
Make sure that you have installed LG USB Drivers on your computer: Download Here
Open Settings> Developer Options on your LG G Flex and enable USB Debugging option. In case you are unable to find this option of your phone, follow the steps given here to enable Developer Options.
Go to Settings> PC Settings and select the proper mode to connect the device to computer. If you have Verizon LG G Flex, select Ethernet mode.
Connect your phone to computer using USB cable.
You will be prompted to click any key on your keyboard. Do it.
Doing this will run the root exploit and SuperUser will be installed to your phone.
At the completion of the procedure, your G Flex will reboot automatically.
When the device boots up and you are able to use your phone, look for the SuperSU app in your phone's app drawer. To verify root access, you can download the Root Checker app from the Play Store and run it.
Installing TWRP/CWM Recovery on LG G2 Flex:
If you also wish to install a custom recovery like CWM or TWRP on your LG G Flex, there is a free app called FreeGee Free that can do the job very conveniently.
To install TWRP Recovery on your LG G Flex manually, you can download the latest TWRP image file and flash it using ADB commands. You can find the detailed steps here.
Download: Korean LG G Flex F340 TWRP Recovery
(More recovery files will be added as they are available)
Other LG G Flex Stuff:
How to Remove Bloats on LG G Flex + List of Safe to Remove Apps
How to Enable Dolby Equalizer on LG G Flex (Music and Video Apps)