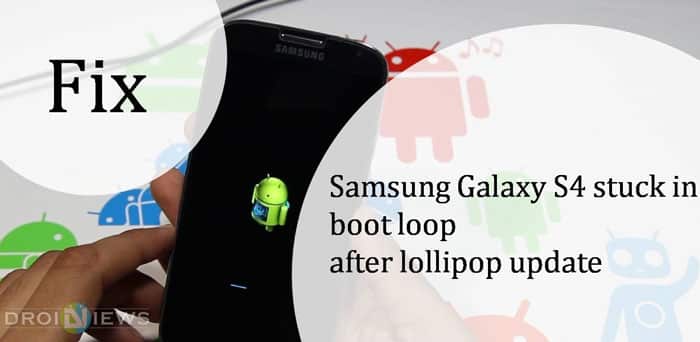 Recently we have seen many queries after the lollipop update. Few of them report battery drain and other points out at the stability of stock firmware. It was a hard time for OEMs especially for Samsung porting Android Lollipop to their devices. There were many queries by Samsung Galaxy S4 users. If you are facing the same problem, let's see how we can fix the Galaxy S4 bootloop issue.
Galaxy S4 keeps rebooting after the Android Lollipop update. There are actually two variations of this problem. Some said their phone works fine but there are random reboots while others reported that immediately after the update, the device couldn't continue booting up because halfway through the process, it will reboot.
If you have such reboot problems then just simply read on as we troubleshoot your Galaxy S4.
Problem 1: Galaxy S4 random reboots
Random reboots several times in a day
Freezes and lags
Rebooting on Calls
When a problem occurs especially after a major update it's more likely caused by some corrupt data and caches. Update from Android KitKat to Lollipop have a lot of changes in the dependencies of some apps. This alone can cause many problems on your device. The Android system creates files for apps and these files are used to make them run smoother and some of them contain users' preferences.
When the new firmware is installed, these files become obsolete but if not clear, it may still use them and end up rebooting. That's where the problem starts to happen. Due to conflicts, the system may lag and freeze. The method mentioned below can only troubleshoot if there are conflicts with downloaded apps.
Troubleshooting
Turn the device off completely and press and hold the Power button.
Once the Samsung Galaxy S4 logo appears on the screen, release the Power button and hold the Volume Down key.
If you can read 'Safe Mode' at the bottom left corner of the screen, release the Volume Down key. Otherwise, repeat the process until you can boot the phone to Safe Mode.
In Safe Mode, from the Home screen, tap the Menu key.
Touch Settings and then Accounts tab.
Under the Backup options section, touch Backup and reset.
Touch Factory data reset.
Touch Reset device.
Tap Delete all.
Problem 2: Galaxy S4 can't get out of bootloop
Won't Start-up at all
Boot loop
Black screen
Users who are familiar with rooting and flashing custom ROMs will find this problem normal because it happens all the time when you try to install a custom ROM. Just like the first issue, it's still related to corrupt caches and/or data, only this time the Android system is prevented from loading the Android interface (Problem with system apps and dependencies). The phone cannot start up normally, resulting in infinite boot loops. Wiping the cache partition is one way to deal with it, in most cases it does help. Let's do it the right way.
Troubleshooting
Turn off the device.
Press and hold the following three buttons at the same time: Volume Up key, Home key, Power key
When the phone vibrates, let go of the Power key but continue to press and hold the Volume Up key and the Home key.
When the Android System Recovery screen appears, release the Volume Up and Home keys.
Press the Volume Down key to highlight 'wipe cache partition.'
Press the Power key to select. The phone will automatically restart after the cache is wiped.
In seldom cases above two mentioned ways fail to set our device right. There is only one way left. Master reset your Galaxy S4. Have a complete backup of your data. A master reset will pull your Galaxy S4 to fresh factory state..
Performing Data Factory Reset Galaxy S4
Switch your phone off.
Hold down the Power, Volume Up and Home buttons at the same time for about 10 seconds. Release them when the Android logo appears on the screen. This will bring up the unlock/reset menu.
To navigate through this menu, use the volume up/down buttons to scroll up and down and the power button to confirm selections.
Scroll down and select Wipe Data/Factory Reset.
Scroll down and select Yes – Delete All User Data.
When prompted, scroll to and select Reboot System Now. The phone will then reboot to its factory settings.
Also, you can refer to our detailed guide on performing a hard reset on Samsung Galaxy devices.
If master reset fails, sadly you have to reach out the stores to fix your problem unless you find a way flashing custom ROM voiding your warranty. Do let us know if you have any queries and don't forget to share your experiences in the comments below.