Android Lollipop Update
While Call of Duty: Mobile has been in the limelight since its launch a few weeks ago, PUBG Mobile still remains one of the most
The Samsung Galaxy Grand Prime is a mid-range smartphone that also happens to be one of the best-selling devices from the Korean giant.
The Samsung Galaxy Grand Prime was launched to target especially for the emerging markets where people want to buy smartphones with a
It has been more than 6 months since the Verizon Galaxy S4 received the official Lollipop update. Despite the-the fact that Android
A new update has been rolling out for the Galaxy J7. This brand new update from Samsung will take the device to Android 5.1.1 Lollipop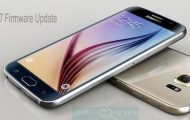 Following the T-Mobile Galaxy S6 Edge, the S6 SM-G920T has been receiving the OJ7 firmware update based on the latest Lollipop version,
There's good news for folks who own the Galaxy S5 mini because the latest Lollipop version for Android is available for this handset.
The best thing about owning a Samsung device is that they get updated very often. Although it has been a year that Samsung Galaxy Grand