Today, we are going to review a very handy Android app called PhotoGuard. You can hide photos and videos on your Android device in a private vault with this great app,
Smartphone security has come a long way forward
A decade ago,  sensitive data protection and security on a smartphone meant to lock and protect the same with either a simple password or PIN number and later pattern lock system on Android devices. However, today, nearly all of the Android devices out there are equipped with either a fingerprint sensor or a front camera-based face unlock (way less secure than a fingerprint any day) biometric authentication system or a combination of both. Speaking of which, one of the first phones to feature a fingerprint scanner was the Toshiba G500 and G900 over a decade ago back in 2007, but it never made its way into the market.
The first commercially available smartphone to feature a fingerprint sensor was the Motorola Atrix in 2011. However, the Toshiba G500 and G900 and the Motorola Atrix all employed optical fingerprint sensors. Skip to 2013, and it was Apple that introduced the first smartphone to feature a capacitive fingerprint sensor and that device was the iPhone 5S. Now, fast forward to 2018 and we are spoilt by in-display fingerprint scanners and front camera-based face unlock which is less secure than a fingerprint scanner.
Must Read: Safely Show your Photos and Videos to Others with this App
PhotoGuard – Photo Vault Free Hide Photos and Videos
Alright, with security and data protection in mind, lets come to the main point of this article. Today, let us take a look at a free application (contains in-app purchases) called "PhotoGuard – Photo Vault Free Hide Photos and Videos". As the name implies, PhotoGuard helps you the user to hide personal and other confidential photos and videos in a secure vault away from the gallery or file managers. With that said, the features available are listed below as taken from the app's Google Play Store description page:
Features of PhotoGuard:
Everything behind a lock – Your photos and videos are secured via PIN, Pattern, Password or your fingerprint they will keep safe.
On the fly encryption camera – PhotoGuard has a private camera that will encrypt the personal photos and videos you take directly to your photo vault
Album Lock – Set passwords to each of your personal albums for extra protection to your PhotoVault!
Quick Exit – PhotoGuard exits the vault automatically whenever pressing the home button, making sure that no one will be able to watch the photo vault contents without access.
Automatic backup & restore to your vault – If you uninstall the app by mistake, your encrypted photo vault will be restored
PhotoGuard intro…
Go through the screenshots thoroughly.
Select the lock method as per as your preference. A fingerprint lock method can be selected later in the settings.
For PhotoGuard to function as intended, allow the app to access the device storage.
Do Not Miss: Make Your Phone Secure with 12 Simple Security Tips for Android
PhotoGuard in action
Launch PhotoGuard on your device. Again, check out the screenshots attached below carefully to familiarize yourself with PhotoGuard.
Upon launching PhotoGuard, you will be asked to enter your PIN to access the same. Taking a screenshot is not allowed within the app for security reasons. To make up for this, we have attached pictures of the device we used for testing PhotoGuard wherever necessary.
PhotoGuard main screen. Tap the 2nd button located at the top right corner to be able to hide photos or videos fro your device's gallery.
Select any photo or video of your choice and press DONE button located at the top right corner of the screen.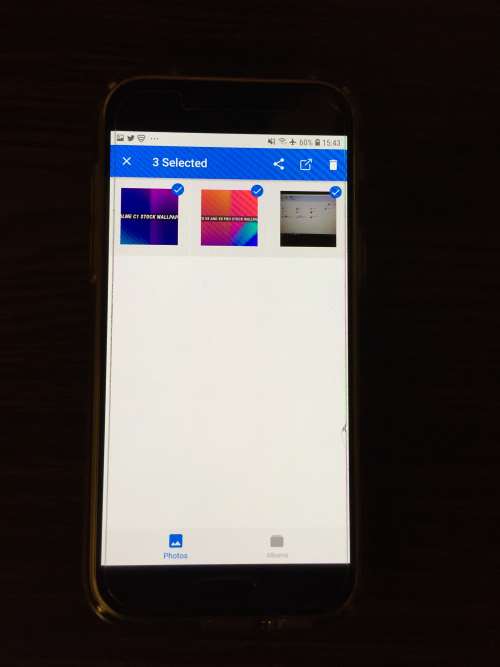 And there you go, the photos and videos you had selected have been hidden away from your device gallery. To unhide them, just tap and hold any photo or video and press the 2nd button located at the top right corner.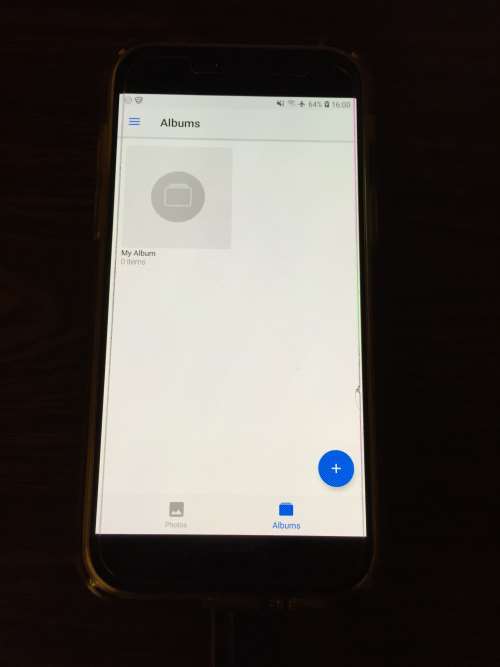 On the main screen, you also have the option to create albums to store your hidden media in them. Just access the Albums tab located the bottom of the screen.
Premium version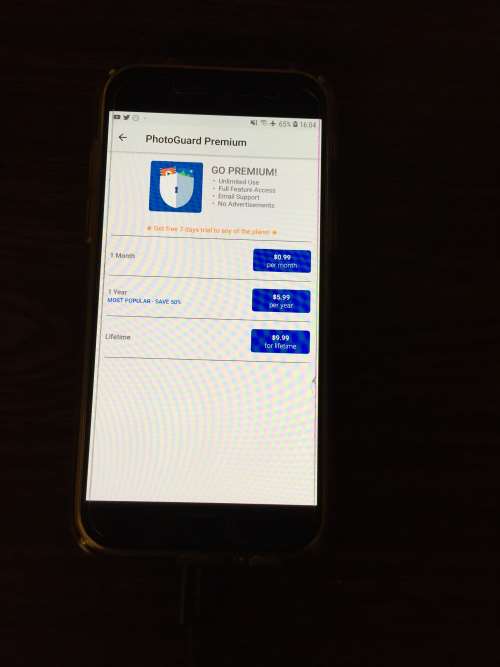 Conclusion
That's all DroidViewers and tech enthusiasts on our simple and brief review of PhotoGuard app that is very beneficial in protecting your private and confidential media whenever necessary. We feel security and privacy is the right of every individual out there and that nobody has the right to question it whatsoever.
Feel free to chime in the comments section on your take and experience with PhotoGuard app for Android.
[googleplay url = "https://play.google.com/store/apps/details?id=com.photovault.photoguard"]
Also Read: Secure Your Messages with Signal Private Messenger