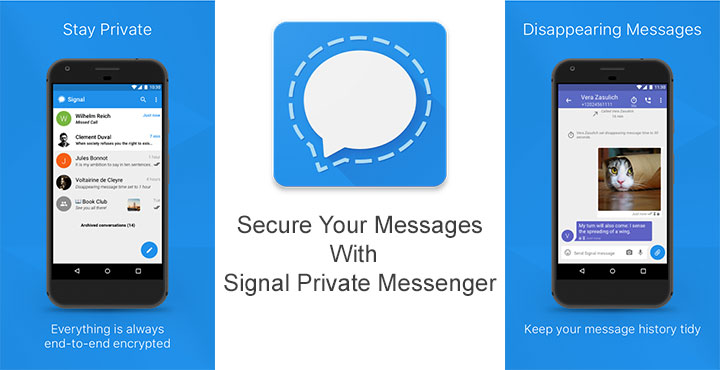 Text messaging has got a lot more private over the past few years. Even the most popular messaging service, WhatsApp, has enabled end to end encryption for all its users. But there are not a lot of apps that can claim an endorsement from Edward Snowden himself. Although, Signal Private Messenger is one app that can. Signal is a messaging app like WhatsApp or iMessage but one that is focused on privacy instead of cute emojis. And you know it is good at what it does when Edward Snowden recommends it. Signal is free to use and is available on Android and iOS as well as on PC via Google Chrome.
Moreover, Signal is a full replacement for your SMS app, if you want it to be. This means you can view all your messages in one place like iMessage. This functionality is only available on Android devices though. Signal works like iMessage too, wherein you can send free encrypted messages to anyone who has the app, or a simple un-encrypted SMS message to those who don't have the app. It uses your mobile number to identify you to your contacts like most mobile messengers out there. This is, after all, a more convenient method than having to remember a new user ID and password.
Download Signal
[googleplay url="https://play.google.com/store/apps/details?id=org.thoughtcrime.securesms"/]
Don't miss: Filter Out Promotional and Spam Messages with These SMS App Replacements
Set it up
When you have the app installed, just open it and enter your phone number. You will receive an SMS with a code which the app will automatically read. If you've ever activated a phone number based service, the process should be quite familiar. Once activated, Signal would ask to be your default messaging app. Enable that if you would like. That's pretty much all that you have to do before you start using Signal. But you'll probably want to check out some of the settings, like securing Signal with a passphrase.
Secure it with a passphrase
No amount of encryption can make a messaging app secure if someone who has physical access to your phone can read your messages anyway. For this reason, Signal lets you lock the app, and thus your messages with a passphrase. To set up your passphrase, tap on the three dot menu icon in the top right and select Settings. In the settings, go to Privacy and toggle on the entry named Enable passphrase. You can now type in a passphrase to lock the app.
Also read: How to Delete Useless WhatsApp Images Automatically
The advantage of Mixed messaging
Remember Signal lets you send un-encrypted text messages as well. This might sound odd but it is quite simple. When you send a text message to a non-Signal user, it sends an un-encrypted SMS message and if the user has Signal installed, it sends an encrypted message. This solves the problem that other secure messaging services pose where you have to use one app to send an encrypted message and another app for everything else. You don't even have to worry about sending an un-encrypted message accidentally since the app shows in the text field itself if a conversation is secured or not.
What can you do with Signal
You can send messages, as well as make calls, attach files, share photos and embed voice clips just like you can with any other messaging app. Once inside a conversation thread, you can tap the three dot menu button in the top right to send disappearing messages even. The time after which the messages disappear can also be set here. Signal cleverly handles group messaging too, letting you send encrypted messages to a group of Signal users or unencrypted ones to anyone not using the service.
Must read: 10 Less Known Google Apps You Must Try
When you make a call to a Signal user using the app, you will be transferred to a secure VoIP call. If the user does not have Signal installed, you will be redirected to your stock or default Dialer app. Although, voice calls feel secondary in Signal, and not as seamlessly integrated as text messaging.