First of all, congratulations on getting a new phone! Before you begin posting photos on Instagram or start going crazy on Snapchat, change these basic settings to make your experience a pleasant one. If you just got a brand new Android phone, you must change these 4 Android settings immediately.
Change the Lock Screen Preferences
The lock screen is the first thing that you see when you turn your phone on. All the notifications or texts you receive can be seen on the lock screen. Since all the texts and emails can be seen on the lock screen, anyone can read them without the need of unlocking your device. There's a simple solution to this problem.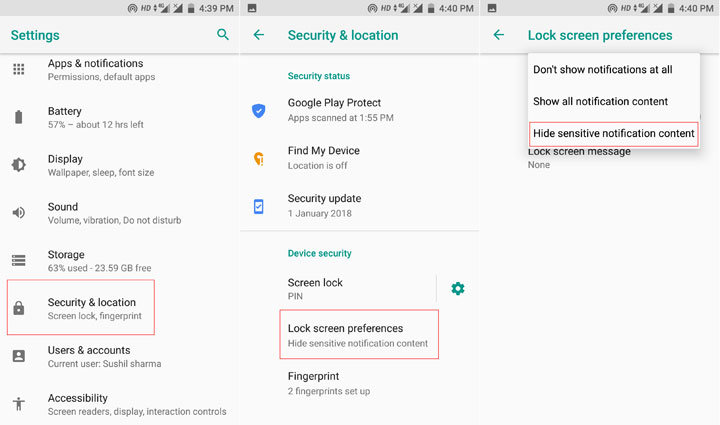 Open the Settings app on your device.
Scroll down and select Security & location.
Tap Lock screen preferences.
Tap on the lock screen and select Hide sensitive notification content.
This way, you'll only see the app icon on the lock screen and the content will not be shown.
Instant Lock
It is weird how this setting isn't on by default. If you don't know, your phone has a lock setting with which you can decide how long it takes for your device to get locked after you press the power button. By default, this gap is set for 5 seconds. What this means is that your phone will start unlocked even if you press the power button for a period of 5 seconds.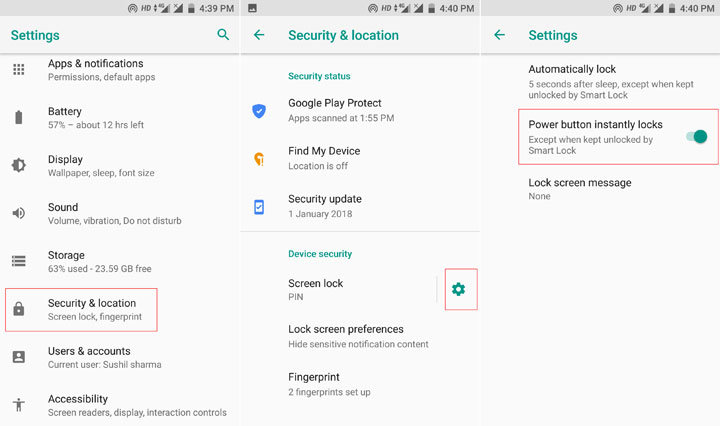 If you want to disable that then go to the lock screen settings. Now, tap the cog button next to Screen lock. Next, turn on the toggle next to Power button instantly locks.
Enable Auto Backup for Google Photos
Google Photos is an awesome app and it comes pre-installed on almost every Android phone. The app can instantly back up the photos you take and present them in an organized format. But, first, you'll have to turn on the settings.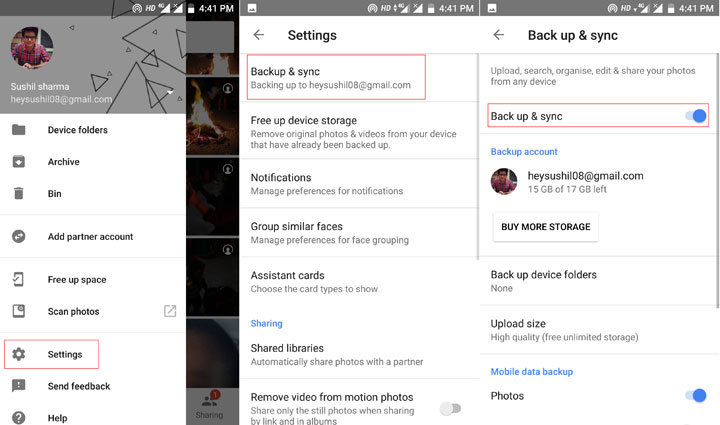 Open Google photos.
Swipe from the left edge and tap Settings.
Tap Back up & sync.
Turn on the toggle next to Back up & sync.
Now, tap the Back up device folder and select the folders that you would like to be backed up everyone new photos are added to them.
Don't miss: Got Your First Android? Don't Do These 5 Things
Turn on Find My Phone
Find My Phone is an amazing service that lets you, well, find your phone in case it's lost. But first, you'll have to enable it.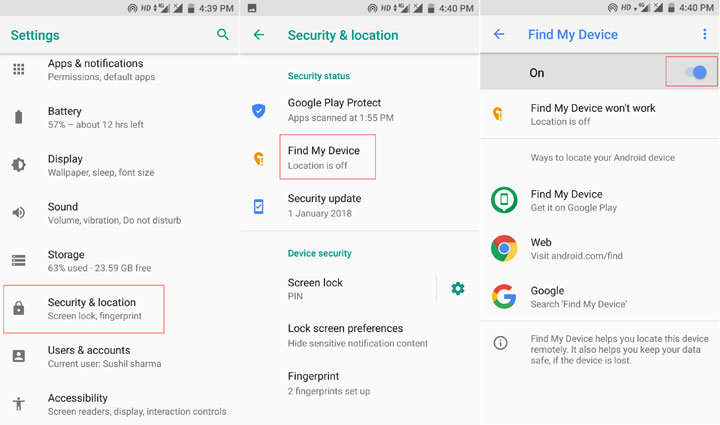 Open your phone's Settings app.
Go to Security & location.
Tap Find My Device under Security status and turn it on.
Make sure that you keep your location turned on all the time. Now, when you do need to find your phone, visit the find my phone website and log in with your Google ID. Now can see the location of your phone on the map.