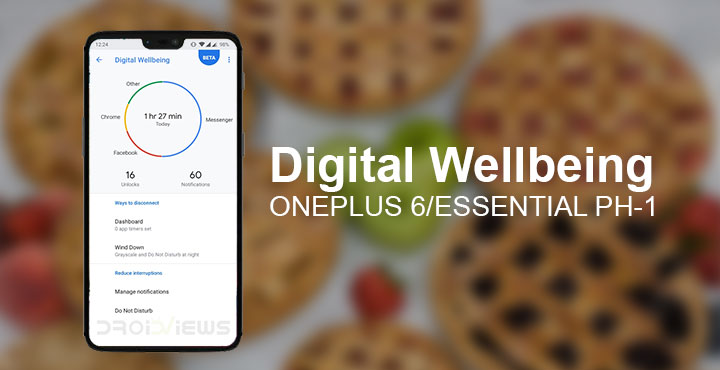 Digital Wellbeing is one of the features Google announced as a part of Android 9.0 Pie, back then known only as Android P. As it later turned out, the official Android Pie release did not have a Digital Wellbeing feature. Google has since then opened a Beta program for the app and allowed Google Pixel users to install and test the app. At first glance, it isn't really something everyone would want. However, this is the kind of app usage statistics that should've always been a part of Android. Thanks to the folks at XDA, Google Pixel's Digital Wellbeing can now be enabled on the OnePlus 6 and the Essential Phone.
Requirements
They managed to achieve this with a bit of behind the scenes magic here and there and came up with a Magisk module. What matters to the end user is that you'll need to be running Android Pie on your device first. Digital Wellbeing was made with Android Pie so it makes sense that it works only on Android Pie. That's true at least for the time being. The Essential Phone already has an official Android 9 update and we've shown you how to get it. The OnePlus 6 does not yet have an official Android Pie release but there is an Android Pie Developer Preview that you can install.
When you have Android Pie, you'll need to root your device. That shouldn't be very difficult on either the Essential Phone or the OnePlus 6 since all you need is TWRP to flash the latest version of Magisk. Magisk already works pretty fine with Android Pie. In fact, the method to root Android Pie on both the devices is pretty much the same as it was on Android Oreo. Simply flash TWRP, and then flash Magisk from TWRP. In case you need detailed guides, we have you covered.
Don't miss: Enable Always on Display on OnePlus 5/5T and OnePlus 6
Download and install
You can download the Digital Wellbeing Magisk Module from the original XDA post. Even though the name of the zip file suggests it is only for the Essential PH-1, we can confirm it works very well for the OnePlus 6 as well. Once you have the module downloaded, launch Magisk Manager and head over to the Modules section. Here, tap on the floating yellow button at the bottom and select the downloaded Digital Wellbeing zip file. Once the installation is complete, tap Reboot.
Pixel's Digital Wellbeing on OnePlus 6
The magisk module ports the Digital Wellbeing APK to your OnePlus 6 as well as the Essential Phone and also adds the entry to the Settings app. This means you can access it from your device's Settings just like you would on a Google Pixel. Right on the main page, it shows a pie chart of your app usage. The most used apps are given their specific portions while others categorized as, well, Other. Under the Dashboard, you can view detailed stats for every app. These details include a complete log of the amount of screen time for each app, the number of notifications from an app and the number of times you opened the apps.
Even if you're not all that into controlling your smartphone usage, these stats are quite fun to check from time to time. This might not seem very impressive at first glance but this can really help users know how they use their smartphones. The Wind Down mode will require you to grant the app permission to the Do Not Disturb mode. When enabled, Wind Down mode will apply a grayscale filter to your display, making everything look boring and also turn on Do not disturb. If you really do have an addiction to the boring black and white screen might help you finally put your phone down and go to sleep.
You can set a time period for which the Wind Down mode will be turned on. You can also disable this at any time, which may seem a little counterproductive but Android is all about choice.