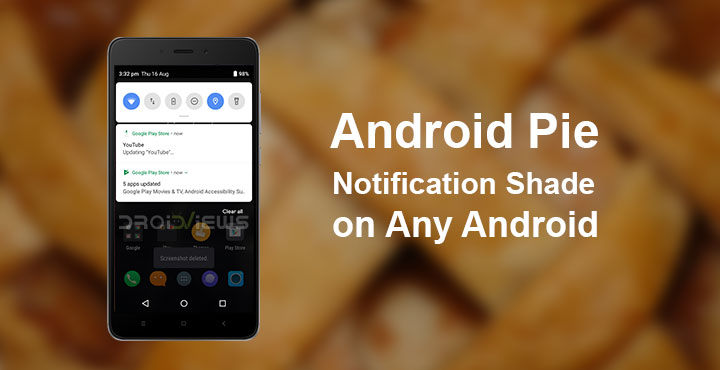 Android 9.0 Pie has been released to the Google Pixel, Pixel XL, Pixel 2 and Pixel 2 XL already. Even Essential released the Android 9 update for its Essential Phone right alongside Google. There are several other OEMs who have been testing Android Pie on at least one device. It would be safe to assume those 6 or 7 devices will be receiving the Android Pie update next. The rest of the Android world will be left waiting for months until they can get a taste of the Pie. Thanks to developer Treydev Inc, users can at least get Android Pie Notification Shade on their devices.
Treydev Inc's app called Power Shade: Notification Bar Changer & Manager does not require root and works quite comfortably even on Android. This isn't the first app of its kind from the developer and he has previously done something similar with Material Notification Shade. That app brought Android Oreo's Notification Shade to previous Android versions but did not work on Android Oreo itself. However, Power Shade works on any Android version below Android 9.0.
Install Power Shade
[googleplay url = "https://play.google.com/store/apps/details?id=com.treydev.pns"]
Similar app: Displays an Elegant Battery Meter on the Status Bar of Any Android Device
How to get Android Pie's Notification Shade
Now that you have the Power Shade app installed, launch it and you'll be greeted by the app's main screen. There are a bunch of tiles, but more importantly, there's a slider that says Not running. To enable Power Shade, drag the slider from left to right and you'll be asked to allow certain permissions to the app. The list of permissions includes Write, Draw, Notifications, and Accessibility.  Depending on your Android version you may have to enable all or only a few of these. For instance, on my old Android Lollipop device, the app only asks for Notifications access.
You can enable each permission by turning on the toggle next to them which will redirect you to the appropriate Settings page where you can enable the said permission for the app. When all permissions are granted, the slider shows the status as Running.
Enjoy Android Pie Notification Shade on your Android
When you swipe down from the top edge of your screen now you should see a new Android Pie like notification shade with rounded corners and rounded icons. Everything works right off the bat and you can even add or re-arrange your quick-settings by tapping on the edit icon just like you would on Android Pie. You can even customize your notification shade which is something Android Pie doesn't allow. The one thing that might be disappointing for users is probably the lock screen functionality. On the lockscreen, your device will still use the default system notification.
You may also like: How to View Deleted WhatsApp Messages
Customize your experience
One of the best things about third-party replacements on Android is customization. Whether you have a lock screen replacement app, a home screen replacement app or as it is in this case, a notification shade replacement app, you can customize your experience. Under the Trigger tile, you can enable a trigger slider that sticks to the left or right edge of your screen. Pulling down on this trigger slider will bring down the notification shade without having to reach for the top edge. This can be quite handy given how tall smartphones are getting these days.
Moreover, like Android Pie, Power Shade also allows you a light and a dark theme for the notification shade as well as a dynamic color theme. You can even enable transparency and change the level of transparency according to your liking.
The corners can also be made less rounded, as they used to be on Android Lollipop. This setting can be found under the Layout tile. Under Layout are also options to adjust the Grid Columns, Grid Rows, Number of header tiles, etc. Many of these customization features are paid features. These can be unlocked after a one-time payment of $4.49 (₹290). First-time users can get the pro version at less than half the price within the first 24 hours. So if you do decide you buy it, you'll have to make your decision soon.
Don't miss: Which Android Launcher Is Best For You? We Help You Find Out