When it comes to customizing an Android device without rooting, a homescreen replacement a.k.a launcher is the best option we've got.
For the uninitiated, a launcher is an app that lets you customize the look of your homescreen as well as your app drawer.
Now, given the huge number of launchers available, there's something for everyone. So here are the best app launchers for particular needs: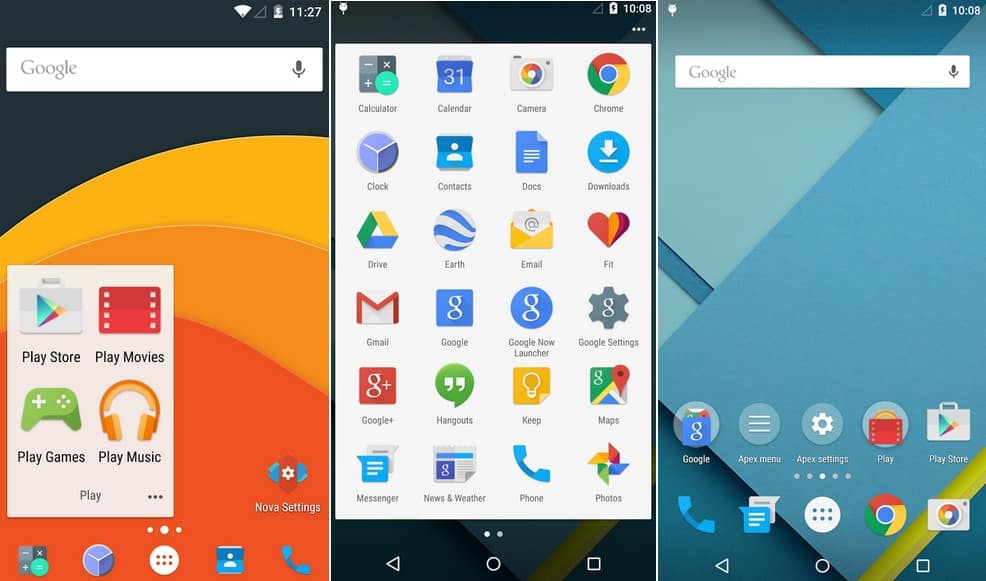 Both Nova and Apex launcher work amazingly fast on Android phones as well as tablets. If you have never tried any 3rd party launcher before, then you can choose any one of them. Both of them give a stock launcher like feel but with advance features like gestures, resizing grids, unread notifications, transitions, theme support, and a lot more. Both the launchers have plenty of features to satisfy advanced as well as basic users. With recent updates both, Nova and Apex, have got material design update.
If I have to choose one, I'll choose Apex Launcher as it provides plenty of feature in the free version. You have to pay to access basic features like gestures in Nova Launcher.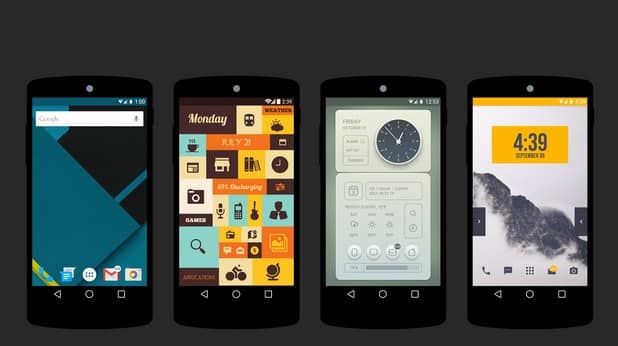 If customization is not your thing, these launchers are for you. All three launchers have a huge database of user-created themes. However, buzz launchers database is larger than that of Themer and Lightning Launcher. Setting up these launchers is simple. After installing, you can browse through hundreds of crowdsourced themes and select the one you like. The themes that use third-party widgets and apps not installed on your device will prompt you to get those services. Although Themer and Lightning Launcher worked perfectly on my phone, Buzz Launcher crashed twice during testing. It may be because of the low-quality specifications of the phone. Anyhow, all of these launchers are amazing and can make your phone stand out among your friends.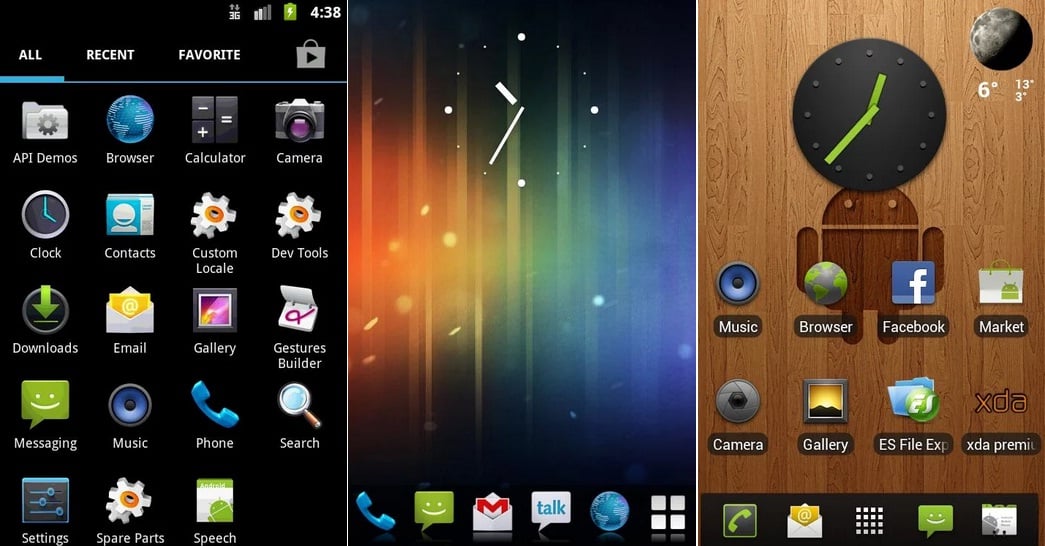 Using a phone with old hardware is disgusting. It's slow and lags a lot. If you have an old phone than using one of the above mentioned third-party launchers can make your phone perform faster. Holo launcher is based on KitKat and has almost all the features a normal user will require. Zeam launcher is based on Icecream Sandwich and is minimal to the core. FTL stands for Faster Than Light and it truly stands to its name. It is based on Gingerbread. All of these launchers support older versions of Android like Froyo (2.2). If you use anyone from the above-mentioned launchers, your phone will never crash.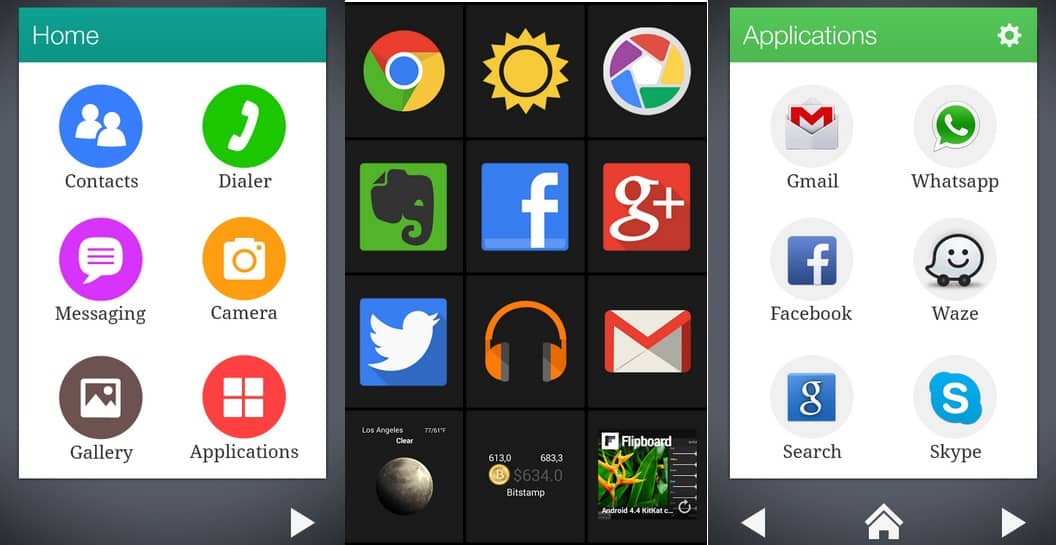 Both of these launchers aim at elderly citizens and try to make their smartphone experience as simple as possible. These launchers enlarge icons and fonts. The main screen mainly includes large icons of contacts, messaging, dialer, camera, and a few more essential apps. The user interface becomes big so that everything can be seen clearly.
For Metro UI Lovers: Launcher 8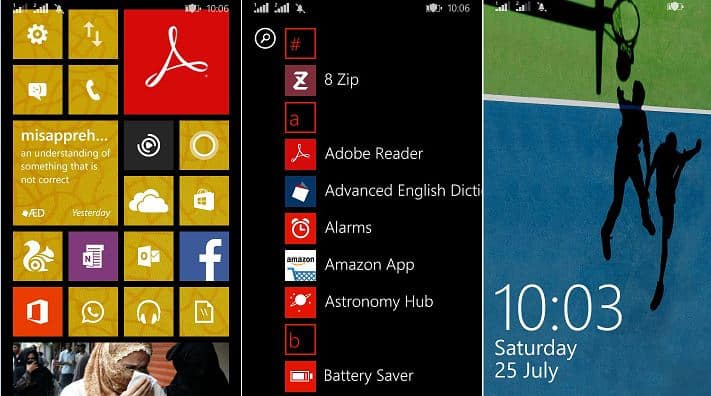 I like the metro UI a lot. It's minimal and productive. Launcher 8 is the best metro UI like home screen replacement app for Android. It completely changes the home screen and app drawer into the one that is found in windows phones. It also comes with a lock screen which also resembles windows phone's lock screen. It also has a themes database which is filled with user-created themes. If you like the metro UI then you should try Launcher 8.
For iPhone Fans: iLauncher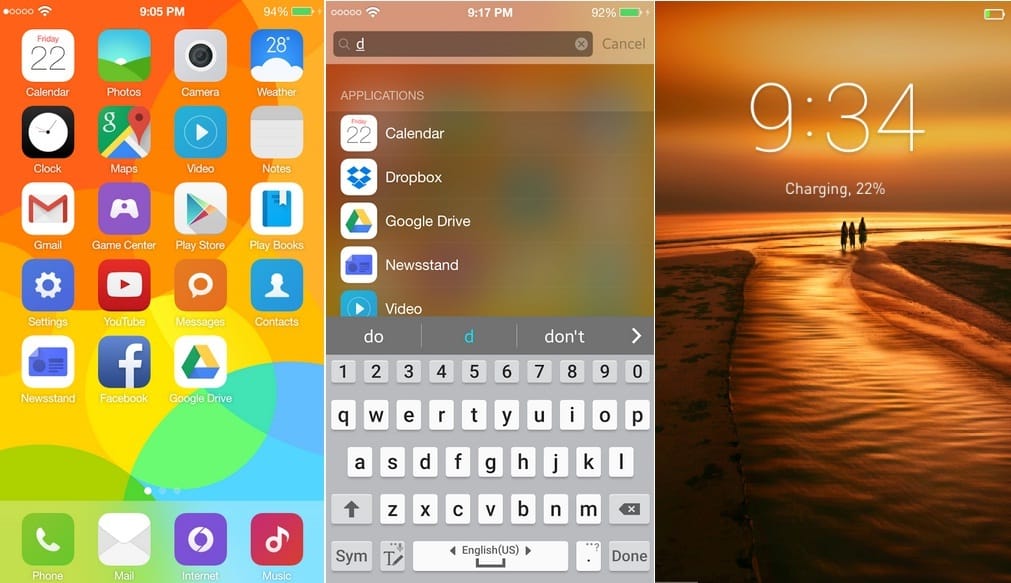 iLauncher is a very lightweight home screen replacement app that gives you an iOS-like user interface. Use it with iNoty (status bar and notification panel replacement) and Retina Keypad Lockscreen (Lockscreen replacement app with beautiful wallpapers, notification for missed call and messages, passcode security, and camera shortcut) to get a complete iOS-like experience.
Which launcher do you use on your Android device? Are you happy with the stock launcher you got on your phone or tablet?
Read Next: 5 Unique Home Launcher Apps for Android