It's that time of the year when the big names in the smartphone industry show off their best products. It starts in August with Samsung and their Galaxy Note. Soon, there will be new iPhones and then Google will reveal their iPhone running Android, the Pixel. Google has tried to stay ahead of rumors this year by revealing details about the Pixel 4 officially. And now we have some Pixel 4 leaked wallpapers along with some unofficial Android 10 wallpapers with 'Q' logo as a bonus.
Google Pixel 4 and Pixel 4 XL
While Google has come out and confirmed a few things, it hasn't confirmed everything. They still have a launch event for all of that. So a lot of the things we know about the Pixel 4 are rumors at this point. However, as someone who's been in the game for a few years, I can tell you a lot of these rumors end up turning out to be true. Especially when we're this close to a device's launch.
Design
Design is one aspect of the Pixel lineup that has never been even good, let alone one of the best. When it comes to design, it would've been tough to top, nay, do worse, than the Pixel 3 XL, even for Google. But Google has managed to do that, or at least come close. On the front, the device features a nearly bezel-less screen on all sides except the top. The top bezel where Google packs in a bunch of sensors to justify its existence.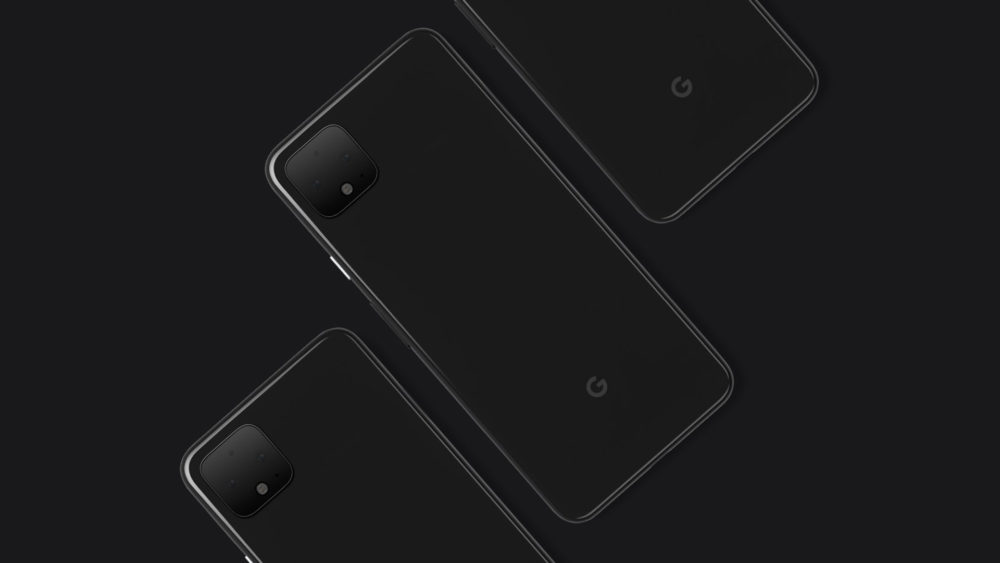 It's on the back that Google has left its stamped with a giant, square-shaped camera bump which houses two camera sensors and a spectral sensor. It looks a lot like the next iPhone is rumored to look. The only difference is Google has confirmed this and Apple hasn't. The materials used are expected to remain the same, i.e., glass on glass with a metallic rim around. The Google logo is towards the bottom, the dual-tone nature of the back is gone and so has the fingerprint reader.
Specs
The display on the Pixel 4 is expected to have a resolution of 1080 pixels x 2280 pixels. Meanwhile, the Pixel 4 XL is expected to sport a display with the resolution of 1440 pixels x 3040 pixels. Above this display, rest all the sensors and the Pixel 4 family packs in a bunch of those.
The above diagram was released by Google showcasing the various sensors and their placements. Long story short, these will enable the pixel 4 and Pixel 4 XL to have a much secure, iPhone-like face unlock, as well as touch-less gestures. The Soli radar chip is responsible for those and unlike any previous implementations by other OEMs, it supposedly does a much better job than a camera at recognizing hand movement.
Among those sensors also lies the single front-facing camera. Unless Google has played any tricks, it appears the Pixel 4 will have one less selfie camera compared to the Pixel 3. There's no information available yet about the exact megapixel count or the sensor used. On the back, as mentioned before, we have two camera sensors and a spectral sensor.
Powering the entire setup should be a Qualcomm Snapdragon 855 with at least 6GB of RAM. Google tried to get by with 4GB of RAM last year and that didn't end well. We expect Google to learn from their mistakes. Both the Pixel 4 and Pixel 4 XL are also expected to feature IP68 water and dust resistance. It's a Pixel so naturally, it will ship with the latest and greatest version of Android. That, by then, will be Android 10.
Google Android 10 Wallpapers
The wallpaper pack we have today has 4 leaked Pixel 4 wallpapers. Along with that it also contains 5 Android 10 wallpapers. All of them have a resolution of 2160 pixels x 4096 pixels. The Android 10 Wallpapers are simply gradients with the Android Q logo, from when it was still called Android Q. The Pixel 4 leaked wallpapers, on the other hand, feature dark and darker backgrounds with some random shapes in two different colors.
You can take a look at the wallpapers below but remember, these are full-sized compressed JPEGs and are only meant for demonstration. Please note that the first four wallpapers are the recreated versions of the leaked Pixel 4 wallpapers while the remaining five are official ones.
Android 10 Wallpapers
Don't Miss: 10 New Android 10 Features to Get Excited About
Download Google Pixel 4 Leaked Wallpapers
To download the original quality Pixel 4 leaked wallpapers and unofficial Android 10 wallpapers, click the link below.
Update: We now also have all Pixel 4 wallpapers and the live wallpapers APK.
Having downloaded the Pixel 4 leaked wallpapers, you should also consider downloading the following wallpaper packs: