It's 2018 and everyone has so much on his or her plate that it's overwhelming. A lot of times, the thought of doing so much in a day has resulted in me doing nothing at all i.e. procrastination. One thing that has helped me in the last few months is making a to-do list & trying hard to stick to it. I can't explain why, but ticking things off on a to-do list is a rewarding feeling. While many prefer the traditional method of the paper & pen to create their to-do list, there are lots of awesome apps on the play store that can easily modernize the process. I've been using an app called TickTick since late April of this year & I honestly believe it's one of the best, if not the best, to-do app for Android. Let's check it out.
The Interface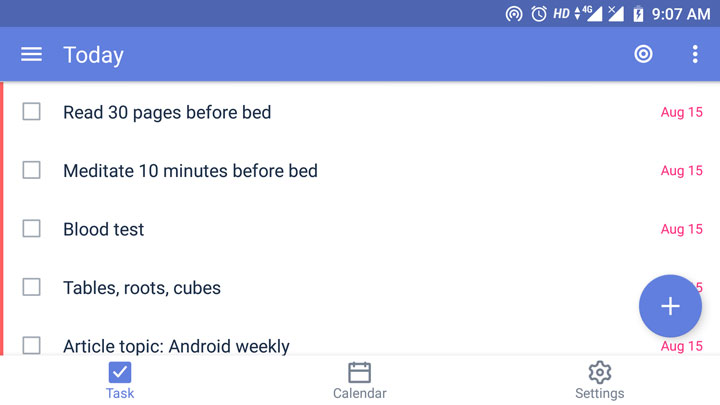 First things first, the interface. These days, the way an app looks is very important. It doesn't matter if an app is packed with tons of features, if it doesn't look good & isn't visually pleasing to use, then it's a no from me. Thankfully, TickTick looks good. Sure, it isn't the best but it's pretty good & easy to use; and that's all I need to get my things done.
Similar app: 3 Awesome To-Do Apps to Get Your Things Done
TickTick is divided into three panels:
Task: This is the first screen that you see when you launch the app. Here, you can create new tasks for your list & engage with the tasks that were previously created. A new task can be created by tapping the floating action button in the bottom right corner.
Calendar: This is the second screen. Here all your tasks are shown in a calendar view i.e. date wise. You can scroll through various dates at the top for an easy navigation to future tasks. The calendar view is customizable with the following options: List, day, month, 3 days, & week.
Settings: This is the third screen. Here you can customize the app according to your preference with options like themes, reminders, etc.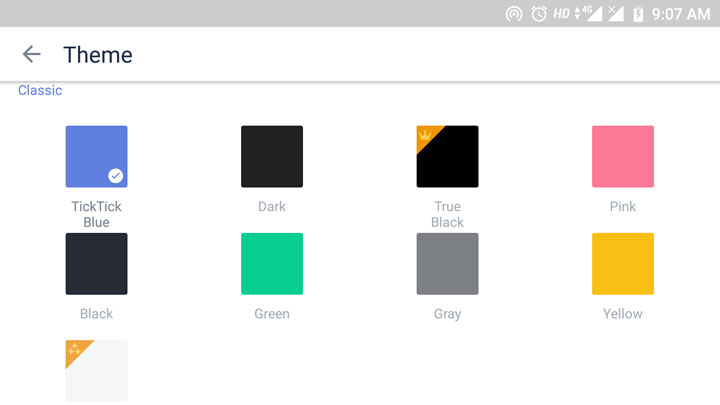 TickTick has a lot of themes. While a few are free to use from the beginning, others can be unlocked as you use the app more & more. When you use the app to create & complete tasks, you awarded some achievement points which you can redeem to unlock themes.
All in all, TickTick doesn't try too hard to stand out from the competition in the visuals department. The simplicity of the app is what makes it great.
The Features
I believe that apps, today, have hit a stagnant phase. Every similar app offers the same thing at the base. Sure, some features may be a bit advanced, but, let's face it – a big portion of users are satisfied with the basics. And, TickTick has got all the basic features just right. So, let's dig in.
Lists, Smart Lists, Tags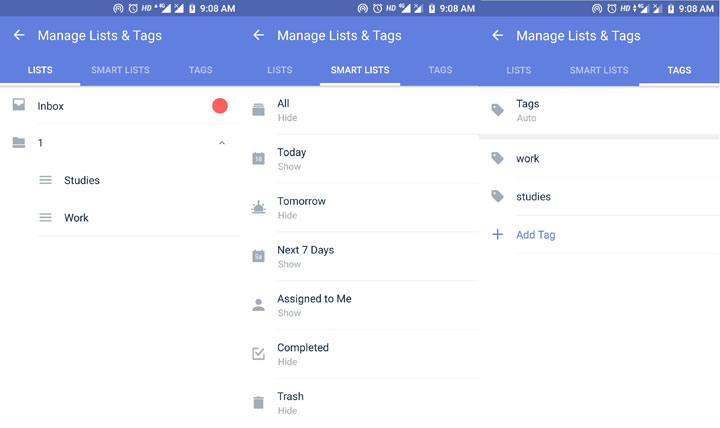 At its base, TickTick works on the ideas of folders & lists. You can create multiple folders related to different fields & add various tasks to it in the form of lists. This multilevel task management system gives you complete control over the tasks & subtasks for various areas of your life.
The smart list is a tasks filtration method employed by TickTick. What this does is filter all your tasks according to a few predefined parameters. This feature proves useful when you have added a lot of tasks on multiple lists & for different dates. For example, the today smart list collects all the tasks that are to be done, well, today. The Next 7 days smart list collects & shows all the tasks which are to be done within this week.
Tags are another method that you can use for an ease of navigation. While creating a task, you can simply assign it a tag like work or studies. When you have multiple tasks related to a single tag, you can view them all together on one screen.
Don't miss: Always Stay Organized with Memorigi: Todo List, Task List App
Attachments, Location, Comments, Activities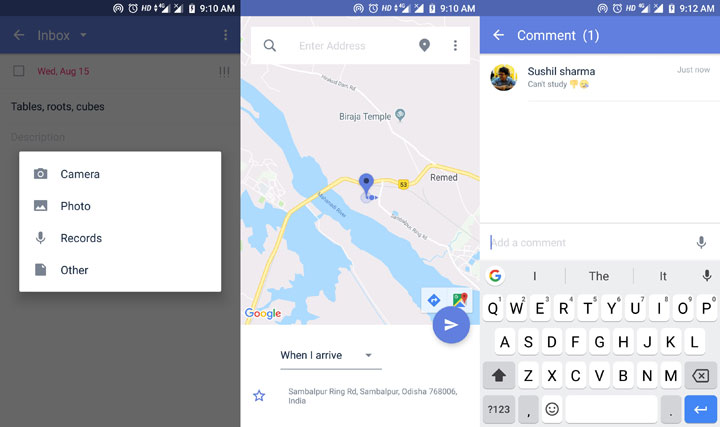 While TickTick nails the basics, it does offer some extras that a lot of users would definitely like.
Attachments are a nifty feature that you'll surely find useful if you've got a complex task at your hands. Organizing can become much easier if you attach relevant files to a task. TickTick supports multiple files like images, documents, etc.
TickTick also supports location reminders for tasks. In short, it reminds you of the task when you reach a certain location. Comments are a feature that I use every now and then. Adding a detailed comment describing the specifics could prove useful in some cases like collaboration.
Activities is a premium feature that lets you see the activities performed by multiple collaborators on a task. Above mentioned are some of the standout features of TickTick. Other than that, it also comes with some more basic features like sorting tasks according to priorities, reminders, daily alerts, etc.
TickTick also has a premium plan that offers a lot of extra features like the option to create extra tasks, lists, subtasks, etc. In my opinion, if you are not into an extreme organization, you will do just fine with the regular version.
Must read: Get 5 Useful Floating Tools on Your Android Device with Tiny Apps