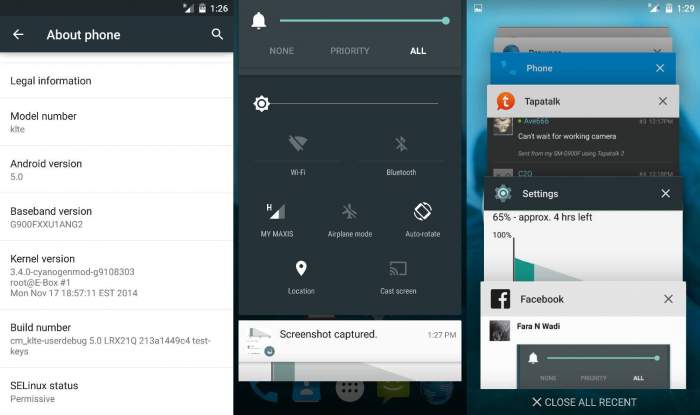 Samsung Galaxy S5 users are eagerly waiting for the Lollipop update ever since the OTA updates rolled to the Nexus users. The closest thing that the Galaxy S5 users witnessed until now is the leaked Lollipop sneak peek on the Galaxy S5 which gives the insights of the latest TouchWiz interface based on Lollipop. Samsung had once again managed to deface the stock Android with its TouchWiz UI which left mixed opinions among the Android users.
The Galaxy S5 might see the official Lollipop update somewhere near mid-December to early January but if you're determined to get the Lollipop immediately, so be it. albinoman887 of XDA managed to port the CM12 to the Galaxy S5 which is pretty functional for an initial alpha build. As you know, CyanogenMod comes with the stock Android interface with advanced features and the CM12 is the latest version based on Lollipop sources.
CM12 is not officially available as the build is not yet stable but developers already started their trails and some of them saw promising ROMs. Many of the CyanogenMod features are missing from the CM12 builds including the customizing options, theme manager and many more. These builds are aimed to bring the material design language to the users, so we can treat these ROMs as the early CM12 builds.
albinoman887 had managed to get all the important features to work on this alpha build and many users reported a buttery smooth experience. The only bug as of now is the touch screen issue in few games which should not be a deal breaker for any of the Galaxy S5 user who is eager to install the Lollipop ROM.
The current build is supported for the GSM Snapdragon variants which include kltexx, kltelra, kltetmo, kltecan, klteatt, klteub, klte acg, kltedcm and klte. So it is advisable not to try this ROM on Exynos variants and the CDMA devices. If you're ready to install the CM12 build to savour the look and feel of Android Lollipop on Galaxy S5, grab the ROM and Gapps files and following the installation guide linked below.
Downloads
CM12 ROM: cm-12-20150116-UNOFFICIAL-klte.zip
 Follow the source link for the latest updates on the ROM.
Transfer both the files to the internal storage of the device and follow our ROM installation guide.