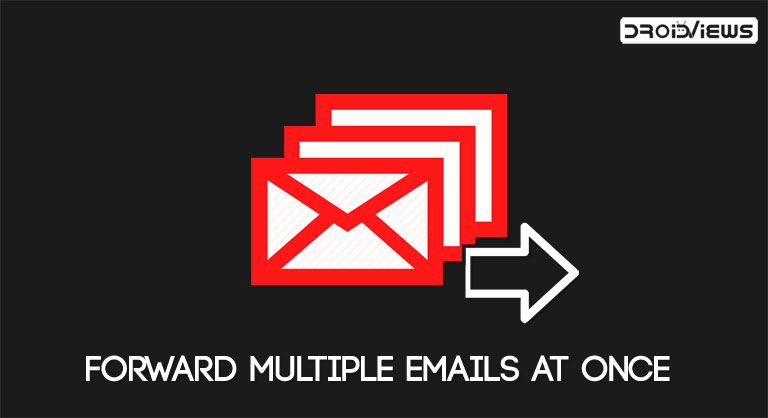 Gmail is probably the best email client. Not many could argue against it. Apart from handling its basic functionality of sending emails quite efficiently and in a secure manner, it also comes with tons of Gmail's extra features like sending and requesting payments via Gmail. You may even take the help of various Gmail add-ons or try sending emails in Confidentiality mode. But in spite of all this, it fails to provide one of the most basic yet important features. There is no option of forwarding multiple emails at once to a particular user in Gmail.
However, after digging up the internet, I was able to get my hands on a very interesting Chrome extension that is very much capable of forwarding multiple emails via Gmail. The process is quite short and easy. You don't have to enable POP or IMAP Forwarding feature in Gmail. But it does have it's a fair share of downsides.
Most important among those is regarding security and privacy settings. While installing this extension in Chrome, it requires you to grant it permission to view, edit and modify your emails. So proceed with caution. Even then if you wish to go ahead, then make sure not to use your official email ID. With that said, let's begin the tutorial on how to forward multiple emails via Gmail. Moreover, don't forget to have a look at How to Recover Permanently Deleted Emails in Gmail.
Forward Multiple Emails at Once in Gmail
Download the Multi Email Forward by cloudHQ Chrome extension by clicking on Add to Chrome button.

You will now be taken to your Gmail account. Click on Next, Next and Close in the three subsequent dialog boxes that appear.
Now, click on Create Account. You will have to give permissions to view and modify your emails. Click on Allow to proceed further.

You could now access extension for forwarding multiple emails via Gmail from the menu bar, present right above your emails. The icon for the same would be a forward icon, situated next to the bin icon.

Moreover, you will now see checkboxes left of each email. Tick mark all the desired emails that you wish to send. Due to Gmail's restriction, you can't forward more than 100 emails at one go.
Once you have made the selection, click on the Multi Email Forward extension icon.
Now, from the drop-down list, select your desired option for forwarding multiple emails via Gmail. Among the options available, these may come in handy:


Forward selected emails individually: If you select 'x' emails to send, then the recipient will receive 'x 'emails individually. Not a good practice and would more often than not be considered as spamming.
Forward selected emails in one email: A much better approach. All the selected emails will be sent as a single email. But each mail will be segregated quite neatly.
Forward selected emails in one email as EML attachments: It creates individual .eml files for each of your emails. The same could be viewed by the recipient in his or her Chrome browser.
Forward selected emails in one email as PDF attachments: As the name suggests, all the mails will be bundled inside a single PDF file.

Once you have made your decision, enter the recipient's name and click on Send.

That's it. You have successfully forwarded multiple emails at once via Gmail using Multi Email Forward Chrome extension. You should also check out some of the best Gmail ad-ons to further enhance your experience. Do let us know if you face any difficulty with regard to any of the mentioned steps.
Read next: How to Disable Chrome Notification Popups