We have all known the importance of security and its importance on any device especially the smartphone which we use on a daily basis and which stores the most important data like the Credit or Debit card details to the other important data like passwords for some apps and much more. This means that the smartphones on which the data is stored should be secure such that even if there is an attack on the smartphone then also the attacker will not be able to find out our important details to use it further. In today's world when security is of utmost importance, this security method has been achieved and this method is known as encryption. Using the tutorial below, you can flash encrypted ROMs on decrypted OnePlus 5.
We have seen many messaging apps like WhatsApp, Telegram and more use the encryption method so we would like to inform you about this method in a little detail. First of all, we would like to tell you that nowadays the whole device comes encrypted and there is no need for different apps to provide encryption on an individual basis. Encryption is the technique of hiding the data in a secret key form which is jumbled in a way that the attacker will not be able to know what the data hides inside it. This encrypted data is again decrypted inside the smartphone so that it is provided in a way that is understandable to the user of the smartphone.
We have already mentioned that the smartphones nowadays come with Encryption by default. However, there are users of smartphones that decrypt their smartphone so that they can enjoy various benefits like MultiROM support which is a method to boot dual ROMs on any device just like Windows. Nowadays, there is one problem in keeping the device decrypted as the users can not flash custom ROMs on their device because all the custom ROMs come with Encryption by default. However, we are going to show you the method down below to keep your device decrypted even after flashing any encrypted ROM on your device.
Note: For the purpose of this guide, we have taken the OnePlus 5 as a reference device and have provided all the relevant tutorials keeping the OnePlus 5 in mind. However, this guide is a universal one and you can follow the steps for your particular device
Must read: Download and Install OxygenOS 4.5.7 on OnePlus 5
Prerequisites
Steps to Flash Encrypted ROMs on a Decrypted OnePlus 5 Without Losing Data
First of all, make sure that you have followed all the steps mentioned in the Prerequisites section properly. After that, you will have to Power Down your device by long pressing the Power button and choosing the option to "Power Off".
Once your device has been switched off completely. Press the combination of Power and Volume down button for 5-6 seconds. After this, you will have short vibration on your device which will indicate that your phone is now in Recovery mode.
Once you are in the Recovery mode, your smartphone should have now booted in TWRP mode.
In TWRP, you have to Wipe Cache, Data, and System Partition.
After this, you have to flash any encrypted ROM of your choice for your particular device.
After that, you can flash GApps on your device in order to get all the Google Apps on your device but keep in mind that this step is optional and depends on the user. The steps to flash Google apps can be found.
After flashing Google apps, you can flash Magisk installer which provides system-less root but this is also an optional step so you should do this if you are familiar with it. In order to know the steps to install the Magisk manager, you can check the guide.
Once done with the above steps, you will need to flash a 'no-verity' file for your particular device. You have to transfer the no-verity file onto your device which you have downloaded from our Prerequisites section.
Once transferred, you will have to select the no-verity-op5.zip file from your phone and flash the zip from the 'Install' section in TWRP.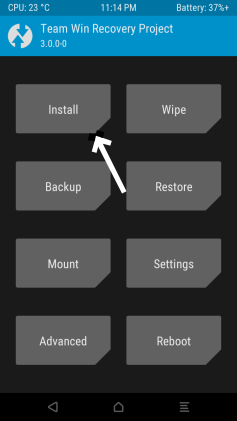 Once flashed, you will have an encrypted ROM but your device will remain decrypted. After this, just restart your phone and begin the setup process.
Note that you can follow the above-mentioned steps for any device other than the OnePlus also but the no-verity zip file for the device will be different. Make sure to let us know about any doubts you have about this procedure in the comments section down below.
Don't miss: How to Install Google Contacts and Dialer on OnePlus 5