OxygenOS 4.5.7 is now rolling out to the OnePlus 5 after being announced earlier today on the OnePlus forums. The update mostly contains bug fixes and enhancements along with a couple of new features. The latest version of OxygenOS includes a new font called the OnePlus Slate which will bring a new visual aesthetic to the OnePlus 5. Not all the new changes are simply for aesthetic purposes though and the update does bring about at least one functional change. EIS: Electronic Image Stabilization can now be utilized in 4K video recording resulting in a more stable, less shaky video. If you haven't yet received the OTA, you can manually install OxygenOS 4.5.7 on OnePlus 5.
But before we get to that, let us talk about the enhancements which include improved WiFi connectivity and battery performance. When it comes to bug fixes, they're all about the sound.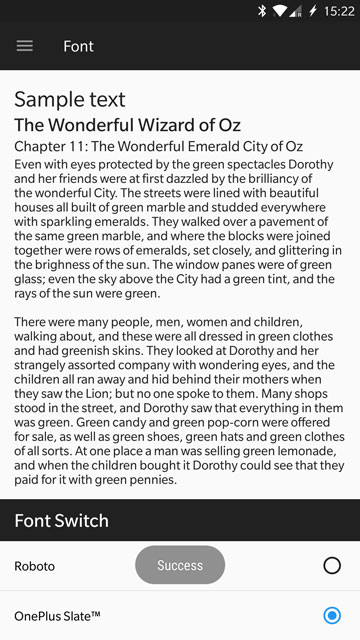 Here's an official changelog provided by a OnePlus staff member on the OnePlus forums.
Updates:
Updated Android security patch level to 1st July 2017
Updated to latest GMS package
Optimizations:
Wi-Fi connectivity improvements
Standby battery enhancements
Bug Fixes:
Fixed occasional sound leaks in the speakers when using earphones
Fixed camera shutter sound bug in silent mode for Indian region
Fixed missing sound channels when recording videos
Download
Also read: Unlock Bootloader, Install TWRP Recovery and Root OnePlus 5
Requirements
To manually install the OxygenOS 4.5.7 ROM on your OnePlus 5, make sure that your phone has enough charge.
You will also need to install adb and fastboot drivers on your PC if you intend to flash the ROM using your PC. There are other methods to do this too, however.
Enable USB Debugging on your OnePlus 5.
Install OxygenOS 4.5.7 Using ADB and Fastboot
Download the full OxygenOS ROM from the download section above and copy the ROM zip to your adb installation folder. It would help if you rename the file to OOS.zip
Now boot your OnePlus 5 in recovery mode. You can do this by powering off the device first. Then press and hold the Power and Volume Down buttons together until you see the OnePlus splash screen appear and disappear. Leave the buttons when that happens and your device should boot into recovery mode.
In the recovery mode, select Install from ADB Sideload and then connect your phone to your PC with a USB cable.
Enter the following command to start flashing the OxygenOS ROM onto your phone. Replace file_name.zip (text in green) with the name of the zip.

adb sideload 

file_name.zip

Wait for the process to finish then disconnect the phone and reboot it.
Install OxygenOS 4.5.7 OTA only
It might be a good idea to only download the OTA update instead of the full package which saves your data as well as time. Installing it is also much easier. This is only valid though if you're already rocking OxygenOS 4.5.6 on your device.
To install the OOS 4.5.7 OTA, download the OTA only zip from the download section and transfer it to your OnePlus 5.
Go to Settings > System Updates > Settings Icon > Local Upgrade and select the OTA File.
When prompted, select upgrade now.
Your phone should reboot into stock recovery at this point and start flashing the OTA update on its own. When the flashing is complete, your device will reboot itself and when it comes back up, it will be running the latest OxygenOS from OnePlus.
Suggested reading: Remove Bloatware on OnePlus 5 Running Oxygen OS
Install OxygenOS 4.5.7 via TWRP
If you're enjoying the full benefits of a OnePlus device, you most probably have an unlocked bootloader and are rocking a custom TWRP recovery on your device. In that case, you can flash the full ROM zip via TWRP with much ease.
Download the full ROM zip from the download section above and transfer it to your device.
 Boot your device into recovery mode as described in Method 1. Instead of booting into the stock recovery though, your device will boot up into TWRP recovery.
Before proceeding though, it would be a wise idea to create a complete NANDroid back up of your current ROM using the Backup option.
If you're already running OxygenOS 4.5.6, you can go ahead and tap the Install button. After that, select the ROM zip and swipe to begin the flashing process.
If your device has a custom ROM installed instead, first Wipe the data, system, cache and dalvik cache partitions by going to Wipe > Advanced wipe. After that, you can go ahead and install the ROM.
Once flashing is complete, tap on the Reboot system button to reboot your device.