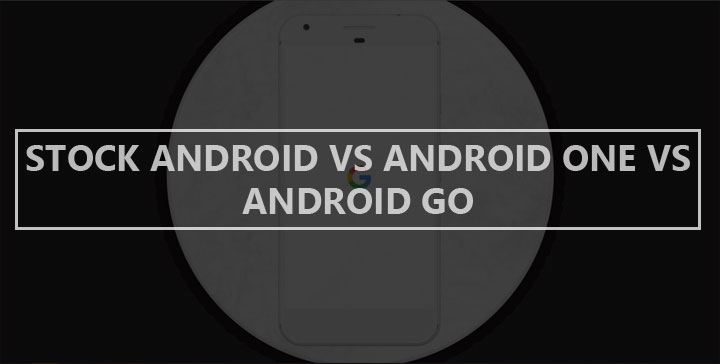 Android has been out for almost a decade now. Over the years, we have seen Google push various flavors of Android – Stock Android, Android One, & Android Go. So, what's the difference between all three of them?
First things first, all three flavors of Android come from Google and have a lot of things in common. But there are a few big differences, a set of rules, that give each of them a different identity of sorts.
Stock Android
Stock Android is the main version of the Android operating system; the one you get on Google Nexus lineup (now dead) and it's Pixel lineup. Each year, we get a new and improved version of Stock Android. With this, Google doesn't set any ground rules in the form of specifications; the hardware part is managed by the manufacturers (except for the Pixel series as Google has complete control over both hardware and software).
The devices running stock Android gets updates directly from Google without the involvement of any third-party; this includes monthly security patches, bug fixes, and more.
Since stock Android is all about offering pure and unmodified experience, it doesn't ship with any kind of bloatware. As a result, the demand for stock Android has increased in the last few years.
Don't miss: Ultimate Android Guide for Beginners
Android One
Android One was announced by Google in 2014 as a way to provide affordable access to Android phones in emerging countries. At first, it only focused on low-end devices. But the program has grown over the years and now also supports mid-range devices.
The gist of Android One initiative can be described as low-cost specifications and low-cost hardware. However, it's not restricted to the hardware part of a smartphone alone. Google has also set a few key rules that it wants every manufacture to follow.
Unmodified stock Android: Any manufacturer who wants to launch a smartphone under the Android One name cannot modify the operating system supplied by Google.
Regular Security Updates: All Android One phone manufacturers have to supply regular security updates.
Specific Hardware Requirements: All Android One phones must have the hardware and specifications as set by Google.
Devices under Android One program are guaranteed to get security updates for three years and software updates for two years.
Android Go
While Android One program was designed for low-end devices, it moved to mid-range devices in 2017. That's why, in 2017, Google introduced Android Go; to pick up where Android One left off.
Android Go is specifically designed to run on devices with low specification i.e 1 GB of RAM or less. What makes it different from other Android One is that it comes with a special set of original Google apps which have been redesigned to run on limited hardware; dubbed as Go version of the regular apps-Maps Go, YouTube Go, Gmail Go, to name a few.
Must read: 20 Google Maps Tips and Tricks You Must Know About
Devices shipping with Android Go have a forked down version of Google play store as well in which the apps specifically designed for Android Go or lite version of third-party apps are highlighted.
Unlike stock Android & Android One, Google doesn't control the software. They send it to the manufactures – Nokia, for example – and they release it. As a result, all the maintenance part of updates & upgrades is also managed by the manufactures.