Samsung Galaxy S8 has received rave reviews from both reviewers and users alike. Both the Galaxy S8 and S8+ look stunning with their near bezel-less designs and captivating Infinity displays. The Galaxy S8 marks a shift in Samsung's design language to an extent. Gone are the physical home button and the Samsung logo on the front. Even though the fingerprint reader placement is a bit awkward, and Bixby is not yet fully functional, there's no denying that the latest Galaxy siblings are one of the best smartphones out there right now. But that doesn't mean they are perfect. From reports of red screen problems to claims that Wi-Fi connectivity can be troublesome, the Galaxy S8 has some problems. Here we list some come common Samsung Galaxy S8 problems and fixes.
Don't miss: Easily Remap Bixby Button on Samsung Galaxy S8 with These Apps
1. Red tint on the display
Quite a few users have reported a reddish tint on the display, which seems unrelated to the use of any particular app. Samsung is rolling out an update to fix the red tint issue but until then, you can go to display settings and tweak them to your liking.
Even though Samsung says a software update will fix the red tint issue, there is still confusion about whether it is, in fact, a software problem or a hardware related issue. If the software update from Samsung fails to fix it, you may have to get a replacement.
2. Wi-Fi Issues
Connectivity issues with Wi-Fi and Bluetooth popping up with a new smartphone aren't uncommon, and the Galaxy S8 is not an exception either. There are some Korean edition devices that experience a specific Wi-Fi connection drop issue, and Samsung has said it will fix the issue with a software update. But if you don't have a Korean Galaxy S8, and are still experiencing Wi-Fi issues, you can try something on your own to possibly fix it.  First, try powering off your handset and router for 10 seconds, and then power them on. You might also want to go into your Settings app, choose Backup and select Reset Network Settings.
You can use Wi-Fi analyzer to check how crowded your connection is and switch to a better connection. Some users claim disabling the Hotspot 2.0 feature fixes a lot of issues with Wi-Fi.
3. Delayed push notifications
Some users are reporting that the push notifications from apps aren't as instantaneous on the Samsung Galaxy S8 as they should be. This could be because of Samsung's aggressive battery saving features, on top of Android nougat's default settings. Because how else would you get a decent battery life out of a 3000mAh battery with that kind of a display. Luckily, there probably aren't a lot of apps that you would want to get instantaneous push notifications from. So go to Settings> Apps and select Special Access from the top right menu and go to Optimize Battery Usage. Select Change To in the drop down menu and add any applications that you want to receive instant push notifications for.
Must read: Install Viper4Android on Samsung Galaxy S8 and S8+
4. Google Now Launcher doesn't work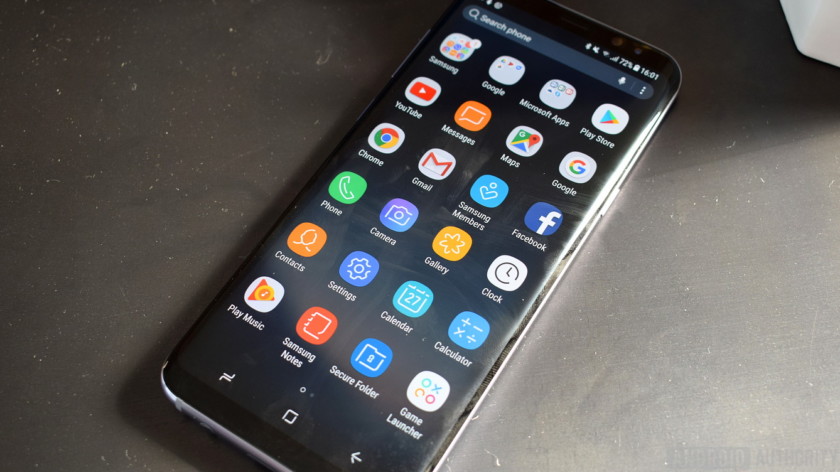 Samsung's TouchWiz launcher has come a long way and it is even attractive to some, including me. But that attractiveness only stays for a while before you might get bored. Moreover, TouchWiz isn't for everyone. Thanks to Android's open nature, one isn't locked down to the app launcher that shipped with one's device. If you prefer the stock Android look, you can install any third-party launchers. The Googe Now launcher, available for free on the Play Store is one very popular option.
But, while there aren't any problems with other third-party launchers, Google Now fails to show up in the app drawer and even in the installed launchers list. This isn't a problem specific to the Galaxy S8 though, but at least on the Galaxy S8, it is fixable. The issue is seemingly related to the Secure Folder. Uninstalling the app lets the launcher work as expected. But that is clearly not an option of you do use Secure Folder. In that case, you might have to settle for something like the Nova Launcher or Action Launcher.
You may also like: 10 Tips to Make Your Phone's Battery Last Longer
Well, rooting is definitely not a device-specific issue but it can be helpful in enhancing your smartphone experience in many ways, in case you have been looking for a way to root your Samsung Galaxy S8 or S8 Plus, the Android root tool can help you with that.
6. Lost Data Recovery on Galaxy S8 and S8 Plus
There are cases when we lose our valuable data stored on your Android device accidently. Suppose you have saved your precious moments clicked with your Galaxy S8, or have stored important documents, and you lose them, how would you recover that? In case you find yourself in such a situation where your data, pics or files are deleted accidently, you can use the Android data recovery tool to recover everything very easily.
7. Transfer data from an old device
Transferring your data from an old phone to a new phone isn't as seamless on Android as it is on iOS. This is even truer if your older phone happens to be an iPhone. But you can use the iSkysoft Phone Transfer tool to transfer all your contacts, messages, media and other data to your new device. Just download and install the program on your Mac or Windows PC and click Phone to Phone transfer. Connect the two smartphones to your PC with USB cables, check the data types like Contact, Photos, Text and more, then Click Start Copy to start transferring.
Features:

Get phones, music, videos, etc. from iTunes to Android and iDevices.
Back up data from your device on to Mac and restore it with one click.
Enables you to transfer the iCloud backup to Android and other devices.
Supports a wide range of devices/OS viz. Android, Nokia, BlackBerry, iOS, etc.

Pros:

Android, iOS, BlackBerry and Nokia Symbian supported
1 Click Transfer Data

Cons:

A bit more expensive than other software
iSkysoft also offers other tools that might come in handy for your Samsung Galaxy S8. Visit the iSkysoft official website for download and more information.