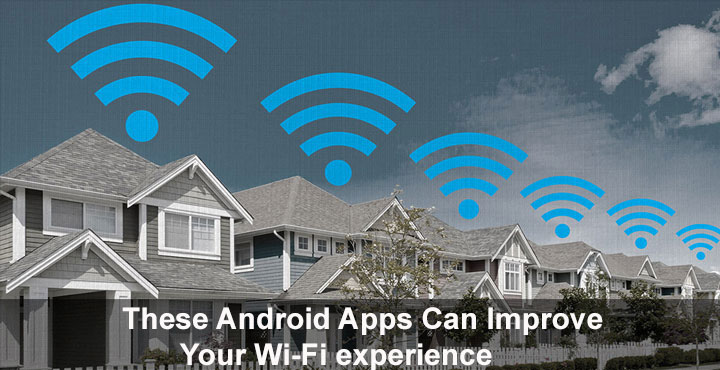 WiFi Internet connections are quite common these days, especially in developed countries. It shouldn't come as a surprise then that there are many common issues related to WiFi connections that we face often. Most of the times, a reboot of your router can fix things but sometimes it can't. Luckily, Android is equipped with a few tools dedicated to WiFi. Some of these can even help you find and block people from your network. These Android apps can improve WiFi connectivity on your Android, and today we will be talking about a couple of them.
Wi-Fi Analyzer
[googleplay url="https://play.google.com/store/apps/details?id=com.farproc.wifi.analyzer"/]
If you live in a city, you're more than likely surrounded by a number of WiFi networks. Since every house is right next to each other and has a WiFi of its own. But so many networks require as much bandwidth space to operate smoothly. With so many WiFi networks on top of each other, it is likely that the bandwidth will get saturated with other people's network. Think of it like a 4 lane road with a lot of traffic. WiFi routers work on different channels, but it is quite possible for this channel to get overloaded and your connection will be affected.
Must read: What is NFC? How to Use It in Awesome Ways!
WiFi Analyzer can help you analyze and then pick the best possible channel for your network. The app shows different graphs and features accessible via simple left-right swipes. Other than the fact that this is not immediately apparent, the app is quite simple to use. A graph shows you how all the WiFi networks in the area overlap each other in differing channels. This can help you figure out the most congested channels. This is a great app that will improve WiFi connectivity on your Android device.
Wi-Fi Analyzer also lets you select the best available channels for your network as well as find an optimal spot in your house. Another graph and a signal strength gauge of your current network can help you out with the latter. Knowing the signal strength of available networks can also be of help if you are outside, like a coffee shop or a station.
WiFi Map — Free Passwords & Hotspots
[googleplay url="https://play.google.com/store/apps/details?id=io.wifimap.wifimap"/]
Speaking of WiFi outside your house, finding an open WiFi network when outside can be a big deal sometimes. It is the best way to save your precious mobile data. But this means you need to find a restaurant or shop with a WiFi, connecting to it and then hoping it works. A lengthy process if you ask me. WiFi Map will improve WiFi connectivity on your device by giving access to free WiFi networks worldwide.
WiFi Map has a crowd-sourced map of open WiFi networks in cities and countries around the world. This can reduce the headache of finding a decent open WiFi network. When you open the app, it displays a small map of your area along with a list of known public Wi-Fi networks. The map can be further fine-tuned using filters to narrow down the list by free or paid, whether registration is required, if the connection is time-limited, and the type of place.
Don't miss: View Saved Wi-Fi Passwords on Android with WiFi Password Viewer
Tapping on a network listing brings up some details about it. Here you can also vote if the network is free or not, but this requires signing up for an account. You can also leave tips for other users. The app also has Foursquare integration, a popular location check-in service. This lets you see reviews and opinions of others about the venue.