WiFi
Ideally, a strong password has a mix of small and capital letters, numbers and symbols and should be at least 6 or 8 digits. Ideally,
Apple may be credited for popularizing the term smartphone. It is Android though which has taken the world by storm and brought the
This is the day and age where smartphone manufacturers are going the wireless route. Speaking of which, most of the OEMs out there are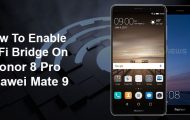 Most Android devices ship with a number of network tethering options. Unless your carrier has disabled these, a typical Android
Setting up Wi-Fi hotspots is one Android feature that we sort of take for granted these days. Almost every smartphone, if not all of
WiFi Internet connections are quite common these days, especially in developed countries. It shouldn't come as a surprise then
Does your WiFi connection get sluggish from time to time? Most of the time the reason for a slower network is something quite normal.
The ability to use your Android device as a Wi-Fi hotspot can be a very useful feature. This feature of the Android devices has more to