Finder is the default file explorer on macOS and for the most part, it gets the job done. But there is so much more, that it cannot do. If you're a power user you've probably come across these. Because Finder is a built-in app, it integrates much better with the OS. Now that it is also getting the ability to manage your iOS devices, that's even truer. However, when you want to do things like managing your files, using Dropbox without downloading data to your Mac, etc. there are worthy finder replacements out there. One of them is a dual pane FTP file manager for Mac called Commander One.
Commander One: Features That Qualify It as a Finder Replacement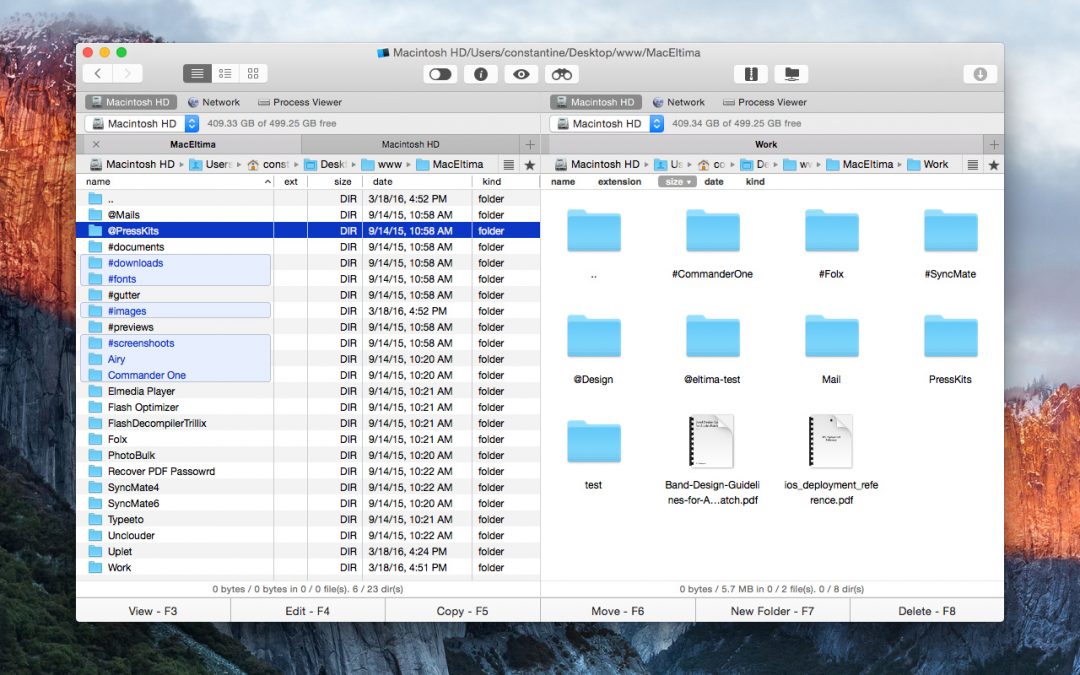 Commander One is a free, productivity-focused Mac file manager which supports FTP file transfers, dual pane browsing, and unlimited tabs. If you've ever used a dual pane file manager before you'd know how convenient and easy it makes file transfers. Commander One is a product from US-based developers Eltima. This powerful Finder replacement can do everything that the Finder can't and it is everything you wish Finder was.
Don't Miss: Decompile, Modify and Compile APK Files with APK Easy Tool
Well designed interface
Eltima makes a number of other Mac apps other than Commander One. The one common theme among these apps is that they look great. Not only that but Eltima's apps look like they're a part of macOS thanks to the aesthetic choices. Commander One is not very different it looks like a built-in Mac app. Common tasks like displaying file info, exposing hidden files, creating a ZIP archive, or starting a search all have their own dedicated, big, friendly buttons. You can type your desired path directly at the bottom, something the Finder doesn't allow.
You can also use relative path descriptors from the present directory. It's a different layout from vanilla Finder, but once you get the hang of it you'll agree it's a superior layout. Of course, for someone who has never used something other than the Finder, this Finder replacement can be a bit overwhelming with all these extra buttons. It rocks a double-pane layout that makes working with files a breeze. For those of you who remember Norton Commander from the old MS-DOS days, it even has a similar theme.
The interface, while intuitive, can be changed. Because there's no use of a powerful file tool if it can't adjust to your workflow and makes you adjust to the way it wants you to work. At least, not until it has an Apple logo on its back. Commander One is highly customizable via a Preferences menu. You can customize the hotkeys, default apps, adjust settings for the built-in archiver, switch themes, change the file list font, cursor and background color, and a lot more.
Stability
Not only is Commander One well designed, but it's also reliable because it's stable. One of the arguments in favor of many Apple products, both hardware, and software, is that they just work. Well, Commander One just works too, and it works just as well as Finder, besides doing a lot more. You won't run into any bugs or operational quirks while using the application. It probably helps that the app is written entirely in Swift, Apple's own programming language. While it's written using a modern language, it harkens back to the old days of keyboard-driven Finder tools.
Functionality
The Finder alternative goes out of its way to support power users with unique features. For instance, the powerful search function lets you use Regular Expressions to find what you're looking for. You can search in archives, or find text in documents that matches your search words. One can even specify the number of subdirectories to look into. It also lets you search using spotlight.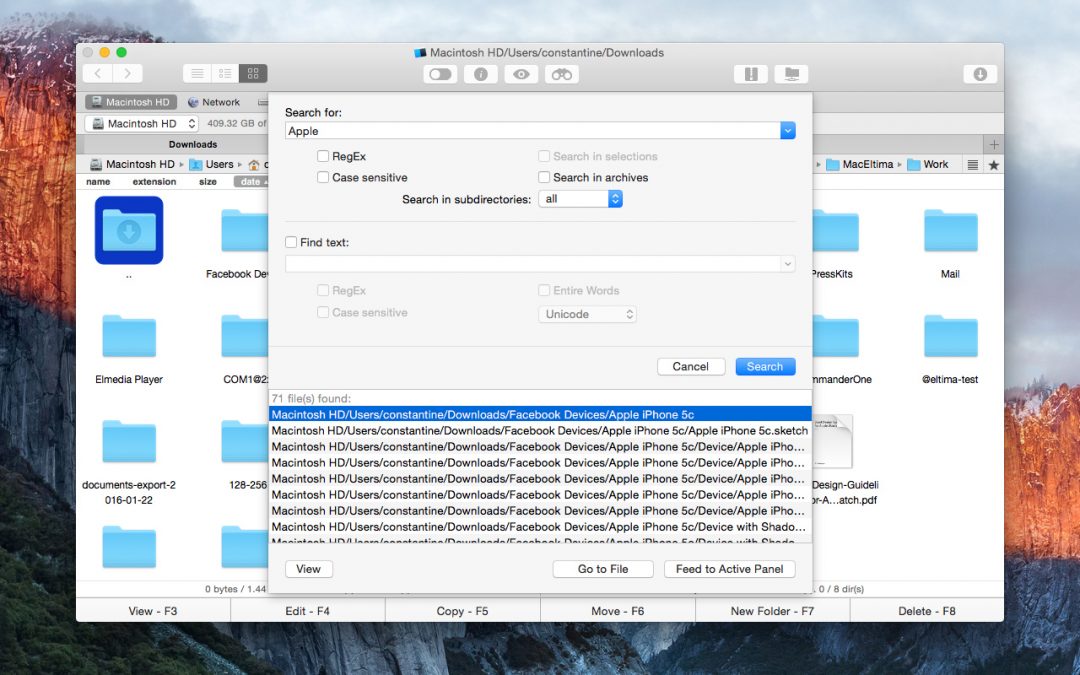 Important file management operations are bound directly to function keys. For example, select a file in one pane and press F5, and it will be copied to the disk location open in Commander One's second pane. With F3, you can view the selected file with the file type and text encoding of your choice. Commander One can also be used to open Terminal, System Console, Activity Monitor, Disk Utility, and Network Utility.
FTP and Cloud Drives
Not only can you manage your local files but you can also access your cloud accounts. Also, Commander One lets you connect to remote servers via FTP, SFTP or FTPS (and change remote file permissions with these protocols). Eltima is also the makers of CloudMounter. Consequently, Commander One can also mount drives like CloudMounter.
So once you've mapped your FTP server as a local drive, Commander One is able to work with your remote files as if they were located on your computer. You can drag and drop files between different FTP servers, copy, paste, the usual stuff. It can also mount both Android and MTP devices, and iOS devices and retrieve data from these devices connected by wire or wirelessly.
Commander One also allows browsing and managing files on your cloud storage service of choice. You can mount an unlimited number of Dropbox drives but it also supports Google Drive, OneDrive, Amazon S3, WebDAV.
Verdict: A Powerful Dual Pane FTP File Manager & Finder Replacement
The features mentioned above are some of the major features most users would definitely enjoy using. But make no mistake, that's not all that Commander One can do, far from it. For instance, it has features that let you see the list of active system processes, adjusting defaults for the Finder's "Open With" contextual menu, preview any supported item without opening it (including hex and binary files), open archives, just like with regular folders, etc.
There are probably more features here than you'll be able to explore in a day before getting tired. It's not the kind of app that you keep as an alternative to a default OS app to use when needed. It's a full-on Finder replacement.
Read Next: How to Manage and Fix Permissions on Android File System