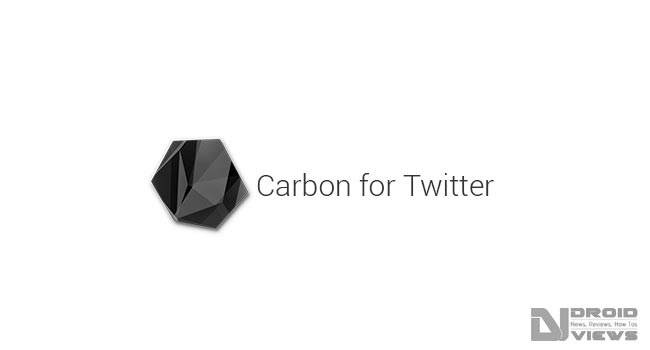 Not to mention, one of the top most regarded and our favorite third-party Twitter client, Carbon for Twitter stood high at its place during the previous year with its minimal and dark design, yet it has done it again bringing a huge overhaul to the previous version.
The app release has been labeled v2.0.8 and holds a basic minimal size of 13.90 MB on your device's storage, which I think is pretty fine for an amazing app like this.
What will you see?
Carbon for Android has done it yet again by proving itself to be the most popular minimalist Twitter client offering sleek look, to attract anyone to its beauty.
 Just as you launch the App from your device's app drawer, you shall conceive the Carbon logo screen followed by a page requesting you to setup your existing Twitter account. Tap on the "Add Twitter Account", enter your email/username and password to log in and authorize the App's access to your account. Do not worry, the app shall never put an eye to any of your personal details like the password
 When the account has been finalized, a quick guide page will be displayed, to help you make your way easy throughout.
Swipe Right or Left to switch between Timeline, @Mentions and Direct Messages
Swipe up or down with two fingers to move to the end of top or bottom of the timeline
Tap once on any tweet to expand the various quick options like Quote, Retweet, share and favorite.
Tap using two fingers to quickly quote the tweet
Swipe in from the right edge to expand the Quick Timeline to display the list of Retweets, Favorites and saved searches.
Everything under one box
Access several accounts, not just one, manage a list of accounts and access them all under one roof. To manage accounts, tap on the bottom right profile box and then press on the Settings icon and then on Manage Accounts
To compose a new tweet, press the + icon on bottom right profile box. You can also add a photograph using the Camera icon in the composer and also a "@" tag.
Screenshot Gallery
As per the Google Play release page, the following additions and amendments have been made in the latest build:
Completely relishing new User Interface and design
Revamped Timeline and features, swipe smoothly between Timeline, @Mentions, and Messages
Quick pull-out menu for retweets Searches, List, Favorites on your Home screen.
Don't Disturb Mode to avoid notifications
Oxide Mode for Grayscale Timeline experience
Power Scroll: Scroll/Swipe up or down using Two fingers to jump to top or bottom of Timelines
Tweet Quick Actions directly accessible via the box present at the bottom right of the timeline.
Configuration of Tweet Font Sizes
In-App Browser to prevent usage of external browsers while opening links etc.
In-App YouTube Player makes it easier for you to watch videos without launching another browser or third-party apps
Preview and Play Vine content directly from the app
Rich Timelines with full inline images and videos
Sleek, brand new User Profiles
Username/Email Autocomplete
Mutes/Filters for Hashtags, Users, and Keywords
People/Profile Search
Multi-account operations with simultaneous notifications
Profile Editor for easy editing account information, profile pictures etc.
You're heartly requested to follow @CarbonAndroid & @dot1ne. Also, take out some time to support us by following @DroidViews, to receive your favorite Android news, reviews and how-to's.