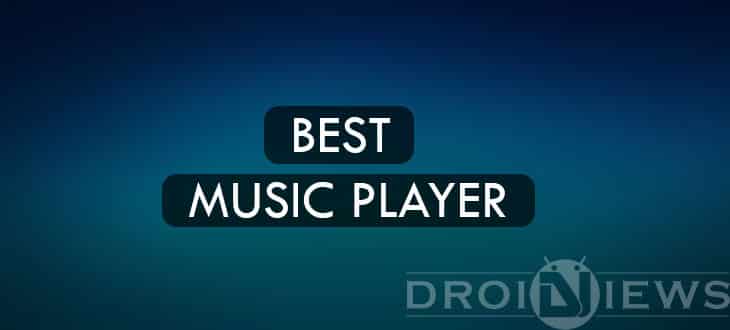 With the start of the smartphone era, gone are the days when you needed to carry a 'Discman' or a 'Cassette player' or any other media player to enjoy music on the go. Now you can do it with  your smartphone and enjoy a better music experience.
With the constant development in Android Application world there are tons of music player available on the Play Store, confusing you to choose the one for you. Well here are few options of best Music Players for you, so you could narrow down your search.
1.Poweramp Music Player
Developer: Max MP
With over 10 Million downloads this is one the most used music player among music enthusiasts and artists. It includes a optimized graphical equalizer to tweak the sound according to the song you are listening, various presets in the equalizer are also available. It supports almost all the music formats like .mp3, .mp4/m4a, .ogg, .wma, .wav, .tta, .wv, .mpc, .aiff, etc. It even supports the flac files for all the audiophiles out there.
With various customization options for Sound and User Interface it is a music player meant for audiophiles or music enthusiasts who like to listen their music the way they like like it. Even for casual music listener this is a great application to elevate their music listening experience to a another level. With plenty other nifty features ,this is a must try music player in the Play Store.
Features.
built in 10 band equalizer
separate powerful Bass and Treble adjustment
gapless music playing
customizable homescreen widget with many styles
dynamic queue
lyrics support, including lyrics search via musiXmatch plugin
Screenshots
It has a free trial version to try out all the features for 14 days. Then the full version unlocker need to be purchased for just $0.99.
2. Google Play Music
Developer: Google
It is the default music player that comes installed in most of the Android phones. It has a simple UI with material design.  If you are living in US or Europe (including these countries) you have the option to store up to 50000 songs on the cloud to enjoy the music from any platform including Android, iOS and the web for free. In few countries online music streaming is also available, with a subscription fee. The app can suggests songs according to your taste and even creates a radio stations based on Artists, Songs, Albums, genre ,mood or activity.
Google Play music is a great option for music lovers who like to listen it the way it is and like to have a wide variety of songs at their tips. It has has user friendly design allowing you to perform basic functions like play/pause, shuffle, fast tracking a song with ease. Though not a feature rich music player but  it's extensive music library by Google is what the users of this app are lured by.
Features
Simple UI
store your songs on the cloud
over 30 million songs library
cloud storage for your songs
create radio stations based on artists, albums, activity or mood
smart recommendations according to your taste
Screenshots
It is a free music player but a subscription fee has to be paid to enjoy music streaming, if available in your country.
3. MusiXmatch
Developer: Musixmatch
MusiXmatch is more than just a music player, it has world's largest lyrics catalog which let's you enjoy  your music with synced lyrics. It can identify the songs playing around you with just tap of a button and even get the lyrics of the song. It also searches for the artist of your current song and shows the albums by the artist and even top tracks by him/her. Musixmatch also includes a Sing along feature which lowers the vocals and let's you sing along the tune of the song.
It is a feature rich good looking music player with huge lyrics library. The app is perfect for all the music lovers who like to know their lyrics and sing along.
Features
Identify the song playing around you
Floating lyrics
Search lyrics
Search other albums and Top tracks by the Artist you are listening to with a single tap
Cast music and lyrics to your TV using chromecast
Automatically fetch song info and cover art for your songs
Sleep timer
Equalizer
Screenshots
It is a free app but has In-app purchases to remove those annoying ads.
4. Shuttle Music Player
Developer: Simplecity
Shuttle is another material design Music player, rather this one looks even better. It can be placed  in between Google Play and Poweramp while comparing the feature list for these apps. Shuttle has a built in 6 band equalizer, it has floating lyrics support via MusiXmatch, a equalizer, automatic artwork grabber.
Shuttle with it's colorful UI which pleases to the eyes and with themes customization let's  you tweak it. It is great app for those who want a simple  music player with great looking user interface.
Features
Material design
Built in 6-band equalizer with bass boost
Gapless playback
Lyrics
Automatic artwork downloading
Tons of theme options, including light & dark mode
Sleep timer
Customizable homescreen widgets
Last.fm Scrobbling
Screenshots
Shuttle Music Player is a free application. But Shuttle Plus can be purchased to unlock some special features like id3 tag editing, chromecasting to your TV and tons of themes.
5. DoubleTwist Music Player
Developer: doubleTwist
doubleTwist is another app which is more than just a music player, this one packs a podcast manager within itself. It also play your video files. It even searches for internet Radios around the world based on Genres you want to listen. Pro version let's you sync your iTunes library with the app, stream music and videos to Airplay enabled devices. An equalizer is also available in the pro version. Overall app has a beautiful UI and plays all of your media content smoothly.
This app is definitely a steal for those who constantly toggling between music and podcasts apps, as  it provides both the functionality. With lots of podcasts content and Radios support this is a must try.
Features
Podcast manager
Internet Radio
Plays videos too
Sync your iTunes library (pro)
Auto download new episodes for subscribed Podcasts (pro)
Screenshots
doubleTwist is free to use but few features are only available to Pro application users.
Try out the one you like and tells us what's your favourite Music player in the comments section below.