WhatsApp is undeniably the best communication App available for multiple and cross-platform users including Android, iOS, Windows Phone, Symbian etc. It already has more than a million users operating to send and receive enormous number of messages everyday. It is free and simple-to-use, unlike SMS which are paid. Not only text messages, but WhatsApp also let its users to exchange media files including Images, Videos and Audios, Share contact information, locations, send/receive voice messages and much more.
We've already gone through an article stating the release of the new version of WhatsApp with new Privacy settings.
The developers have provided their users with open-to-all content type app. Today we are here to guide you on how you can easily backup and restore your WhatsApp conversation.  It is a pretty simple thing to be done, which is unknown to many and will be very helpful. It is highly advisable to backup your WhatsApp conversations regularly, so that in any case if some misfortune happens and you tend to lose your messages, then they can be restored. It is also worthy to note that your messages get backed up daily at 4 AM. The guide follows two steps, the first one being backing up the conversations using the in-built backup option and the second, is to safeguard the backed up files manually for future restore.
1. Backup your WhatsApp conversations
Open WhatsApp from your App drawer
Press on the 3-dot menu icon on the top right
Tap on Settings, this will open the WhatsApp settings
Tap on Chat settings
Now, tap on Backup conversations to backup all the present messages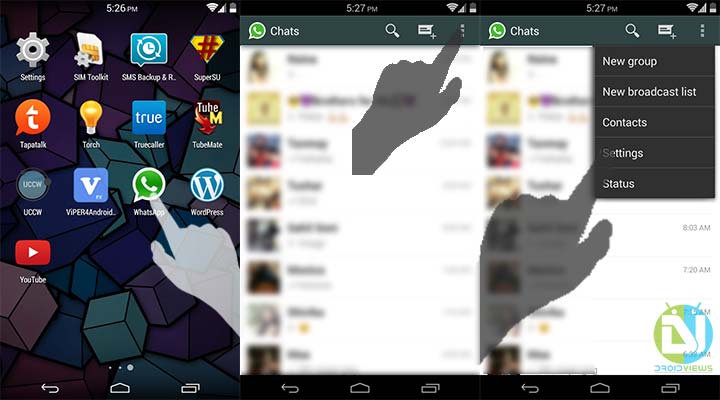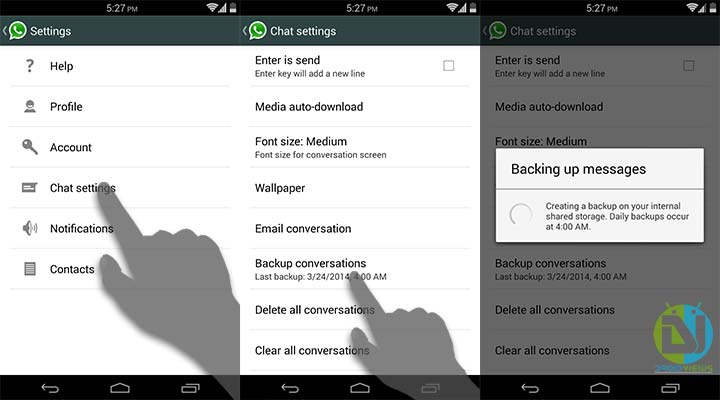 2. Extract WhatsApp backup database file for future restore
Connect your device to PC via USB cable
Open the device's storage
In the root of the device's storage, you will find a folder labelled WhatsApp, double click it open.
Now, go to the Databases folder
You will find all the backup database (db) files
Find the one with the latest date i.e today's date when you have backed up
Copy that file, as in my case it is msgstore-2014-03-24.1.db.crypt5 to a secure location on your PC
You can now disconnect the device
Now, if unfortunately you lose your messages and also your database file from your storage, you can put back the saved database file into WhatsApp > Databases folder. Re-install the App and you will again be allowed to restore your messages.
Easy as hell, wasn't it? If you have any confusion regarding the process, get some help by commenting below.