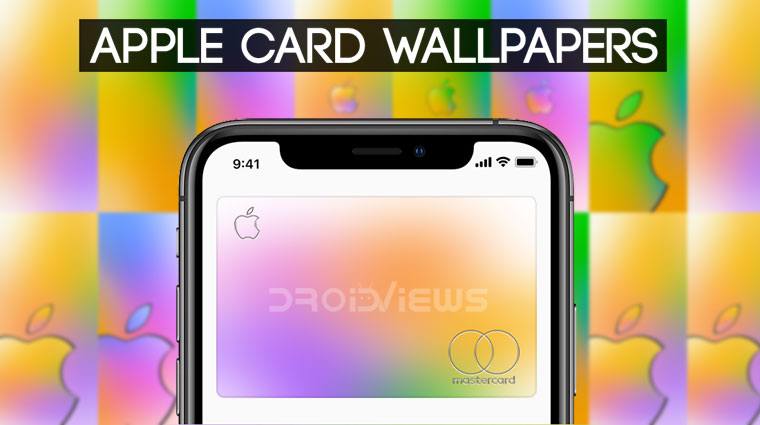 iPhones can't keep a sustained business growth for Apple and it's clear to the company as well. Apple has been working for years to slowly move into the services business. This year they even held an Apple showtime services event where Apple announced a bunch of services that aren't coming out anytime soon. The biggest launch at the even though was the Apple Card and we have the Apple card wallpapers for you to download.
For those unaware, Apple Card is a new credit card but from Apple, instead of your bank. With the Apple Card, the fruit company aims to improve things about the credit card experience. Apple says the Apple Card will provide simpler applications, no fees, lower interest rates, and better rewards.  What no fee means really is that customers will not be charged in annual fees, late charges, foreign exchange fees, and over-limit fees. The Apple Card is built on the success of Apple Pay which will reach 10 billion transactions by the end of 2019.
It is not just another tab in your wallet though. It's smarter, simpler, friendlier, and more fiscally transparent than any credit card. You can easily see how much you owe, What you spent, and when it's due, all on your phone. The entire process is done on an iPhone. And since this is Apple, you don't have to wait to use your new credit card. As soon as you're approved, the Apple Card will appear in your Wallet app.
You can then use it wherever Apple Pay is accepted. For customer support, you can directly ask a question 24/7 using Business Chat from the Messages app. This is much simpler than bouncing through an automated call center until you reach a real person.
Apple Card Wallpapers
The Apple Card Wallpapers pack contains 9 wallpapers with a resolution of 1242 pixels by 2688 pixels. These aren't obviously wallpapers that appear on the Apple Card but simply wallpapers inspired from it. The wallpapers are simple color gradients, the color choices clearly inspired by the Apple Card. Some of them also have the Apple logo just as it is on the Apple Card. If you're not a fan of Apple though but like the wallpapers for the colors and gradient, there are wallpapers without the logo as well.
We've uploaded the wallpaper images below for you to decide whether you like the wallpapers or not. Keep in mind though that these are compressed JPEG images. While they still have the same resolution, they are not as high quality as the original PNG images. If you like what you see, you can download the high-quality Apple Card Wallpapers from the link provided below. The link will give you a zip file containing all the 9 Apple Card Wallpapers in PNG format.
Download Links
Download All Apple Stock Wallpapers
Related Downloads: