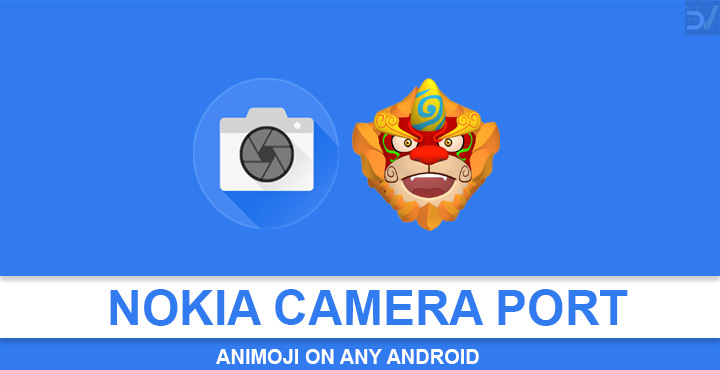 Everyone knows the brand Nokia, even though not many are aware that it is still around. Despite Apple and Samsung getting all the limelight, HMD Global's Nokia brand has started to carve out space for itself in the Android world. Where huge brands like LG and Sony are failing, Nokia's sales are growing. Clearly, the company knows what it is doing. So it wasn't surprising when the once trendsetter Nokia followed Apple and Samsung. The company introduced its own version of the Animoji with the Nokia camera.
Nokia Camera Port
In August 2018, Nokia launched an update to Nokia 6, one its budget offerings, and called it Nokia 6.1 Plus. The smartphone improved over the mistakes of the Nokia 6, and it also introduced the word to 3D personas, Nokia's version of the Animoji. The one advantage of Nokia improving its camera software, for us enthusiasts at least, is that it gets ported to other Android devices. Unlike Samsung, or LG or Huawei, Nokia sticks with stock Android. I'm not a developer but I suppose it is safe to assume that is a reason why porting things from a Nokia phone is easier. We've seen this happen before with the Google Camera from the Pixel, Sony's media apps, Motorola's Gallery app, etc.
The Nokia Camera has been ported to other devices before too when Nokia brought the Pro mode to its camera. Back then, it helped devices that lacked a pro mode, get the Pro mode. The port was made available to several Nokia and non-Nokia devices XDA Recognized Contributor linuxct. If you remember, linuxct is the same developer who ported the Huawei Mate 20 Live Wallpapers for other Android devices. And now, he has ported the Nokia camera again, this time with Nokia Camera 91.9 and features such as the Animoji.
Changelog between version 8.1041.71 and 91.9.1130.40:
Pro Mode unlocked, as always, with a refreshed new look!
New AR section in the top menu! It lets you choose a set of facial stickers, Animojis and lightning effects!
Fixed Settings menu crash in OnePlus (and probably some other) devices.
New Slow Motion and TimeLapse options! (Tested on few limited sets of devices)
Requirements
While version updates bring new features and fixes, sometimes they also have downsides. The new Nokia Camera 91.9 port only works on 64-bit devices, i.e. devices with the ARM64 architecture. This is due to a lack of libraries, says the developer. Similarly, the minimum API level of the camera was raised from API level 25 to 26. Therefore, the new port will only work with devices running Android 8.0 Oreo and above.
Note
The Nokia Camera app wasn't meant to run on your non-Nokia devices. Even though this is a version ported to run on any device, it is likely that it may not. It is also very likely that it does work on your device but some features may be broken for some devices while they may work on others.
How to install
Installing the port is pretty easy if you've ever installed a third-party APK on your Android device. Even if you haven't, it is still easy. Just download the APK file from the link provided above. Its a large file with a file size of 148.86MB so downloading may take some time depending on your internet connection. Tap on the download complete notification when the download completes.
Now tap on SETTINGS in the pop-up dialog box that appears and you'll be redirected to a Settings page where you can grant your browser the permission to install unknown apps. If you're not used to installing apps from outside the Play Store, we'd suggest that you install the APK using your file manager instead. Granting your browser permission to install unknown apps makes it easier for some shady websites to trick you into installing an app you don't want.
To do that, dismiss the download complete notification and instead, head to your file manager and go to the Downloads folder. Unless you're using a browser like the UC Browser, which you shouldn't, most browsers will download things into this folder. Tap on the downloaded APK file and give it the permission to install unknown apps. If you're using the file manager that came pre-installed on your device, you won't need to grant it any permissions.
Regardless of how you wish to install the APK, after granting the permission press the back button and you should see the package installer screen. Tap INSTALL and the app will be installed on your phone. You can find it in the app drawer.
source: xda