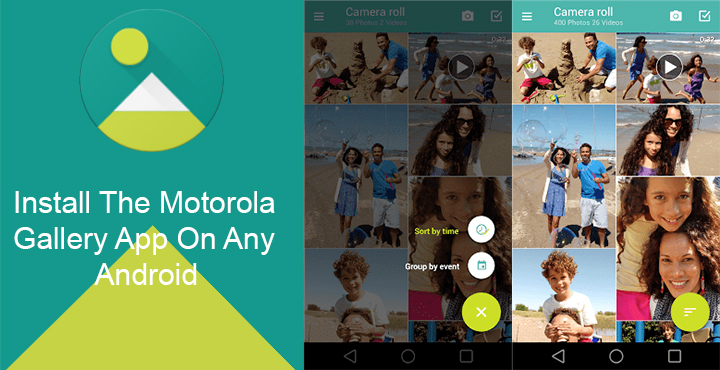 If you've ever used a Motorola device, you would have probably noticed how light and fast the stock Gallery app is. It also manages to look unique while it does that. With Quick.Pic sold to an adware company, there really aren't many great choices if you're looking for lightweight gallery apps. We've reviewed one such app at DroidViews that can completely replace QuickPic. But if all you're looking for is a cool light-weight gallery app and don't need the extensive list of QuickPic features the stock Motorola Gallery app is the best choice.
XDA developer TigerCourage did all the hard work for us, porting the app to work on almost any Android device. So it doesn't matter if you have an HTC or Samsung, you can try out the Motorola Gallery app and see if it is for you. The said port of the app, however, had some missing features like the Edit photos option that didn't work. Another XDA dev who goes by the name Junior Passos modified the gallery app found on the Moto X style and lucky for us, it worked. He has also changed the app icon to look like the one on the Moto Z2 Play which is the latest phone from Motorola.
Enable Unknown Sources
To install an APK from a third-party source, that is outside of the Google Play Store, you will need to enable Unknown sources in your Android Settings. Installing third-party APKs is disabled by default as a security measure on Android, so make sure you don't install APKs from sources you don't trust. In this case, we can assure you the APK is completely safe and won't steal your data. To enable Unknown sources, head over to Settings and go to Security. On some devices, the entry could be named as Lockscreen and Security instead.
Don't miss: 4 Best Free Photo Management Apps for Android
Here, scroll down until you see an Unknown sources entry. Touch the entry and tap on OK on the warning dialog that appears to toggle it on.
Install the Motorola Gallery app
Now to download the modified Motorola Gallery APK. You can download the APK from the link provided above. When the download completes, tap on the notification and Install it like you would any other APK.
Enjoy your new light-weight gallery app
Launch the app, grant any permissions it asks for and done. You will immediately notice it looks really simple, yet unique. The smooth animations and bare-bones UI make the app fly. By default, it opens in your Camera folder (Camera roll) where you can see all the shots you've captured. If you want to see all the folders, you can tap on the hamburger menu icon in the top left. In the side menu drawer, you will see the option to see the folder view (Albums) and Videos.
You can create new Albums anytime by tapping the folder icon near the top-right corner and selecting pictures or videos. When viewing the pictures in a folder, the photos stretch out and are aligned so that they take up the entire screen, leaving no blank spaces. It's a small thing but it makes the app look cool. All gallery apps should have this feature. When you open an individual photo, you get a handful of options such as share, delete and edit. These options fade out in a couple of seconds so you can concentrate on the photo.
Must read: Use Android as Second Screen for Your Windows PC with Spacedesk
The edit option, which did not work in the earlier port works now. But the app does not come with a built-in editor and as such launches your phone's default photo editor or app selector (if you have more than one photo editors). And that's okay because otherwise it kind of defeats the purpose. If it has all the things then it doesn't remain so "light-weight" does it?.
Being light-weight is the USP for this gallery app since most stock Gallery apps from OEMs such as Samsung, Sony, HTC, aren't. Not to say they're bad but when you have a budget device tight on resources, those apps kind of suck.