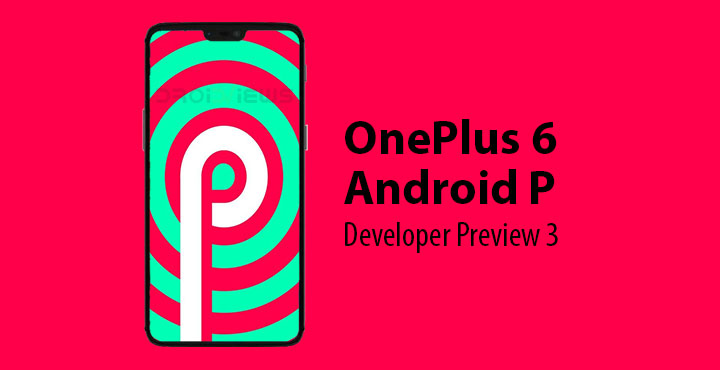 It's no secret that OnePlus devices are popular among third-party developers. And the fact that the OnePlus 6 is one of the few devices already getting a taste of Android P further cements that position. Not long after the Android P Developer Preview 4 was released for Pixel devices by Google, OnePlus rolled it out for the OnePlus 6. Although, OnePlus is using their own naming convention and calling it Developer Preview 3 since it is only the third preview for the OnePlus 6. The first Android P developer preview was exclusive to Pixel devices.
How to install Android P Developer Preview 3 on OnePlus 6
We've shown you before how to install the Android P Developer preview on your OnePlus 6 when the first one came out.  Developer preview 3 can also be installed similarly once you've downloaded the Android P Developer Preview 3 ROM from here. Hence, we're not going to go into detail about it. If you don't need details, just download the zip file and place it in the root of your internal storage so that it isn't inside any folders. Then go to System updates, click on the gear icon in the top-right, select Local upgrade, select the zip, select INSTALL NOW and then select REBOOT when the installation is complete.
Changelog
System

Updated Android security patch to 2018.7
Updated Google Mobile Services
Improved system stability
Fixed issue with hotspot functionality

Camera

Improved image quality
Fixed issue with watermark option functionality

Third-Party Apps

Improved camera functionality with third-party apps
Fixed compatibility issues with certain third-party apps
Known issues
System

System stability and power consumption issues

Bluetooth

Compatibility issues with Bluetooth connectivity

Third-Party Apps

Some apps may not function as expected when running on this Developer preview release
Rounded UI
The earlier Android P Developer Previews for OnePlus have been shying away from the UI changes introduced in Android P. DP3 for the OnePlus 6 almost completely embraces them and gives you a true taste of what's coming in the stable Oxygen OS release based on Android P. From rounded quick settings to rounded notifications it is all there. The new release also incorporates the Android P volume slider that appears on the left of the OnePlus 6 display since that's where the Volume buttons are.
You can now set a custom accent color of your own choice instead of relying on the presets which have also increased in number. The OnePlus Dialer has also been updated with a more Google Phone-like interface.
When you first boot up, everything is just so white, keeping in line with Google's new lust for white and Android P's stock interface. Fortunately, OnePlus still allows users to switch to a dark theme and I couldn't be more grateful. What's better is that now when the dark theme is turned on, the OnePlus launcher shelf also turns dark. Another small change you may notice is that the status bar icons are smaller compared to Oxygen OS 5.1.9 which was based on Oreo. That does help squeeze in one extra icon as long as you don't turn on battery percentage. (#hatethenotch)
Before you misunderstand, the screenshots above are not of the OnePlus Launcher so there's no search bar in the dock yet.
Launcher
Now as to why I'm not using the OnePlus Launcher, that swipe indicator. If you notice in the first screenshot from the right, the launcher displays two swipe indicators. You wouldn't notice the little one that sits behind unless you swipe up to open the app drawer. Pretty minor but I can't tolerate an extra dot on my home screen that I don't want there. Clearing the app storage clearly does not work either. My guess would be that this won't be an issue if you don't install a third-party launcher.
Some users have also reported issues with the OP launcher such as swipe to open app drawer not responding sometimes. That hasn't been the case with me but I've hardly used the default launcher.
Stability
Since this update does not wipe your data or internal storage as the previous one did, a simple factory reset should solve any problems you may face. Some users might face the issue where the dialer keeps crashing. This can be easily fixed by going to the App info screen for the dialer and clearing the app data. Having mentioned that, I've not faced any stability issues speaking strictly about the system and not individual apps. I've yet to reboot it since the first boot.
Performance
Even though the company lists stability and Bluetooth connectivity under issues, I've not faced anything of the sort on my device. In fact, the device feels a bit more fluid and one is able to notice the subtle animation tweaks here and there. So far I'm loving the new animations and the phone runs as smooth as it did right after unboxing.
Speaking of performance, the Gaming mode on the OnePlus 6 seems a bit more aggressive than before. Earlier when launching a game or app that you've listed in the gaming mode, it was hard to tell if gaming mode was even turned on but for a toast notification. Now, a pop window appears over your game allowing you to change a couple of things as well as see all the optimizations that have been done.
Multitasking is a breeze as well as it has been before. It might take you a while to get used to the new recents apps screen which is now also a bit more like stock Android P. OnePlus hasn't included the option to turn on the Android P gestures and instead still includes its own implementation. Hence, the recents screen is still not the same as Android P and pretty much the older recents screen with a new layout. I preferred the vertical layout because it was just easier. Options such as locking the app to memory, split-screen, etc. are now hidden behind the overflow menu.
Camera
OnePlus claims to have improved the camera performance and quality with this release and so far that does seem to be the case. Keep in mind this comparison is between the previous dev preview and the new one. Is the camera quality better or worse than what's available on Android Oreo? That'll be hard to say but it is pretty similar. While camera quality is not an issue, camera stability could be. Slow-motion recording at 720p 480fps, for instance, will make the camera app crash. The usual image capturing and video recording work great and so does portrait mode.
If you can notice, you'll also notice a minor change with the capture button. The more important change here is that the UI doesn't explicitly state the current HDR setting and instead shows an icon. That can be a little confusing.
Battery
Other than stability, OnePlus includes power consumption as an issue but once again it isn't an issue with my unit. Battery life is as good as it used to be on Android Oreo though I've not yet done any tests. To be fair the battery life hasn't given me any reasons to. The previous Developer Previews did have some noticeable issues with power consumption but that's not the case here.
Almost there
Android P will soon be released officially for the Google Pixel devices. Having used the third Developer preview for the OnePlus 6, one can't help but feel that an official Android P release for the OnePlus 6 might happen at the same time too. Only a few bugs remain to be squashed so hopefully, that won't take very long.