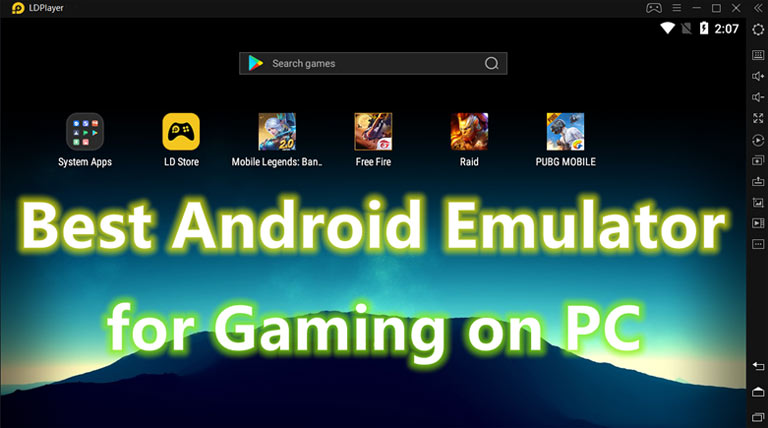 There's a trending topic about the best Android emulators that are perfect for gaming. While all Android emulators are used to install Android apps on PC, some of them are designed more gamer-oriented with a good keymapping feature, particle multi-instance, full compatibility, etc. Though the performance depends mostly on your computer specifications, a well-developed Android emulator for gaming could draw the best out of your computer.
What is an Android Emulator?
In case you don't know. An Android emulator is a software that simulates the Android operation system on your computer. It can make use of Virtualization Technology to create an Android virtual device allowing you to install and run your Android applications on your PC. Whether you are an app developer who wants to test your fresh new apps or a mobile gamer who prefers to play Android games on a big screen computer with higher performance, an Android emulator is always a good helper to get you started.
Best Gaming Android Emulator for PC
1. LDPlayer
LDPlayer is a free Android emulator for PC that specifically targets Android gamers. It is capable of running high demanding Android games on PC if your computer specifications have reached the minimum system requirements for smooth working. The emulator offers useful features that make gameplay incredibly enjoyable on PC. It allows you to map the keyboard keys for gaming control needs, set up multiple instances, and custom emulator settings. LDPlayer can make use of Virtualization Technology and give great performance for integrated and dedicated graphics. The best thing about LDPlayer is that it is compatible with Intel, Nvidia and AMD powered Windows.
2. BlueStacks
BlueStacks is one of the most popular but also the heaviest Android emulators on the list. It's still one of the best Android emulators for playing mobile games on PC though. As BlueStacks is a well-balanced emulator having the right mixture of power, processing, and Android features, it becomes the most favorable app player for PC. However, it is preferable that your PC has good specs which are capable enough in handling a heavy BlueStacks. The software has an advanced keymapping and control system which are pretty helpful for PC gaming. You can download BlueStacks on your Windows or Mac PC.
3. GameLoop
Game Loop, previously known as Tencent Gaming Buddy, is also one of the best gaming emulators that offer stunning performance for running mobile games on PC, especially for games from the Tencent Developer. Games like PUBG Mobile and Call of Duty Mobile can be well handled by GameLoop. It is truly dedicated to Android gaming but the lack of support for other numerous good gaming titles is needed to be improved. Also, the Android emulator cannot be used for testing Android apps.
4. MEmu
MEmu is another Android emulator targeting at mobile gamers. It is capable of running different Android versions like Android Jelly Bean, Kit Kat, and Lollipop on Windows and Mac. Regarding the speed, it gives similar results as LDPlayer and BlueStacks. So, to get the best performance, it is recommended that you enable Virtualization Technology for your CPU. With great support for Intel and AMD chips, as well as integrated and dedicated graphics, Memu Play can actually manage the high-performance gaming on your PC.
5. Nox App Player
Nox Player is quite similar to MEmu and LDPlayer which also focus on gaming. Nox is a fast Android emulator for Windows and Mac. While this Android emulator is perfectly fine for using Android apps and enjoying the whole Android experience, it is best suited for playing massive games like PUBG Mobile. It can handle high demanding Android games with its performance settings, graphics rendering mode, keyboard control, and other settings. You can get full access to customize Nox for your virtual Android device and optimize the gaming performance.
Conclusion
Those Android emulators for gaming on Windows PC are free to download from their official site or other online sources. Popular mobile games like PUBG Mobile, Mobile Legends, Clash of Clans, and Free Fire on PC can be smoothly played with a gaming Android emulator. But one last thing to remember is that you have to use a modern computer to power up those emulators in order to get smooth gameplay.
Read Next: 5 Best Heaviest Games for Android