Android has the biggest market share in mobile operating systems. Today Android runs not only on our smartphones but also on Tablets, wearable devices such as smart watches, and with Android Auto coming we will be driving smart cars with Android installed on them. This guide lets use Android apps even on your computer. Though there are several ways to do this, I found the Bluestacks App player performed the best. It's easy to install and get done things fast. It lets you run Android apps on PC very easily.
Steps to Run Android Apps on PC
Go to Bluestacks website and click Download App Player. Mac users download the Mac version.
Now open the downloaded setup file and follow the on-screen instructions to install the App Player. Instructions are fairly simple, just like like any other program you install on your computer.
Once the program is installed run the Bluestacks App Player.
You will see Android-like interface (as shown in the pic above) running on your PC, click the search icon and search for the app you want to install and click on 'Search on Play…'.
Bluestacks will ask you to perform a one-time login using Google account just like your on your mobile device. once you have successfully logged in you can install any Android application.
Just search for any application on the App player and install it. You can also transfer APK files to your computer and double-click them to install the application on the App player.
Applications like Whatsapp other Instant messaging applications which require verification from mobile number are not able to verify since WhatsApp has disabled the option to type verification pin manually, use Whatsapp Web instead. Though I was able to run Hike messenger as it has the option to type verification code manually.
Bluestack also has an Android app which enables you to sync all your mobile applications to your Bluestacks player.
You can easily navigate in the App player using your mouse, swipes and taps can be simulated using your mouse/trackpad. Keyboard support for certain applications is available with predefined shortcuts keys as shown below. It also has multi-touch support. if you are running it on a Windows tablet or a touchscreen PC.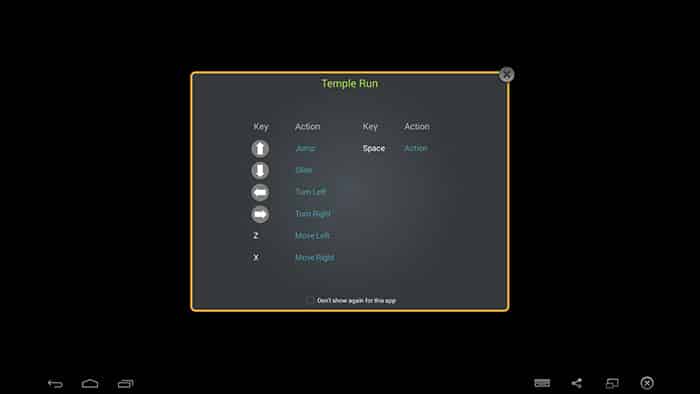 Bluestacks App Player is free to use for the first half hour then you need to pay $2/month to use it. Alternatively, you can install sponsored apps to continue free usage for a day. It's a better option as you can uninstall the sponsored apps right away without even opening them.
Hope this guide helps you run your Android apps on your computer. Share your views and ask your queries in the comments section below.
Read Next: 10 PUBG Mobile Tips and Tricks